GREENSBORO, N.C. -- You've heard all about Howard Coble, the man, the politician, the mentor, but the side of him many don't know about is Howard Coble, the brother.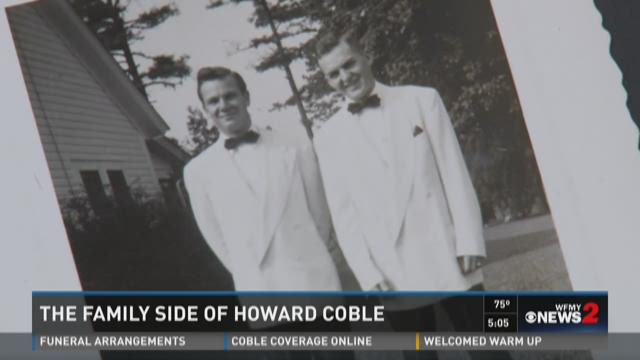 For several weeks before Coble's death Tuesday night, WFMY News 2 often kept in touch with Ray Coble, the former Congressman's younger brother. He gave us updates on his health while under the care of Cone Health.
Ray and Howard Coble are each other's only sibling.
They were close but so very different. "In a way, we marched to a different drummer," said Ray Coble.
Ray and Howard Coble grew up in rural Guilford County just two years apart. If you can believe it, Ray says Howard was bashful as a young boy.
"He would run behind the house and hide to catch the school bus so my dad had to get to be a good buddy with the school bus driver and please try to make him feel comfortable," said Coble.
As they grew up, the elder Coble grew out of his shell and became increasingly interested in politics. "Somebody encouraged him to run for Congress," said Coble. "He said "I couldn't win." The guy said "yes you can win." He said "well I'll try it."
That was only the beginning. Thirty years later, Ray says his older brother was interested in politics until the end even when he visited the Congressman in the hospital just hours before he died. "He had the paper in his hand and said "did you vote today? Today's voting day."
As a true public servant, Ray says his brother always had one focus. "He lived to help people, he never wanted any praise for anything, he did not want any pats on the back," said Coble. "He was just a plain person, a simple man that dwelled in public places."
Characteristics that surely made a little brother proud.
"I've always been proud of him and I've always been satisfied to be the other brother," said Coble.
Ray said the Congressman would hardly ever discuss politics with his family. He'd even change the subject if someone brought it up.
The former Congressman drove a school bus in his younger days for $20 a month.
For News Tips: news@wfmy.com or 336-379-9316
Pictures and Videos: myphotos@wfmy.com