Knoxville — Sixty-six years on the sidelines of Tennessee football, hundreds of wins and two national titles. Ten generations of Houn' Dogs can see a lot in their collective lifetime.
The current Smokey, Smokey X, was actually born on October 4, so we guess the celebration will continue into next week!
It was Sept. 26, 1953, when the Big Orange welcomed the first of ten (so far) bluetick coonhounds as its new mascot.
The history behind Smokey is just as treasured as he is.
He was picked in 1953 during a contest to select a live mascot for the school. Announcements for the contest read, "This can't be an ordinary hound. He must be a 'Houn' Dog' in the best sense of the word."
At halftime of the Mississippi State game, the contenders were brought onto the field. The last dog announced was Rev. Bill Brooks' Blue Smokey, who barked when his name was called. The students burst into applause, which only made Smokey howl louder. Tennessee had its mascot.
Submitted
Brooks and his wife Mildred took care of seven generations of Smokey before they passed away. In 1994, the honor was passed on to Dr. Earl C. Hudson, a VFL in every sense of the word who took care of Smokey VII through X. Sadly, Dr. Hudson recently passed away in June.
Smokey X's care was given to Earl's son and daughter-in-law, Charles and Cindy Hudson. The two have taken great care of him ever since he was a pup, and were the ones credited with discovering the tenth generation of the mascot when Smokey IX's bloodline ran out.
Smokey X's bloodline is quite unique and fitting of a VFL! The previous bloodline had descended from blueticks from South Carolina. Smokey X, however, is the first to be pure Tennessee born and bred when he was picked in 2013.
When Smokey X was two months old, he was 26 pounds. He was so much bigger than the rest of the puppies, the breeder, Wendy Davis of Davis Branch Blueticks, knew she'd found the right dog!
Tennessee's top dog: Smokey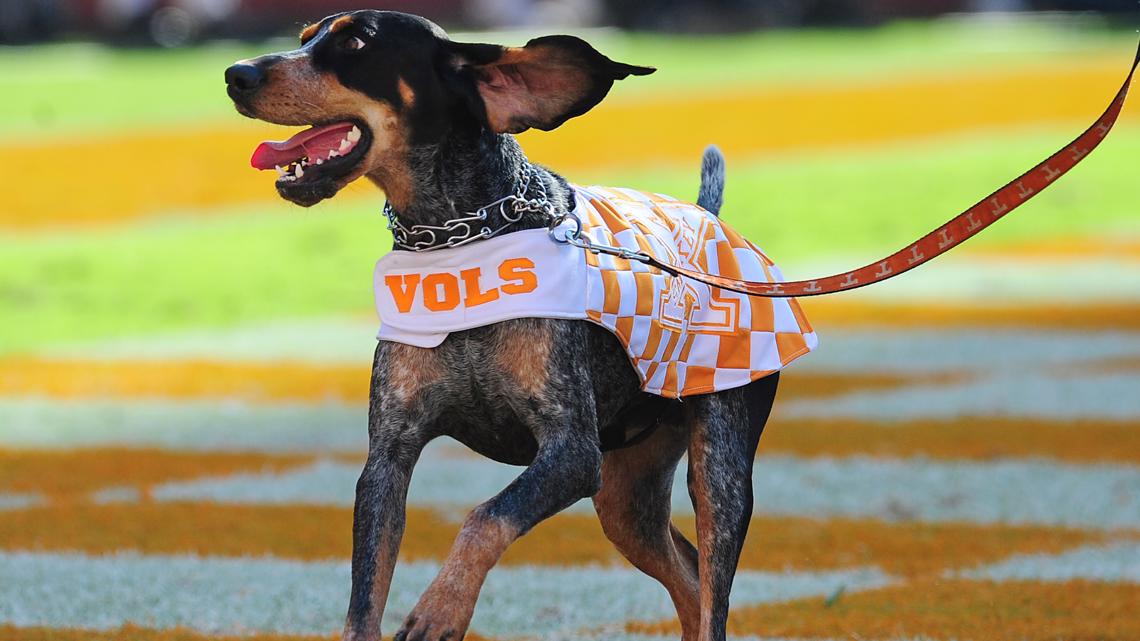 On game days and for his official mascot duties, Smokey is handled by members of the Alpha Gamma Rho fraternity. For home games, he usually spends the weekend in the fraternity house on UT's campus.
Smokey X is probably the most photogenic out of all his predecessors, never shying away from an opportunity to be on camera. Many fans look forward to chilly autumn game nights at Neyland to get a chance to snap a picture of him snuggled up in his cold weather apparel.
The other generations of Smokey have had some interesting adventures over the years. Smokey II was dognapped by Kentucky students in 1955 and later survived a confrontation with the Baylor Bear at the 1957 Sugar Bowl.
Smokey VI, who suffered heat exhaustion in the 140-degree temperatures at the 1991 UCLA game, was listed on the Vols injury report until he returned later in the season. He was on the sidelines for three SEC championships.
Smokey VII was the "Bitey Smokey" While good natured, the pup was forced into early retirement after he nipped at the same UT band member in back-to-back games in 1994.
Smokey VIII is the winningest Smokey, having compiled a record of 91-22 (.805), with two SEC titles and the 1998 national championship.
In 2006, Smokey IX nipped an Alabama player during pregame warm-ups. The Tide faithful claimed the dog bit the receiver after he fell on him while running out of bounds for a pass. UT said the dog just got a bite of uniform, not skin. Smokey IX also took at nip at one of his own, long snapper Matt Giampapa. He wasn't hurt, and it was thought Smokey may have seen a towel Giampapa had on him and mistook it for a dog toy.