NEW ORLEANS —
Day 3 in New Orleans
Written by: Megan Allman (Senior Digital Producer)
Well, there you have it. The Tar Heels are moving on to play Kansas in the National Championship Game! The Battle of the Blue Bloods did not disappoint. A thriller of a game with, gosh, I think I counted maybe 20 lead changes?! After the game we all rushed to find players, fans...and I even managed to snap a photo of Roy Williams! Both of Daggum Roy's teams - UNC and Kansas - will now meet to see who gets all the NCAA glory. What a night.
One coach moves out. Another coach moves on. What an ending for Coach K. What a beginning for Hubert Davis.
Day 3 in New Orleans
Written by: Megan Allman (Senior Digital Producer)
Tip-off is almost underway. While I got photos and videos of fans along the concourse outside the arena, the sports crew was inside capturing a sweet moment between UNC Head Coach Hubert Davis and Coach K's wife Mickie. The two hugged just before Davis headed to his locker room. There is so much respect between these two coaches and their families. This is bigger than basketball. Bigger, even, than rivalry. It's super cool to see all of it.
Day 3 in New Orleans
Written by: Kevin Kennedy (WFMY Reporter)
I have entered the New Orleans Superdome.
Walking into the building today just felt a bit different.
It's the same building… the same security people… the same protocol and procedures but today is game day.
Duke and North Carolina will tip off later tonight for the first time in the NCAA tournament.

That game is preceded by a matchup between Kansas and Villanova that few are talking about outside of Pennsylvania and Kansas. (my thoughts, not facts)
The nightcap is the matchup that college basketball fans have been waiting decades to see.
The basketball powerhouses… separated by just 8 miles playing for a spot in the national championship game.
Day 3: (written by Jaelen Gilkey)
As the time to tip-off ticked away, both UNC and Duke fan bases were chomping at the bit for what everyone has called "the most important match-up in the history of the battle of the blues."
Just hours before tip, both the UNC alumni group and the Duke alumni group took over two different spots in downtown New Orleans for their respective pre-game parties.
The UNC alumni rented out the entire Dave & Buster's downtown and had free food, drink, and games for all those that attended, and that's where I ran into Burlington natives Trace (class of 2010) and Cooper Smith (class of 2013).
Their father brought them to New Orleans for the Final Four in 1993 when the Heels beat the 'Fab Five' and went on to win the National Title, and are hoping that they can bring that same kind of good luck to the Tar Heels this go around.
The Duke alumn also had a pre-game party that was one for the history books. They were at Central City BBQ and the food and libations were flowing. They even had a live New Orleans ensemble that had the people and the party jamming.
Walk around this arena and it is literally a who's who of sports broadcasting.
Greg Gumbel and Jim Nance are already sitting courtside. Grant Hill is here and so is Jay Bilas.
This game truly is one of the biggest in the history of the sport… and it seems only fitting that a city accustomed to hosting heavy-weight events is where it will be played.
In my 35-year broadcasting career, I have covered Super Bowls and World Series… NBA All-Star games and MLB All-Star games… NCAA tournament games and the Daytona 500. (Humble brag)
But… this just feels different...!
Maybe it's because I'm here in the moment or maybe it's because of the two schools playing.
Duke and North Carolina don't like each other.
While there is respect... there is no love lost.
I don't know what will happen tonight but I do know it will be historic… and I'm thrilled to say I get to see it in person!
Day 3 in New Orleans
Written by: Megan Allman (Senior Digital Producer)
I can't believe little ole Davidson County ME is here! At the FINAL FOUR! Growing up in the Triad, I always watched ACC hoops. I've always known that the Duke-Carolina rivalry is a HUGE deal. My mom likes Carolina. My dad likes Duke. Hey, don't look at me -- I'm the neutral party! I'm a UNCC 49er. I just want a great game -- and it will be!
I hope our viewers have enjoyed all our coverage on social media and TV from afar. Here's a Facebook live we did earlier this morning. There's something in the air in New Orleans! It's rivalry and excitement!
Written by: Kevin Kennedy
Good morning from a wet and rainy New Orleans.
The forecast is calling for rain up until about noon today… which is probably fine for all the revelers who were most likely out last night into the wee hours. (plenty of aspirin is being taken this morning, I'm guessing)
If yesterday was about the fun.. the buildup and the excitement… thousands of fans coming in from all over the country… today it's about the games.
While Villanova and Kansas are both here and will play each other… Most of the attention is on the "other" game.
Duke versus North Carolina..!
Two schools with a long and heated rivalry… separated by about 8 miles… have traveled more than 800 to play each other in the biggest game in this storied rivalry.
The buildup to this "game of the century" is about over… the trash talking and nervous energy about to cease.
Fans from both schools have converged on a city that is more than equipped to handle such an event. Michael Jordan and Dean Smith will echo that… (if you're not at least 50 you may have to google it).
If Bourbon Street is any indication of what this arena will look like come later today, it will certainly be packed with many more fans supporting the Tar Heels.
While walking through the French Quarter yesterday it was obvious Carolina blue sweatshirts were being worn in much more abundance than any of the other three schools.
Walking through that section of New Orleans is always an adventure… filled with sounds and sites… smells and amazement.
The old buildings are now home to restaurants and shops and stores.
The tiny streets are lined with vendors and musicians and psychic readers.
It's a party 365 days a year.
So for some reason, we decided to walk the streets with a basketball.
If you've been following my blog… It's the ball we took to Philadelphia when covering UNC during the sweet 16.
At this point, I am absolutely calling it a "lucky ball" for the North Carolina Tar Heels.
North Carolina... an 8 seed… the lowest in the Final Four… knocked off a 1 seed and a 4 seed on the road to New Orleans.
Not that you have… but if you ever wandered around Bourbon Street and the surrounding area with a basketball it's tough NOT to have people want to pass it and dribble it and even pretend to shoot it.
Our ball became more popular than a bead vendor at times… everyone wanting a piece of the circular… leather… bouncing ball.
The ball was passed between locals… visitors… business owners… psychics… street vendors… and basketball fans.
It made its way into restaurants… bars… shops… even a voodoo shop.
After traversing the French quarter we made our way for the first time inside the Superdome.
The massive structure is the perfect site for this game of the century.
Home to the New Orleans Saints it has been transformed into a basketball arena fitting of this gigantic matchup.
The media has flocked to New Orleans. While I don't know an official number it would certainly seem that thousands of credentials have been passed out.
While putting together our stories I was able to briefly see both Duke and North Carolina on the floor at separate timers… preparing for the biggest game these kids have ever played.
Our day included a pretty pathetic attempt to eat down in the French quarter around 6:30 pm local time… and by pathetic I mean that we thought we could find a place without a one hour wait and no reservation… (Epic Fail)
Needless to say, we were about as successful getting into a place.. as finding a sober person past midnight on Bourbon Street.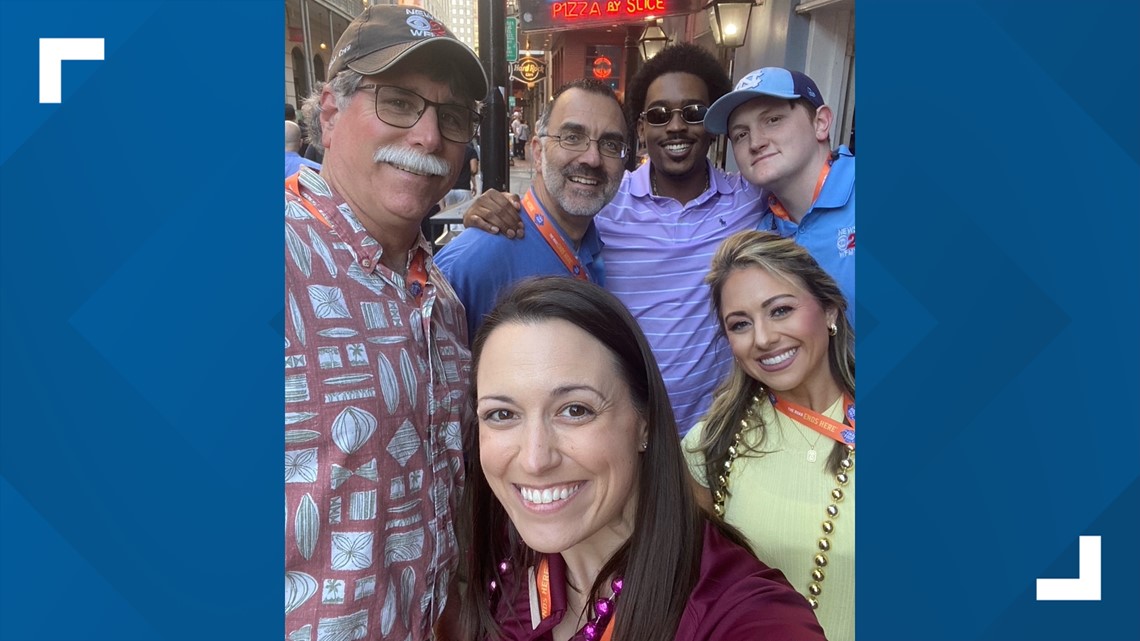 We were able to find a place about 20 minutes outside of town with no wait and some pretty good food actually.
Our group of six… (minus 1)… enjoyed our first break… outside of sleeping… in 48 hours.
A late-night live shot was the nightcap to what was a long… exhausting… but also exhilarating day.
As I write this we are less than 12 hours from tip-off.
As a guy who grew up in California only watching this rivalry from afar, I don't think I truly understood the intensity of it.
And while I still may not totally get it like a long-time North Carolinians... I couldn't be more excited to be inside the arena tonight for this epic battle.
The next 12 hours are going to be long… I hate waiting. It's like Christmas Eve and I'm 10 years old all over again.
Day 2 in NOLA
Written by: Jaelen Gilkey
It's day number too in the beautiful Crescent City, and as the Final Four festivities officially began. I spent most of the day at this year's March Madness Final Four Fan Fest at the massive Ernst N Morial Convention Center.
This event is one of a kind, so much to see and do. There were events for all sizes and ages, and there was even a chicken wing eating contest (which I would have entered if my co-workers weren't so scared of spicy food).
While I was at Fan Fest, I bumped into a very interesting father and son duo that made the trip from Winston-Salem to the Final Four. However, there was something odd about them. The father Brian Kennedy has been a Tar Heel fan since before he could walk, and that goes the same for the rest of his family. Except for his son Duncan, who's the black sheep of the family, because he's the only Duke fan! You can't make this stuff up!
The Kennedy men have been able to put their differences aside and made the trip from the Triad to the Big Easy to be here for the Battle of the Blues: Final Four edition.
Duncan told me that this trip wasn't about who wins or loses this historic match-up, it was about making memories with his dad that he'll remember forever.


DAY 2 - FINAL FOUR BLOG
Written by: Kevin Kennedy
After 800 miles and 13 hours of driving for some reason, we decided not to go straight to the hotel last night and went to visit the Tarot card reader.

To be fair our other option was a voodoo doctor and I think I was a little intimidated. So at 10:30 p.m. last night we drove to a little tarot card shop on the outskirts of New Orleans. As you would expect, we entered through a gate in the back alley. With incense and candles burning we proceeded to sit at a small table in a dimly lit room. We spent the first 15 or 20 minutes talking about the craft that is tarot card reading, psychics and voodoo.

It's a profession that many, including myself, may not completely understand, but is one that dates back more than a century. Google psychics in New Orleans and dozens of mediums will come up. While it is not the birthplace of psychics it has certainly become home to many. While we sat at the tiny table, candles burning around us we dipped our toes in the proverbial psychic waters. In the world of tarot card reading, you can often see, hear, or feel a spirit. While many may not understand or believe in the cards, those that do, are convinced it opens a window to the unknown.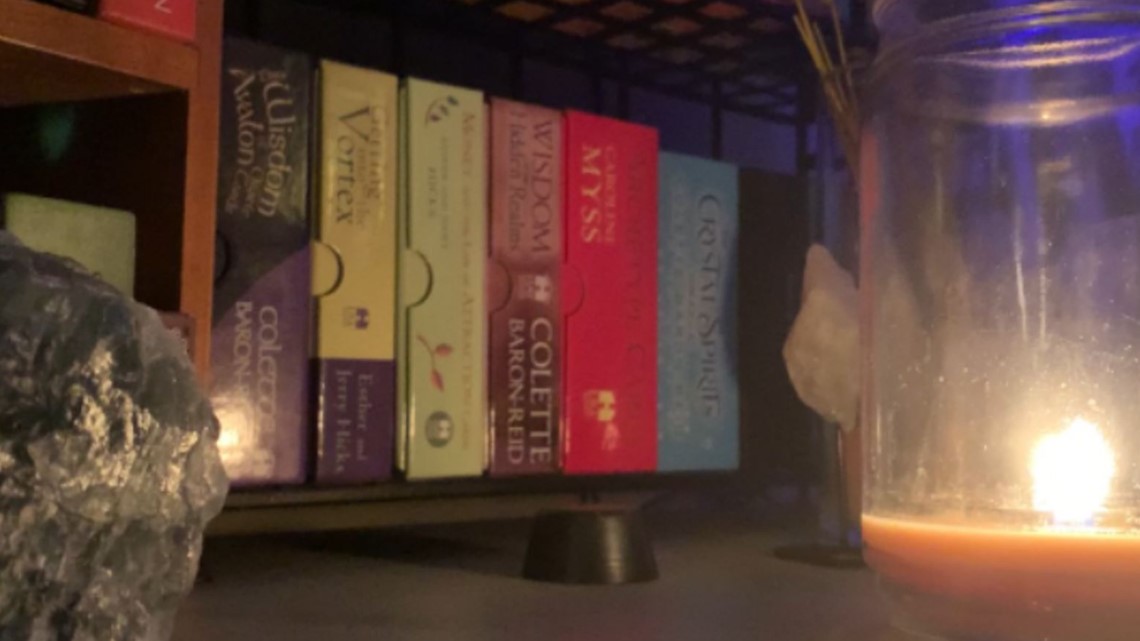 On this night we were looking for a different kind of clarity, "What was going to happen when Duke and North Carolina take the floor?"

We didn't ask who was going to win, we just wanted to know what she saw. While shuffling the tarot card deck our tarot reader immediately said she did not feel or see anything, but the cards to her excitement were jumping out of the deck.

After shuffling the deck she had me stack three piles into one. She then placed three cards to my right and three other cards to my left and asked me to pick one pile for Duke and the other pile for North Carolina. She then proceeded to flip over the cards in the first pile one at a time. After flipping over the first card there was a grown, more concern after the second card was turned over, and when she flipped over the third card it was obvious the news was bad. One of the cards showing a heart with three swords running through it is described as the worst card in the deck. The three cards in the other pile come up all sunshine and positivity. One of those cards apparently the best card in the deck.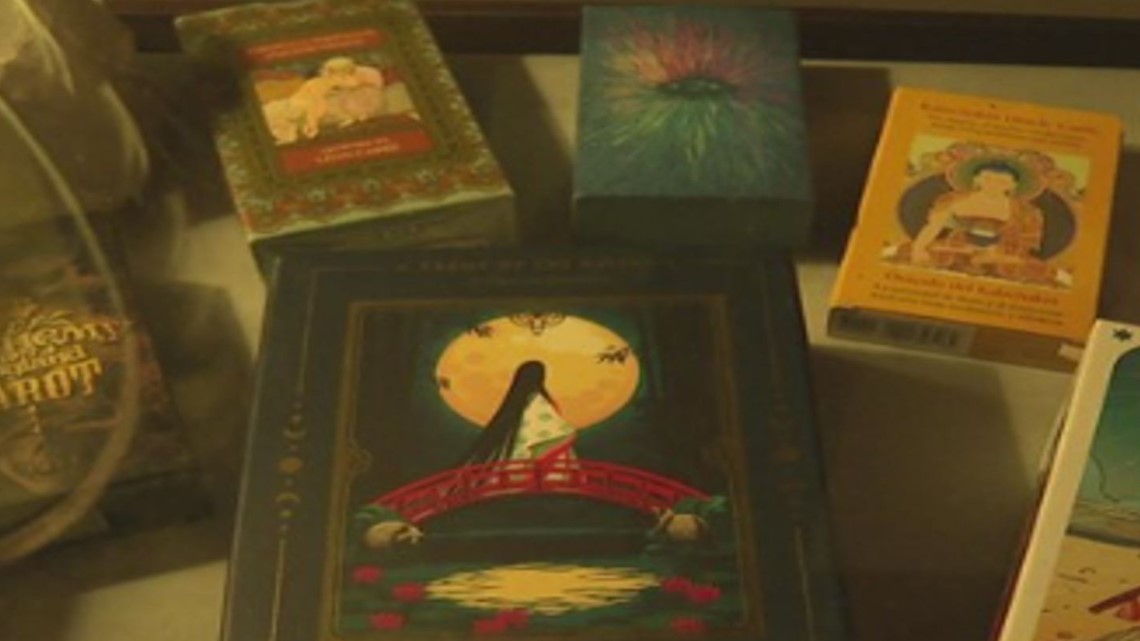 It was apparently obvious, there was a clear choice as to who was going to win this basketball game. When I asked, "are you sure?" her answer was simple, "It's in the cards."

While the players and the two coaches may have a lot to do with the outcome on Saturday night, what they don't know is that this game has apparently already been decided. The winner is written in the cards. On Saturday night one of the teams advancing to the national championship on Monday is... North Carolina.
If you're a DUKE fan don't blame me, I'm just the messenger. Now it's time to head to the French Quarter and see what we find.
A bunny at the North Carolina Zoo has also made a prediction as well.
TASTE ABOUT TOWN
When in New Orleans you gotta go on a taste around town! You don't want to miss all the flavors of New Orleans!
Here's what you need to do when in New Orleans
BEHIND THE SCENES
PHOTOS | UNC, Duke hit the court for practice ahead of Final Four matchup
Written by: Megan Allman (WFMY Senior Digital Producer)
It's all about the fans. Our Jaelen Gilkey met a man who calls himself a Tar Heels Super Fan! You know he wasn't going to miss the Final Four, especially with his team playing Duke!
Written by: Megan Allman (WFMY Senior Digital Producer)
Our Amanda Ferguson talked to Duke freshman Trevor Keels about...not just basketball! We wanted to know, what's the best food he's had so far during the NCAA Tournament? Turns out, he really liked the cuisine in San Francisco!
Written by: Megan Allman (WFMY Senior Digital Producer)
Could WE be the beholders of North Carolina's lucky charm? Kevin Kennedy and Sean Higgins have been lugging around a rather dusty, old basketball with them. It went to the Sweet 16 in Philadelphia -- where UNC won both matchups to eventually go on to the Final Four. Take a look at this basketball's journey. It's rolling around on Bourbon Street now! Can it help Carolina win it all?
Written by: Brian Hall (WFMY Photographer)
This is my first trip to New Orleans to cover the Final Four. Made the early trip over to the Superdome to get the lay of the land and see where everything was.
The court is down and signage is up and ready to go ahead of this year's matchups.
And the coveted NCAA Championship Trophy is here.
Here is a look at the pregame & postgame interview set up for the players and coaches
DAY 1 - FINAL FOUR BLOG
Written by: Amanda Ferguson
We continue to travel around the country following our teams because they're still dancing! Fortunately for us, both Duke and North Carolina are in the Final Four, which means we're keeping the same crews who have been covering the teams, plus adding more!
It was an early morning at WFMY News 2. I woke up extra early, at 3:00 a.m. to head to UPS's Distribution Center to try to grab a package before hitting the road. It was set to arrive at my door a few hours after we left. Of course, when you rush ship clothes for the Final Four, it doesn't make it in time! Shoutout to the kind workers who tried to do everything they could to grab it for me (they were basketball fans!). Unfortunately, I didn't get the package, but I'll keep you posted if it arrives to my hotel.
I rushed back to the house to make some quick eggs, grab my luggage, and head to the station.
We're taking a bunch of cars. Here's what my car looked like at the beginning of the trip.
We aren't exactly morning people.
However, at the beginning of our trip, we did have some great sleeping weather. Our photographer, Brian Hall, drove through this mess for us.
It was clear skies the rest of the way through!
It's about 8 p.m. and we're still on the road, but we're getting close. We have made it to Louisiana.
Stick with us through Monday as we cover Duke and North Carolina throughout the rest of the tournament. One of the two will be in the championship game Monday night. We'll be here to bring you along for the ride.
Time to check in with another crew!
Written by: Jaelen Gilkey
After 13 hours on the road and crossing six state lines, we are finally in the 'Big Easy'. The journey was a long but beautiful one, and it gave me a new appreciation for the Southern part of the United States.
At the halfway point in our trip, we made a pit stop in Tuskegee, Alabama, the home of The Tuskegee Airmen.
In the 1940s this airfield was used to train a group of primarily African-American fighter pilots and airmen to help defend our nation during World War II. The Tuskegee Airmen destroyed a total of 251 enemy airplanes between 1940 and 1948.
Among the Tuskegee Airmen, there were 8 Purple Hearts awarded, 150 distinguished flying crosses, and over 700 Air Medals and Clusters for their service to the U.S. Military.
Once we wrapped up at the Tuskegee Airmen Museum, our next stop was New Orleans! Our goal is to give you a deep dive into this city's uniqueness and bring a little bit of the 'Big Easy' right to your living room.
Can't wait for day 2! Hope to see you there.
Written by: Kevin Kennedy
It was still dark when the alarm clock went off at 5:15 a.m. this morning, that ringing noise the alarm makes hits a little harder when you typically get up at 8 a.m.

I would like to suggest that any alarm that goes off before 6 a.m. should include a Michael Bublé song. First things first, had to take the dog outside and feed him. I then popped an English muffin in the toaster, grabbed some peanut butter and a glass of orange juice. (I'm not a big coffee guy).

I had packed the previous night, (props to me for that) so, I quickly loaded up my bags and headed to Greensboro to meet up with our team. Our station is sending seven people to New Orleans for the Final Four (you probably figured out that I'm one of the seven). There is certainly a level of excitement involved in covering a Final Four but it's tough to look that far ahead when all I see now is a 13-hour drive in a rainstorm.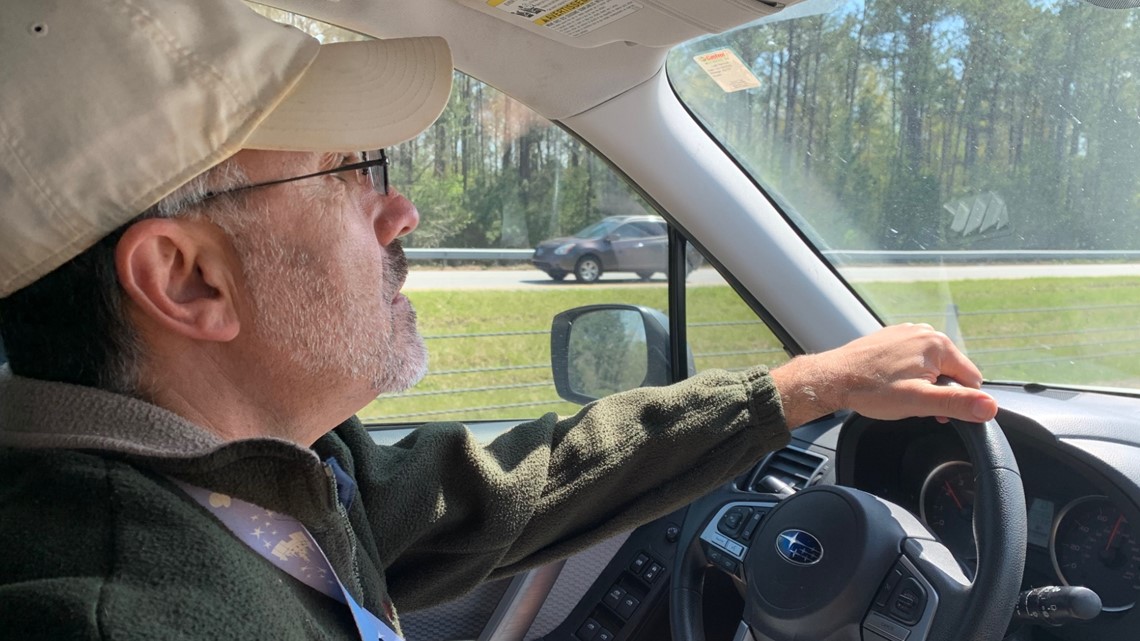 Our caravan of three cars, stay together for roughly the first hour and a half It's now every man (and 2 women) for themselves. As I write this, I am tucked behind an 18 wheeler and next to another one. There is construction on the roadway, the rain is pouring down and I can see maybe a half a mile in front of me, but I'm going to the Final Four baby.
It will be my first Final Four after 35 years and broadcasting. My excitement level is like think (bead collector at Mardi Gras) and making it that much better is a matchup between Duke and North Carolina.

What I have quickly learned in my four years, in the Tar Heel state is that fans from the two universities don't exchange Christmas cards. This rivalry runs about as deep as the Mississippi River. If you grow up in a North Carolina Tar Heel family you have one option - hate Duke or find another family. The same logic applies if you grow up in a Duke family as well.

The next six days are sure to be both exhilarating and exhausting. It will be packed with long hours, lots of work and an occasional meal (often a candy bar and soda), but it will also be six days that I'll look back on for years and get to say, "I WAS THERE..!"

Stay with me on this six-day adventure as I try to do my best to give you a little bit of access into our world on our road to the Final Four. In case you're wondering, it's still raining on that road and doesn't look like it's letting up anytime soon.
SIGHTSEEING ALONG THE WAY
The WFMY News 2 crew is also making sure to do a little sightseeing along the way as they travel to New Orleans.