JACKSONVILLE, Fla — Byron Murphy intercepted two passes, including one he returned for a touchdown following a botched trick play, and the Arizona Cardinals rallied to beat the skidding Jacksonville Jaguars 31-19 on Sunday.
The Cardinals improved to 3-0 for the first time since 2015. That season took the club all the way to the NFC championship, and it was the last time Arizona was in the playoffs.
The Jaguars (0-3) lost their 18th straight game, leaving them eight shy of the NFL record for futility.
Jacksonville led 19-10 in the third quarter. And Head Coach Kliff Kingsbury sent placekicker Matt Prater out to try an NFL record 68-yard field goal at the end of the first half.
The kick was short when Jamal Agnew began running down the sidelines with the ball. With nothing but offensive linemen and special team players in his path. he chugged through 109 yards into the end zone.
After the game, Kyler Murray admitted that last year the Cardinals would have lost the game. He said, "I'm glad we fought through adversity today, I'm frustrated, but as a team, I've been here, two, three years now, and the last two years, we would have lost that game for sure."
Kingsbury didn't panic delivering his message at halftime. He called it" as big of a moment of adversity as you can face in an NFL game."
And the Cardinals responded. Running back James Conner scored from the four, cutting the Jags lead to two, but, then, Scottsdale's own Murphy Jr. didn't bite on a flea-flicker and was in perfect position to make his second interception of the game and taking it to the house to give the Cardinals a lead they would not relinquish.
The Cardinals face its division rival Los Angeles Rams next week on Oct. 3 at 1:05 p.m.
Arizona and LA are the last remaining undefeated teams in the NFC West, setting the stage for a matchup to determine which squad will lead the division.
See the game in photos
Cardinals vs Jaguars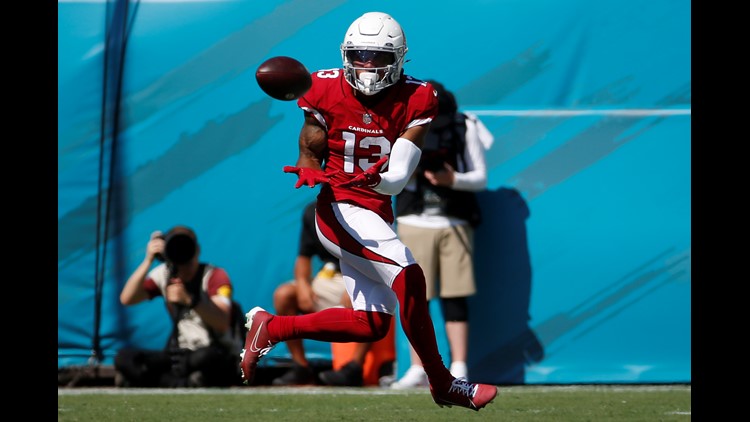 Sports
Watch more of the latest sports videos on the 12 News YouTube channel. Don't forget to subscribe!