Share your photos and thoughts on the game using #PanthersOn2 with us @WFMY on Twitter. Join the conversation!
FINAL | Panthers 42, Buccaneers 28
PHOTOS | Panthers Defeat Buccaneers 42-28, November 4, 2018
PHOTOS | Panthers Defeat Buccaneers 42-28, November 4, 2018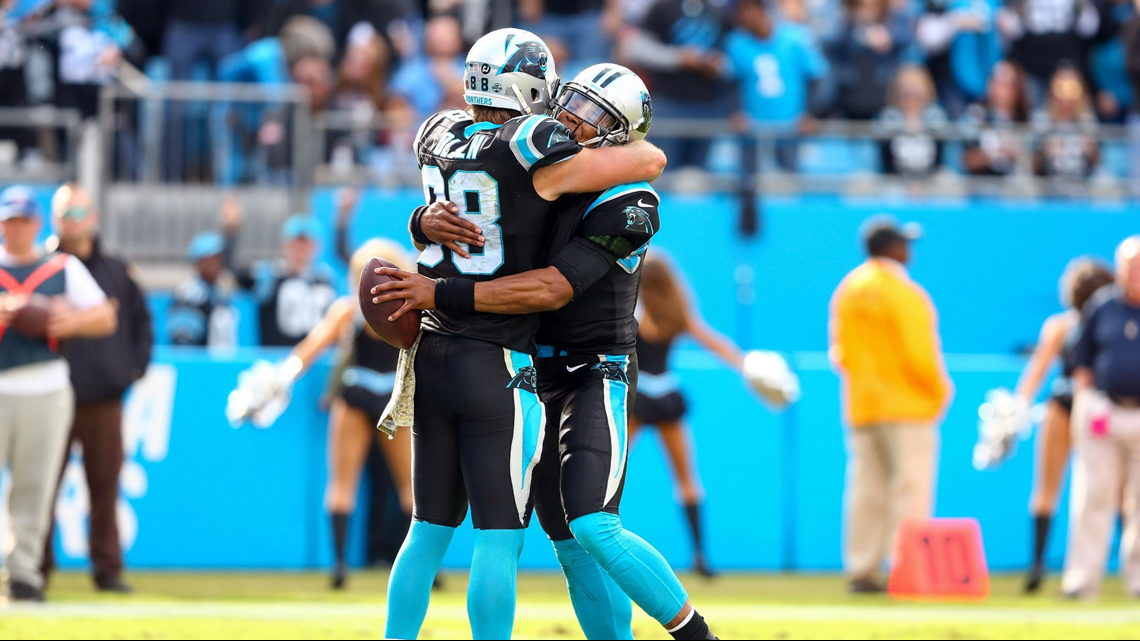 This will be a season-high in points for the Panthers and their 10th straight victory at home!
Donte Jackson grabs his fourth interception of the season! That should seal it with 3:37 left.
Curtis Samuel with his second touchdown of the day on the catch over the middle! It's 42-28 now with just over nine minutes to play. Cam's big day continues as he's 18 of 23 passing with 243 yards with two touchdowns.
Newton finds McCaffrey for a big third-down conversion!
The Buccaneers have stormed back to cut it to 35-28 with 14:24 left in the game.
END 3RD QUARTER: Panthers 35, Buccaneers 21
The Bucs covert 3rd and 17 as the third quarter ends. Tampa's comeback effort looks more hopeful than it did at halftime.
Mario Addison again with the big hit on Fitzpatrick to force a fumble. Bucs recover for 2nd and 20.
Panthers are flagged after not getting set on 4th and short. They're going for it again on 4th and 6 and come up short. Bucs keep grinding and are in the game.
Panthers getting a good response drive. Cam runs for a few yards and slides just short of the first down marker. It's 4th and short.
Fitzpatrick finds Humphries for his third touchdown pass of the game and the Panthers have let the Bucs back in it. It's 35-21 with 5:14 left in the third quarter.
Buccaneers driving into Panthers territory trying to climb back in it. Tampa had a big comeback against Cincinnati last week before falling in overtime.
HALFTIME: Panthers 35, Buccaneers 14
Fitzpatrick finds OJ Howard for the touchdown to make it 35-14. Important score for Tampa before halftime.
The Panthers have 264 yards on 28 carries with just under four minutes left in the half. Another dominant effort on offense with touchdowns on five straight possessions.
Newton finds Olsen for the touchdown! An incredible one-handed snag by Olsen!
Newton finds Funchess in single coverage and the Panthers are set to score again.
Mike Evans can't reel in the 3rd & 9 pass. Evans and DeSean Jackson have no catches so far and that's a huge win for the Panthers. The Bucs run a fake punt and it's an incomplete pass! Turnover on downs!
The call stands! It's 28-7 Panthers. That's touchdowns on four straight drives and Carolina's on pace to break last week's season-high of 36 points!
Panthers face 3rd and goal at the 1. McCaffrey extends the ball across the goal line and it's a touchdown! The play is under review.
McCaffrey runs off tackle and gets inside the 10! A 35-yard run to the Tampa Bay 7-yard line. The Buccaneers challenge that McCaffrey stepped out of bounds, but the ruling stands.
Mario Addison's big year continues! Addison with two sacks on that possession and Fitzpatrick is mothered. Bucs have to punt from their own end zone. Samuel returns it inside the 50. Panthers can really take control here.
What a run by Curtis Samuel! The Panthers pull a double reverse and Samuel follows his blocks and does a great job of creating space! Touchdown! 21-7 Panthers.
Newton finds Devin Funchess for a first down on a 16-yard gain. Two plays later, Greg Olsen gets his first catch over the middle as he's wide open.
F itzpatrick rolls out and finds OJ Howard for the touchdown. Thomas Davis was there with the big hit a little late. Tampa gets a big response drive and it's 14-7 with 14:15 left in the half.
END FIRST QUARTER: Panthers 14, Buccaneers 0
Bucs knocking on the door as Adam Humphries gets a first down on a pass on 3rd and 2 at the Panthers 11-yard line. That'll end the first quarter.
Christian McCaffrey caps a great drive with a touchdown! 14-0 Panthers late in the first quarter!
On 3rd and 2 near midfield, Bucs call timeout. Cornerback James Bradberry breaks up the pass attempt on a slant to Mike Evans. Panthers secondary having another great day so far. Fitzpatrick starts just 2 of 6 throwing.
On 3rd and 10, the Bucs get the first down, but it's going back after an illegal shift call. Jacquizz Rodgers gets the handoff and Panthers are caught napping for a 15-yard run. First down Bucs.
Panthers with second and goal and Alex Armah takes it in! Panthers capitalize on the early turnover. Graham Gano's extra point makes it 7-0. Armah now has two touchdowns on five carries this season.
Safety Eric Reid gets the interception on the overthrow! Reid's first pick this season! He returns it inside the red zone and the Panthers are in business!
Bucs sack Newton on third down. Panthers will punt.
And the Panthers get a three-and-out defensive stand on the first possession of the game. Mike Evans was well-covered on two targets there.
It's almost time for kickoff! Who's ready?!?!
Cool gesture by the team today in honoring service members.
Cam's pregame outfit of choice for today. Your thoughts?
PHOTOS | Carolina Panthers-Tampa Bay Buccaneers Pregame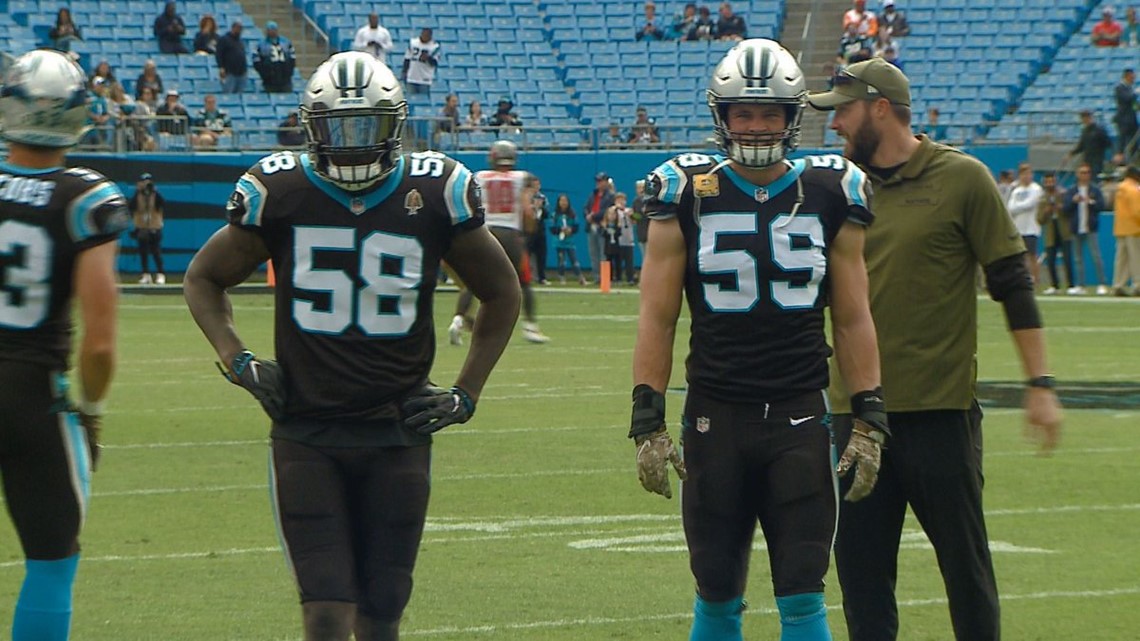 Week 9: Tampa Bay Buccaneers (3-4) at Carolina Panthers (5-2)
Bank of America Stadium
Kickoff: 1 p.m.
LINE: CAR -6
The Carolina Panthers are coming off their most impressive performance of the year in a 36-21 victory against the Baltimore Ravens. The Ravens entered Week 8 widely regarded as the league's top defense. The Panthers answered the challenge with a season-high in points and scored on four straight possessions after falling behind 7-0. They've now won nine straight home games to tie New England with the longest active streak in the NFL.
Cam Newton showed out in a big game. 21 for 29 passing. Two touchdowns throwing. One rushing. No interceptions. And he wasn't sacked or hit once against the unit with the most sacks in the league. Credit Cam and the Panthers offensive line with a stellar effort.
Christian McCaffrey and rookie DJ Moore both had nice games. McCaffrey had a remarkable catch on a deflected pass for a touchdown in addition to his rushing score. Moore had five catches for 90 yards in addition to a 28-yard run.
It all bodes well for a team facing the 29th-ranked defense in Tampa Bay. The challenge this week is slowing down the Buccaneers' top-ranked offense in total yards per game (467.6) and passing net yards per game (376.3).
QB CHANGE: The Buccaneers are coming off two straight overtime games, the most recent of which ended in a loss at Cincinnati. There's also a quarterback change after Jameis Winston's roller-coaster season has included six touchdown passes and 10 interceptions in three games after serving a four-game suspension for violating player conduct policy.
"FITZMAGIC" BACK: Veteran quarterback Ryan Fitzpatrick took the league by storm the first three weeks of the season, before crashing and burning in Week 4 against Chicago. "Fitz-magic" threw for 400 yards in each of the first three games and is back behind center this week after helping erase an 18-point deficit against the Bengals before falling 37-34.
RED ZONE SUCCESS: Newton leads the NFL with a 120.7 passer rating in the red zone, throwing nine passing touchdowns and rushing for four touchdowns without throwing an interception.
SECONDARY STRENGTH: Rookie Donte Jackson, Eric Reid and veteran Mike Adams are all playing well for the Carolina secondary. Adams, in his 15th year in the league. and Jackson each have three interceptions. They'll be tested with covering the speedy DeSean Jackson and 6-foot-5 Mike Evans on Sunday.
BOOT SCOOT BOOGIE: How good are the Panthers feeling heading into Sunday's game? Owner David Tepper on a scooter sums it up.
Be sure to watch Sports Reporter Luke Lyddon and Digital Producer Brian Bennett at halftime on the WFMY News 2 Facebook page for first-half analysis.
Follow WFMY News 2 on Facebook and Twitter
► Make it easy to keep up to date with more stories like this. Download the WFMY News 2 App: Apple Users, Android Users