FINAL | Seattle Seahawks 30, Carolina Panthers 27
Christian McCaffrey set a franchise record Sunday.
Sebastian Janikowski nails a 31-yard field goal and Seattle prevails 30-27. The kicking game dooms the Panthers again, as Graham Gano couldn't replicate his heroics from earlier in the season. The Panthers entered the game as the last wild-card playoff team and now they're on the outside looking in.
On 3rd and 5, Wilson finds Lockett for a massive completion down to the 10-yard line. Lockett sunk behind the defense. The Panthers miss Donte Jackson big time. 45 seconds left.
Moore catches a 3-yard pass and Gano will attempt a 52-yard field goal for the lead with 1:42 left. It's wide right. Gano with another rough week. Seattle gets the ball back with 1:40 left at its own 42.
Panthers get across midfield after a dart from Newton to DJ Moore. We're at the 2-minute warning.
On 3rd and 3, Wilson throws it up under pressure. It's incomplete. Seattle's going for it on fourth down. Wilson finds Moore for the touchdown. A perfect throw over the cornerback's shoulder. We're tied at 27 with 3:26 left. What a game.
Eric Reid with the nice shoestring tackle of Carson behind the line of scrimmage. It's a 3-yard loss. Panthers are flagged for a neutral zone infraction on the next play.
McCaffrey with the touchdown! 27-20! 6:57 left. The second-year running back from Stanford has two touchdowns, 125 yards rushing and 104 yards receiving today.
McCaffrey with two huge runs and the Panthers are at the goal line! McCaffrey now has 241 total yards today.
Wilson's throw to the end zone on third down is incomplete. Seattle ties it on the field goal. 9:27 left to play.
Seattle gets the first down at the 12. Kuechly with another big tackle on first down and playing all over the field on this drive.
On 3rd and short from the 15, Seattle gets four yards. They're going for it on 4th and 1. The initial spot looks like he got the first down.
Carson hit behind the line of scrimmage and ball comes out, but he's ruled down. Panthers think they recovered a fumble. There's a break in the action while they review the play.
Luke Kuechly with the nice tackle in the backfield, but he's flagged for a face mask.
END 3RD QUARTER: Panthers 20, Seahawks 17
Here are some great photos of today's game:
PHOTOS | Panthers Vs. Seahawks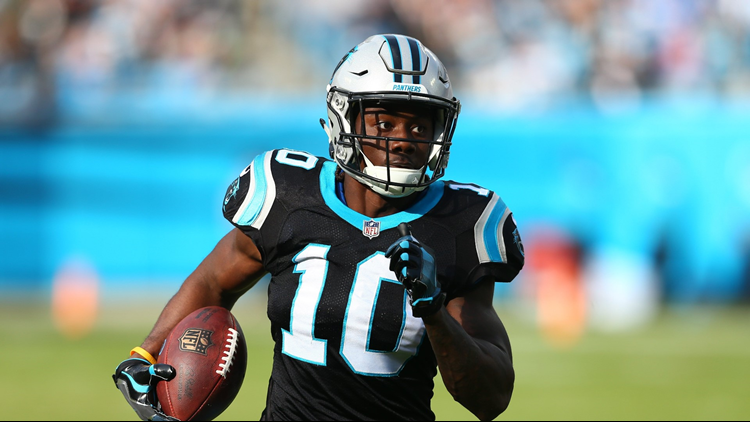 Seattle only with 64 yards rushing today, which is way down from their 154-yard average. That said, Carson breaks out with a 13-yard gain on first down.
The Panthers enter their goal line formation and McCaffrey is in for the touchdown! It's 20-17 Carolina late in the third quarter. A huge response drive there by Carolina. Newton completed all four of his throws on that drive.
A pass interference call in the end zone will give it to Carolina at the 1!
Newton gets a first down on a quarterback draw. Newton finds McCaffrey for a screen for a huge gain. McCaffrey fumbles it, but the Panthers recover.
It's ruled a touchdown after review. Seahawks go up 17-13 with 6:45 left in the third quarter.
Panthers stop Carson in the backfield on 2nd and long. On 3rd and 9, Wilson finds Tyler Lockett on the goalline. He's ruled down at the 1. The Seahawks are challenging that it should be a touchdown. This would be Seattle's first lead of the game if it's overruled.
On 3rd and 12, Wilson finds David Moore wide open for a huge gain. Bradberry was beat on the coverage for Carolina. Seattle now in the red zone.
Carson twirls up in the air on an amazing play where he did a full flip. Highlight-reel effort there with some acrobatics.
Jackson confirmed not to return today.
Cam throws into double coverage in the end zone and it's picked off. An ill-advised throw by Cam there and another scoring opportunity missed.
DJ Moore draws a pass interference on Tre Flowers and Panthers get the first down back.
McCaffrey gets a first down on 3rd and 1, but a penalty brings it back. Holding called on Carolina. Chris Clark is flagged. Negates a first down and makes it third and 5.
Cam breaks free on 3rd and 8 for a 26-yard burst. Newton found a seam in the offensive line. McCaffrey gets another double-digit gain and the Panthers are inside the Seattle 30.
Cam throws his first incompletion of the game to start the second half.
HALF: Panthers 13, Seahawks 10
Cam was 14 of 14 passing in the first half, a new franchise record.
Another short pass to McCaffrey is stopped on an open field tackle. Gano hits a short field goal to give Carolina a 13-10 lead at halftime.
On 1st and goal at the 10, McCaffrey is snuffed out on a screen pass for a 3-yard loss.
Newton finds McCaffrey over the middle for a big gain. McCaffrey with a great route to fake out the defensive back and get open.
Seattle gets a 1-yard touchdown run and we're tied at 10. Chris Carson takes it in. Wilson was 3 of 3 on that drive for 61 yards.
Wilson gets a first down on a zone read play and the Seahawks are looking for an answer.
Newton finds Samuel in the end zone for the touchdown! It's 10-3 Panthers after the extra point. A 53-yard drive ends in points on a big possession.
A Curtis Samuel end around gets the Panthers into the red zone!
On 3rd and 18, Seattle gets a few yards, but have to punt. Panthers take over near midfield.
Wilson is sacked inside the 5! Shaq Thompson gets in on the sack and its 2nd and 18.
Panthers retain possession after a McCaffrey fumble on a read option. McCaffrey is stopped on 3rd and 1 and the Panthers will punt. A missed opportunity for the Panthers there.
On 3rd and 8, Wilson just misses Doug Baldwin in the end zone for a touchdown. The throw is a bit high. Seattle ties the game at 3 on a field goal.
Another injury blow for the Panthers on offense. Damiere Byrd is out for the rest of the game.
Seattle facing third and 10 at the Carolina 30. Wilson finds tight end Nick Vannett in space for the first down.
Seattle moving it downfield, taking advantage of Donte Jackson's absence. Linebacker Thomas Davis bats the ball down on first down.
END FIRST QUARTER: Panthers 3, Seahawks 0
Christian McCaffrey stopped behind the line. Panthers will kick the field goal. It's good. 3-0 Carolina with 2:11 left in the first quarter.
DJ Moore with the big catch and Jarius Wright with a 25-yard reception! Panthers with some misdirection to confuse Seattle and they're in the red zone.
Wilson throws it out of bounds on third and long. Seattle will punt.
Donte Jackson injures his quad on Seattle's first drive of the game. He's questionable to return.
Panthers go for it on 4th & 3 and Cam is stopped short. Big stop for Seattle. They're reviewing the spot now. The call stands.
James Bradberry with the sack of Russell Wilson to force a punt!
Seattle gets the ball first. Luke Kuechly with the first tackle of the game.
WEEK 12: Seattle Seahawks (5-5) at Carolina Panthers (6-4)
Bank of America Stadium
Kickoff: 1 p.m.
LINE: CAR -3
PHOTOS | Panthers Vs. Seahawks Pregame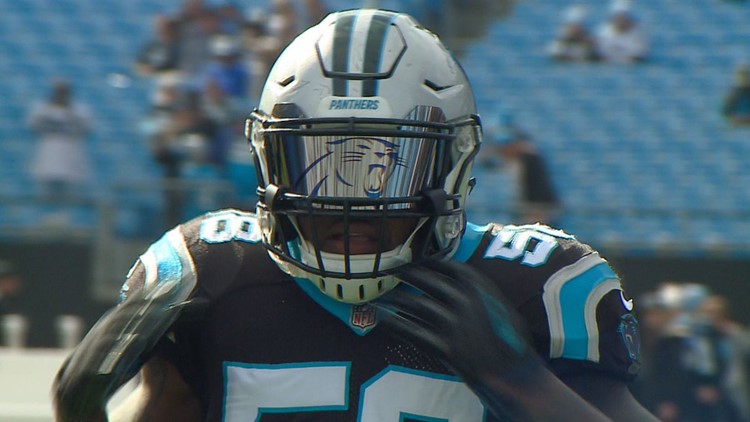 After a rusty road trip through the rust belt, the Panthers are back at home Sunday where they've won 10 straight games. After a thumping against Pittsburgh, Carolina had plenty of shoulda-woulda's in a 20-19 loss at Detroit in Week 11. The Lions, just 3-6 and heavy underdogs, led for much of the game and got a late touchdown in the fourth quarter to take the lead for good.
Veteran kicker Graham Gano, in the midst of an otherwise impressive season, missed a 34-yard field goal and an extra point. Given Gano's struggles, coach Ron Rivera elected to go for two points after a late touchdown to pull the Panthers within a point. Cam Newton's pass on a two-point conversion late in the game was too high, and the Panthers dropped two straight for the first time this season.Newton had a solid game, throwing for 357 yards and three touchdowns, but lamented the poor throw on the two-point try."I gotta make that play," Newton said. "I wouldn't have wanted it any other way. He trusted in me, and I've got to uphold my end of the bargain. I didn't do that. I let this team down, and I've just got to be better."
Some notes in advance of Sunday's clash:
Receiver Devin Funchess is out for Carolina Sunday.
This is a big game for two teams in the thick of the playoff pursuit. A win for Carolina would put them in good standing for a wild card spot. A loss would put them back in the jumbled "in the hunt column." After New Orleans moved to 10-1 with a Thanksgiving day win, Carolina's chances to win the NFC South are all but gone. They still would receive a wild-card spot if the season ended today. The Panthers still have two games left against New Orleans with both coming in the last three weeks of the season.
Seattle averages the highest rushing yards per game, averaging 154.3 yards a contest. Chris Carson, rookie Rashaad Penny Mike Davis get the bulk of workload on the ground. The Seahawks are coming off a big 27-24 win at home against Green Bay.
Cam Newton has now thrown for at least two touchdown passes in nine consecutive games, lengthening his franchise record. He can tie his own franchise record of 10 games with a single touchdown pass with one against Seattle. Newton has also tallied a passer rating over 100 in five straight games, setting a new franchise record.
DJ Moore set a franchise record for the most receiving yards by a rookie wide receiver with 157 against Detroit.
Christian McCaffrey has tallied 1,128 scrimmage yards this season, ranking seventh in the NFL.
It's a homecoming for former Panthers tight end Ed Dickson.