GREENSBORO, N.C. — It may be November, but it might as well be winter. Cold air is coming to the Piedmont in two waves. Then next week, we actually could see an early season brush with some wintry precipitation -- but don't get too excited yet.
There are two fronts on the wave. Let's break them down one by one.
COLD FRONT #1 (Friday):
The first of those cold fronts is approaching for Thursday evening. It will go from mild on Thursday to quite cold on Friday, with some rain in between. That rain will be moving in late on Thursday evening, and lasting through part of the overnight. Any rain will be over with before the Friday morning commute.
Temperatures on Friday will be a bit of a shock, and that's only part of it. There will be a gusty wind on Friday as high as 30 mph at times, making it feel like it's in the 20s in the morning and 30s in the afternoon. The actual air temperature will be closer to 45.
We'll dip down into the 20s for Saturday morning, with highs in the 40s for Saturday afternoon. Sunday will be a bit warmer with highs in the 50s, with 60s on the way for Veterans Day.
COLD FRONT #2 (Next Week):
The second strong cold front will arrive on Tuesday. Right now, it's clear temperatures will drop dramatically, but it's unclear if the front will be a wet one. If so, we'd likely see some rain - but could even see a changeover to wintry precipitation. That's not known at this time, but we'll keep a close eye on it for you.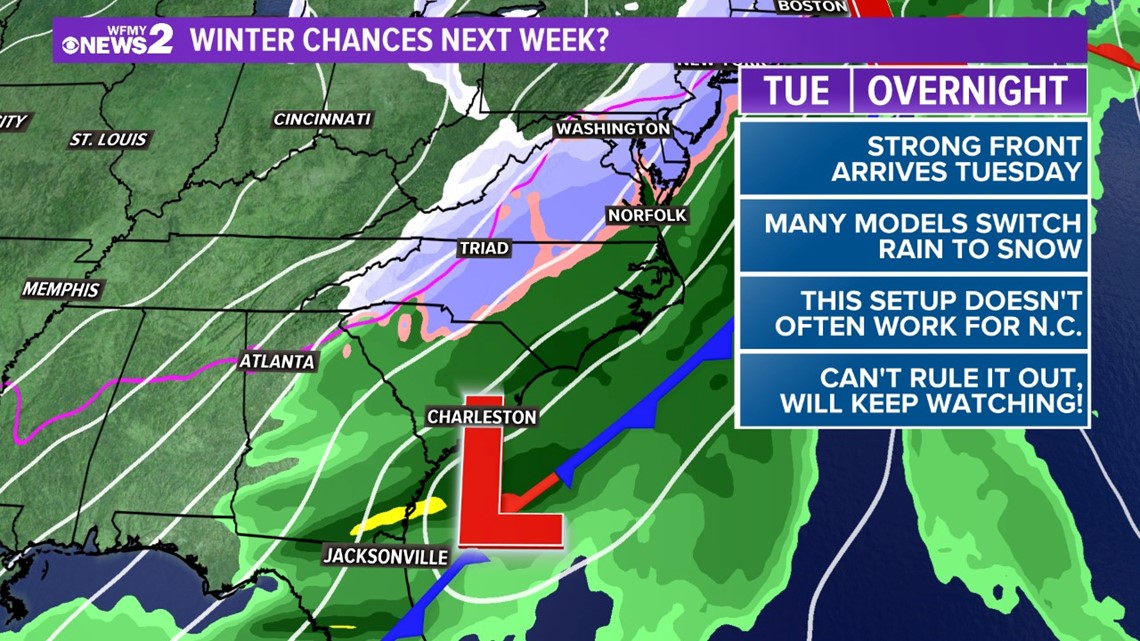 Typically, we need cold air to be locked in firmly ahead of the system to have any real threat for accumulating snow. This rule holds 9 times out of 10. However, the jet stream appears to be rather strong behind the front, and could continue to create new waves of precipitation after the cold air arrives. That scenario played out in December 2017 when we got an early season snow.
Snow in November is rare, but not unprecedented. The last time we had a November snow event was 2013. In November of 1968 we got a 5" snow event which is the largest on record for our area in that month.
The new WFMY News 2 phone and tablet app boasts a modernized look and feel—download now.