AUSTIN, Texas — Austin reached a record high of 84 degrees on Tuesday, but things change in a big way tonight. A strong cold front passes through Central Texas overnight. This front won't bring any rain with it, but you may get woken up tonight by the sound of the breeze with wind gusts upwards of 30 mph possible along and behind the cold front.
We wake tomorrow morning to an entirely different air mass. Temperatures will be in the 30s and 40s, and will stay in the 50s under a sunny sky for the afternoon. Likewise, Thursday will be cloudier but still quite cool.
Over the weekend we return to a southerly flow which will bring warmer temperatures back to the forecast along with perhaps a few isolated showers on Saturday and Sunday as a weak front stalls to our north.
A stronger system may push through Central Texas around Tuesday of next week, but ahead of that Monday will be near 80 degrees.
TUESDAY NIGHT:
Mostly clear and windy. Cooler. North wind at 10-15 gusting to 30 mph.
LOW: 41
WEDNESDAY:
Chilly and windy. North-northeast wind 10 to 15 mph with gusts around 30 mph.
HIGH: 57
WEDNESDAY NIGHT:
Increasing clouds. Northeast wind at 5-10 mph.
LOW: 40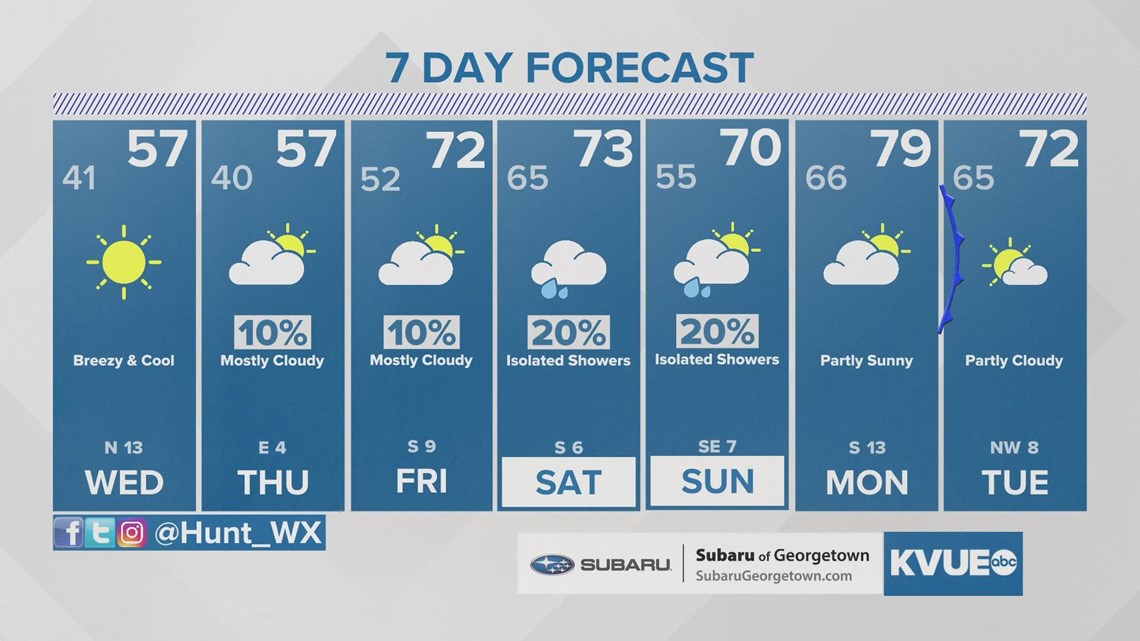 Check out the live radar for what you can expect the rest of the day and into the workweek.