CHARLOTTE, N.C. —
Today (Sunday):
Clouds have increased for the day and this means most of the day will be overcast most of the day. There is a slight chance for a little sunshine especially by the end of the afternoon. Expect temperatures to only reach the low 50s during the afternoon.
With lacking sunshine this will feel chilly. Much colder Sunday night into Monday with lows in the 30s.
Next Week (constant rain chances):
Monday: Starts off below freezing with a mix of clouds and sunshine. More clouds by the afternoon. Rain to end the day but is more likely later in the evening and overnight.
Tuesday: Best chance for rain and scattered showers should be on and off for most of the day. Highs in the upper 50s.
Wednesday and Thursday are both near 70 degrees and come with partly sunny to mostly cloudy skies. There is a chance for rain but it should only be for a small portion of the day.
Friday: The passage of a cold front arrives late day and this is trending to be the second wettest day of the week. Cooler but still in the 60s.
The United States drought monitor saw no big changes compared to last week. About 57% of North Carolina is under drier-than-normal conditions with 35% of South Carolina the same.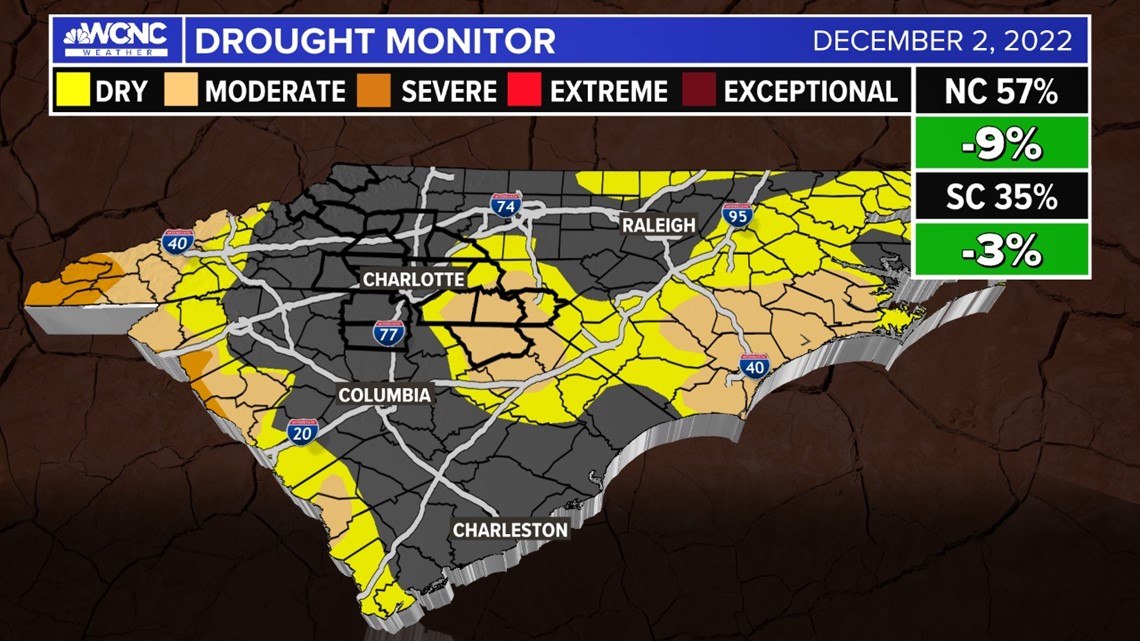 Stay connected to the WCNC Charlotte Weather Team