GREENSBORO, N.C. — July is over, and August is just beginning. Typically that's a tide change in Atlantic Hurricane Season.
After a very active 2020 Atlantic hurricane season and a busy start this year, some may be wondering: "Why is the Atlantic basin quiet now?" and "Should we expect it to get busier soon?"
The peak of hurricane season has historically been on Sept. 10 with an overall greater frequency in tropical activity in the Atlantic Basin throughout mid-August and September. In fact, about two-thirds of tropical systems form between mid-August and early October.
By this time in the summer season, water temperatures have usually reached their peak in the Gulf and the Caribbean. More importantly, they have usually warmed up in the open Atlantic Ocean closer to Africa. It's not just water temperature though; harsh winds tend to relax this time of year making it easier for hurricanes to develop and grow.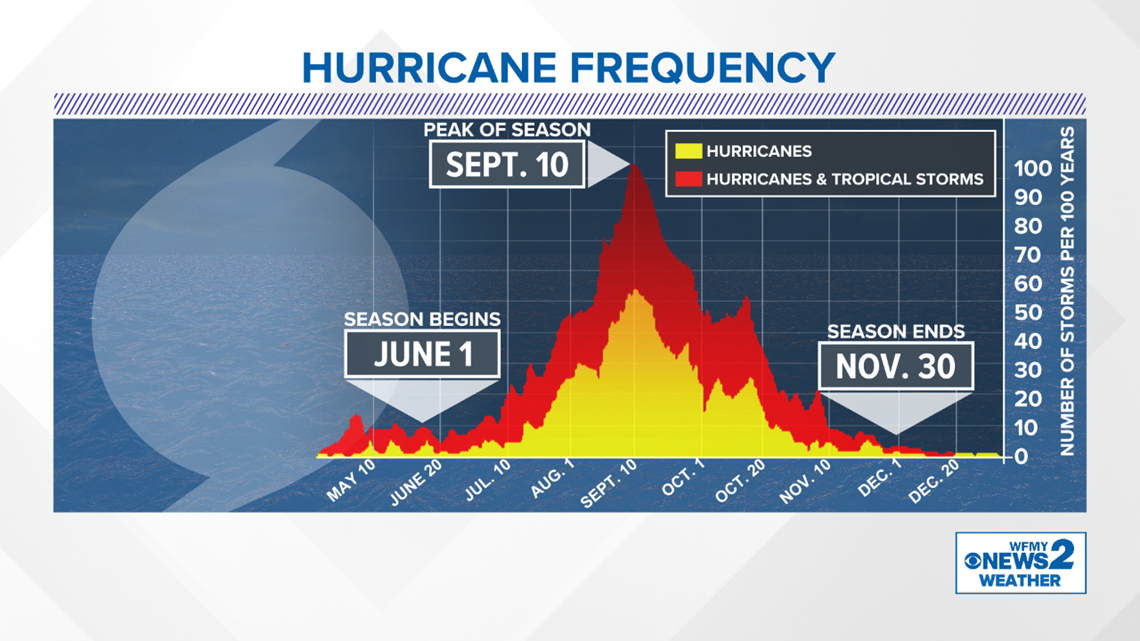 Where do storms usually form? Well, this time of year pretty much anywhere is fair game. Any tropical systems that develop during the month of August are more likely to develop near the Winward Islands and track westward to the Gulf of Mexico or northwest hugging the East Coast. However, storms can develop as far east as the Cape Verde islands just off the coast of Africa. Storms that form farther out to sea have more time to strengthen and grow and tend to be stronger.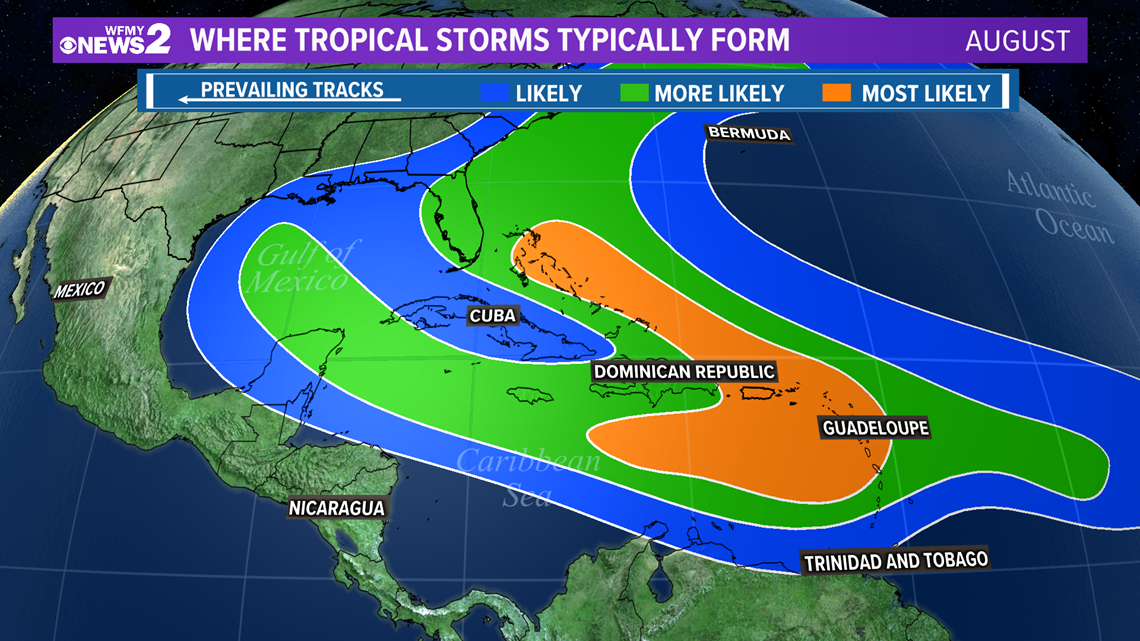 What about right now? Well, there's still not much happening in the tropics. The last few weeks have seen outbreaks of dry, dusty air from the Saharan Desert move out over the Atlantic. This has squashed any activity.
As of Monday afternoon, there is a cluster of showers and storms just off the western coast of Africa and has a 20% chance of development over the next five days.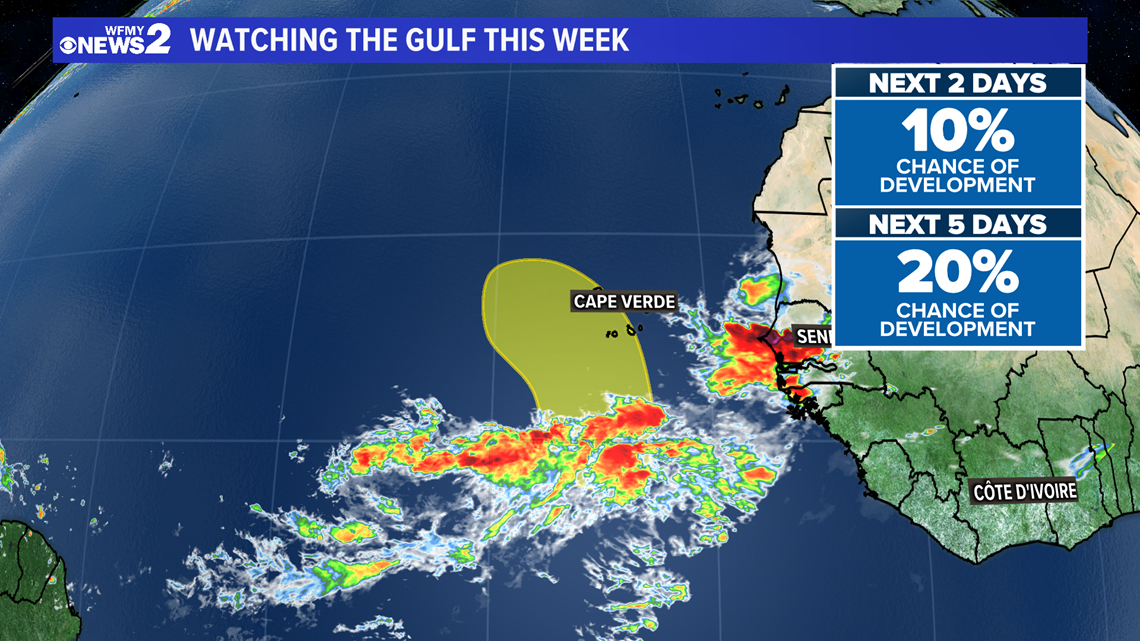 Although the tropics have not been active for late July, our season did have an early start. On July 1, 2021, Tropical Storm Elsa broke the record as the earliest fifth named storm beating the previous record by Edouard the 5th named storm of the 2020 season.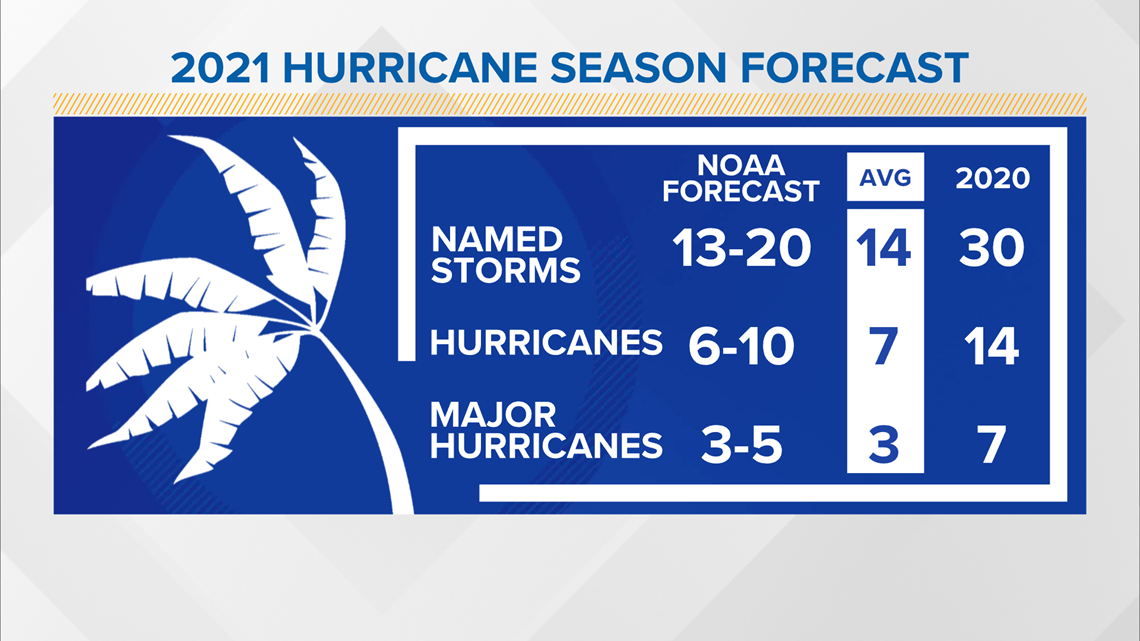 NOAA expects this year to be an above-average season, but not as busy as 2020. NOAA's forecast includes 13 to 20 named storms, 6 to 10 hurricanes and 3 to 5 major hurricanes. The average is 14, 7 and 3, respectively. However, last year, there were 30 named storms, 14 hurricanes and 7 major hurricanes.
Hurricane season officially ends on Nov. 30.