GREENSBORO, N.C. — The WFMY Weather Team is tracking a powerful storm system headed our way tonight and Monday morning with a lot of wind and rain.
A strong low pressure system formed along the Gulf coast tapping into ample amounts of moisture from the Gulf of Mexico and is now tracking NE toward the Triad. Behind this powerful system, winter chill will arrive for several days heading through the week.
Rain will arrive tonight with the heaviest coming Monday morning along with strong winds through midday, shaping up for a nasty Monday morning commute to work. Here's what you need to know to be prepared: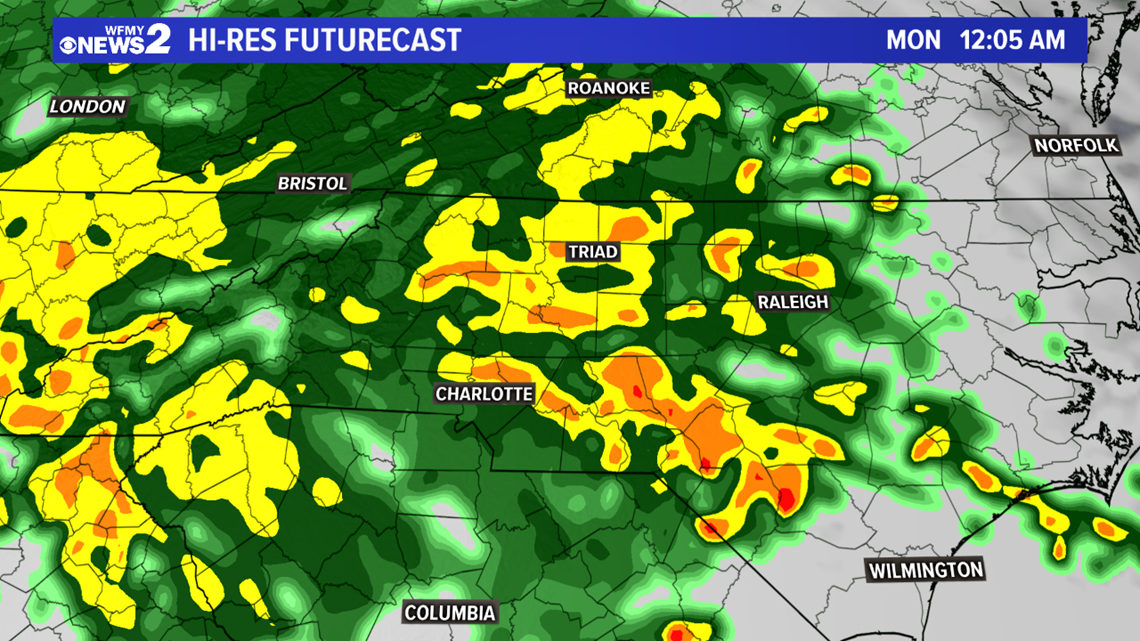 Rain will arrive after dinner time tonight from about 7-9 PM, starting as some showers or light rain at first but picking up in intensity after midnight into the wee hours of the morning Monday.
Rain could be heavy through about 8-9 AM before it starts to taper off. Most of the Triad areas will pick up generally 1-2" but there could some locally higher amounts where heavier rain sets up.
There will be plenty of rain but our biggest concern is for high winds.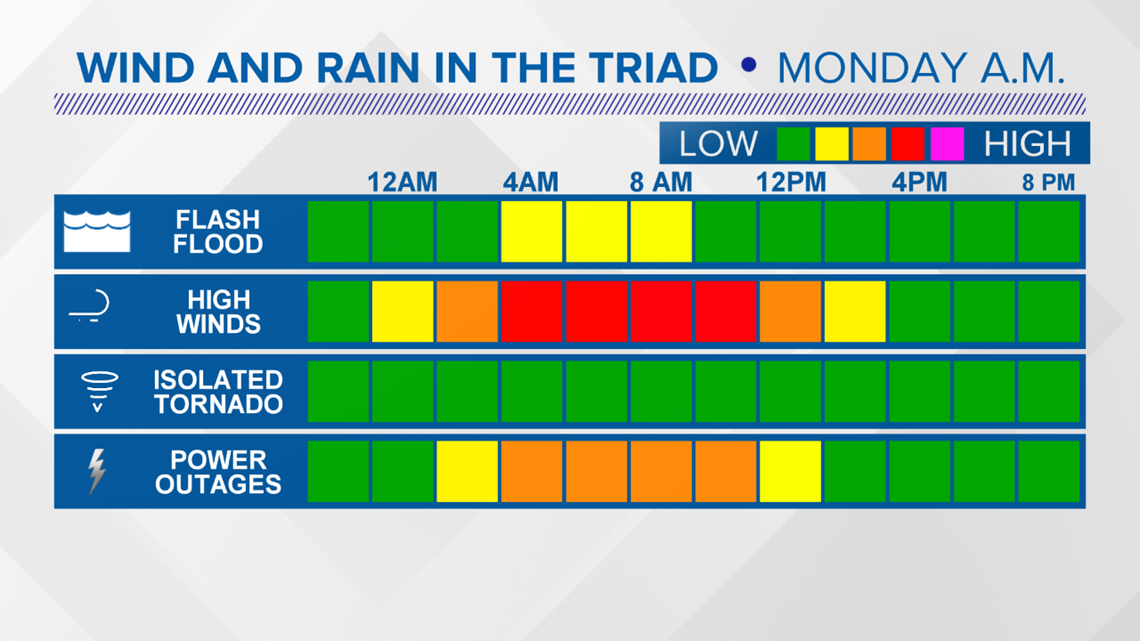 Our main concern heading into Monday morning will be the potential for high winds that could cause some damage. Gusts 35-45 mph are likely. These high winds could bring down a few trees and cause some power outages across the area.
Main timing to watch with be 4 AM - 9 AM for the heaviest rain and strongest wind. This is likely when we will see the most power outages. Our flash flooding and storm risk will remain low.
It's a good idea to charge up all phones and electronic devices in case you lose power tomorrow morning. It's also wise to tie down any patio furniture and trash cans outside.
By Monday afternoon the high wind and rain will taper off with some clearing, but it will still be breezy. Behind our big weather system, cold air will begin to rush in with sunshine returning for Tuesday and Wednesday and highs only in the 40s.
Stay weather aware through Monday midday. Our weather team will be keeping you up to date on air and online.