KILL DEVIL HILLS, N.C. — Crews were safely able to rescue a man who drove his truck onto the beach during Hurricane Dorian and got stuck.
According to the Kill Devil Hills Police Department, officers were dispatched to the beach at Arch Street at 2:30 p.m. to respond to a call for a vehicle that was swept into the ocean as well as entrapment.
Officers arrived at the scene to find the passenger had gotten out safely, but the 41-year-old driver was still stuck. They were able to remove the driver and determined he was impaired at the time he drove onto the beach. He was arrested.
WATCH: Group rescues distressed pelican during Hurricane Dorian
RELATED: Don't do this: People jet ski, swim, drive on the boardwalk during Hurricane Dorian
PHOTOS: Driver gets stuck after truck drives in ocean during Hurricane Dorian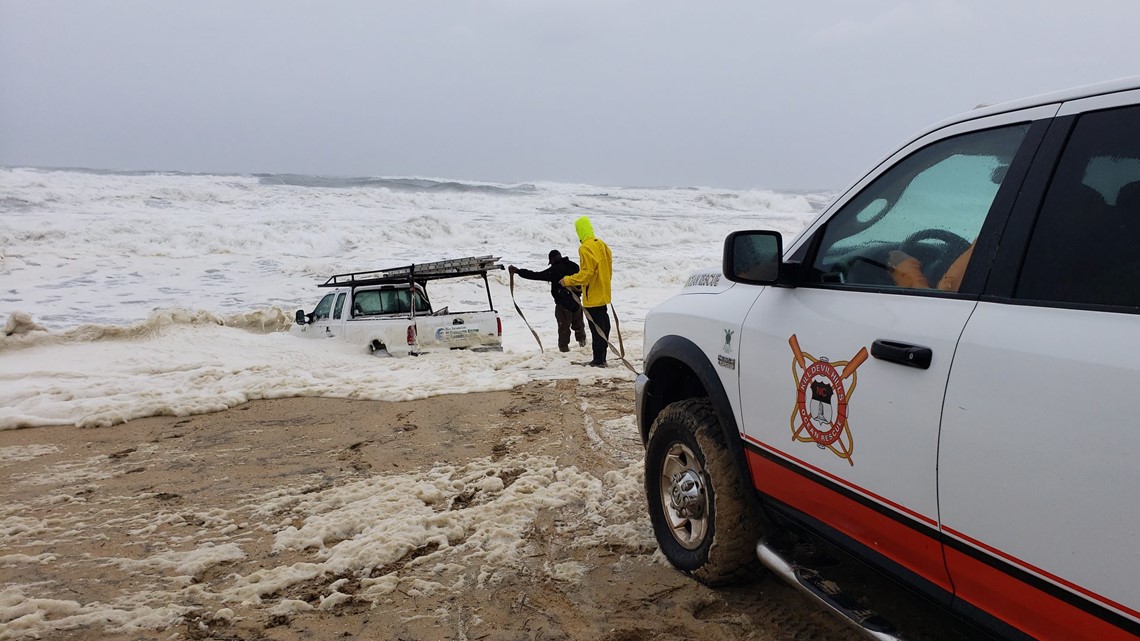 Ocean Rescue crews were also able to secure the pickup with a tow strap to prevent it from going further into the ocean.
Kill Devil Hills was still under a curfew at the time of this incident as Hurricane Dorian pounded away at the area with high winds, heavy rain and strong surf and storm surge.
RELATED: 'BAM, it shattered all over us' | Hurricane Dorian's eyewall shows its power in Nags Head
RELATED: Outer Banks' Avalon Pier and Nags Head Pier heavily damaged by Hurricane Dorian