GREENSBORO, N.C. — Ian has been a tough storm here in the Triad, knocking down trees and power lines and bringing damage to many. It isn't over yet, but it will be slowing down overnight.
Our WFMY News 2 Weather team says the worst of the storm will be behind us by 2am. Still, it will stay breezy and gusty overnight.
Read on for more forecast details and a timeline.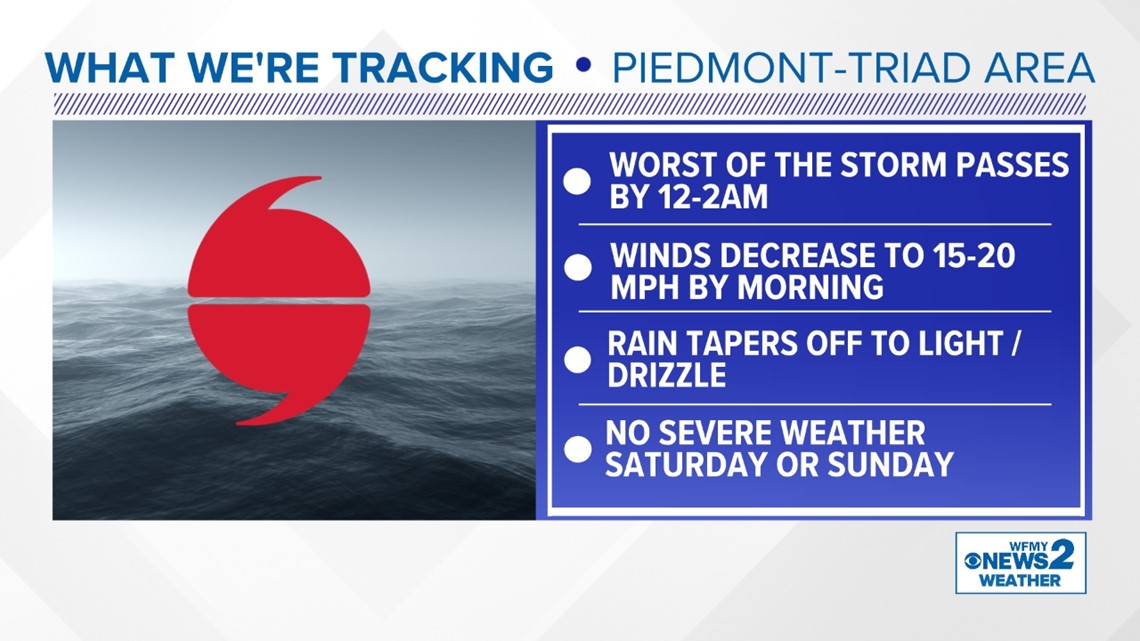 Saturday in the Carolinas
Heavy rain should be ending by Saturday morning. Still, some scattered showers will remain through the midday and afternoon. Scattered showers are possible Sunday as well. Gusty winds will be winding down.
The worst of the storm will be over by midday Saturday. This is good news for any cleanup that needs to be done.
Rain Totals Expected
Rain totals will range widely across the state and this is likely to change. Rainfall totals as of now will range from 2-4 inches across central North Carolina between Friday and Sunday. Higher totals are more likely in the Foothills ranging from 3-7 inches. With temperatures in the 60s, it will be chilly rain.


How to Prepare for the Storm
Take the time to secure outdoor objects in your yard that may blow away in the storm. Thursday is the best day to do this.
Make sure storm drains are clear and check your gutters. They'll be tested by the heavy rain.
Charge up electronics to make sure you have the most charge in case you lose power. Have flashlights ready to go with batteries.