We're seeing photos of devastating flooding and wind damage from Hurricane Florence in the eastern part of North Carolina. The images show the sheer power of the storm, but they also tell much bigger stories of bravery, love, and the resilience of the human spirit. If you have a powerful photo you'd like to share, please email it to myphotos@wfmy.com or tweet us @wfmy using #stormtrack2.
1. Firefighters Pray After Fallen Tree Kills Mother And Infant
Firefighters came together in prayer during an operation to remove a tree that fell on a home in Wilmington, NC. A mother and child died. The father was taken to a hospital for unspecified injuries.
ANDREW CABALLERO-REYNOLDS/AFP/Getty
2. A Mother Holds Her Child After Being Rescued From Flood Waters
A mother's love is undeniable, and we see it in this photo. These two were rescued overnight from a hotel that took major storm damage. They were taken by public safety staffers in Jacksonville, NC to a safer location.
3. A Crisis Response Volunteer Rescues a Girl From Her Flooded Home
The girl and her family were rescued from their home in James City.
Chip Somodevilla/Getty Images
4. First Responders Rescue a Man From Flood Waters
A rescue squad from New York City carries a man to safety from his flooded home in River Bend, NC.
NYC Emergency Management
5. An Elderly Couple Holds Hands Ahead of Evacuation For Florence
This couple was moved from a coastal nursing home in South Carolina before the storm. We don't know who they are, but they've touched our hearts.
6. Myrtle Beach Officers Secure Old Glory
These officers saw Old Glory hanging from a snapped flag pole in Myrtle Beach and brought her down safely. Great job to them. Duty. Honor. Respect.
Myrtle Beach Police Department
MORE PHOTOS: Hurricane Florence Makes Landfall in Eastern N.C.
PHOTOS: Hurricane Florence Makes Landfall in Eastern N.C.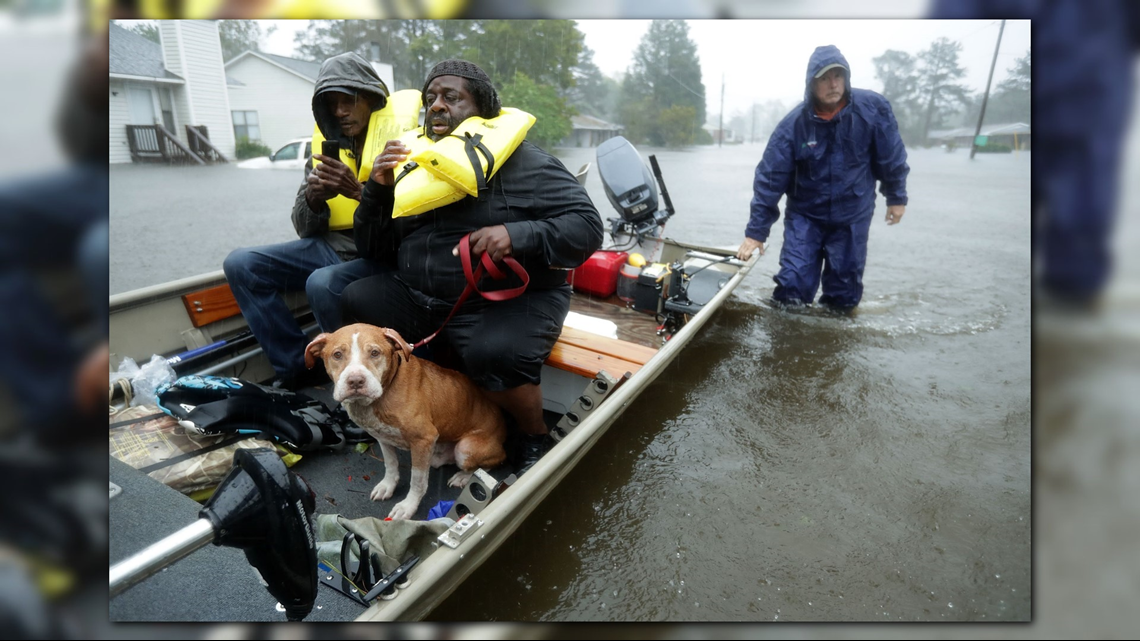 LIVE BLOG | Tracking Hurricane Florence Across The Carolinas
HURRICANE GUIDE | Be Storm Ready, Prepare Now, Safety and Other Vital Emergency Information
Elderly Couple Celebrates 70 Years Side-By-Side During Hurricane Florence
Follow WFMY News 2 on Facebook and Twitter
► Make it easy to keep up to date with more stories like this. Download the WFMY News 2 App: Apple Users, Android Users