GREENSBORO, N.C. (WFMY) -- What you should after the winter snow storm.
TUESDAY, December 11, 2018:
7:15 p.m. - Randolph Co. man takes his tractor to Greensboro to help neighbors dig out
7:00 p.m. - Who's responsible for clearing your apartment complex?
6:40 p.m. - List of school closings and delays released
5:00 p.m. - Guilford County lifts the state of emergency associated with the winter storm.
3:30 p.m. - Awning collapses at Florence Elementary school in High Point
2:00 p.m. - People in High Point hoping to eventually see a plow, probably won't.
Related: Snow Covered Neighborhood Roads Are Not Cleared By High Point City
During the update on conditions in the city, historically, it hasn't plowed residential streets because of limited manpower, equipment and resources. The city cites 4 priority areas it works to clear after a snowstorm.
Noon - North Carolina is still under a State of Emergency. Governor Roy Cooper confirmed a third death from the storm. A person died while helping remove a stuck car on Interstate 77. There are 60 school districts that are still closed.
11:30 a.m. - Rockingham County Schools announce they are closed for students on Wednesday.
9 a.m. - A look at another building collapse in Winston-Salem.
8 a.m. - It's still slick out, so be cautious on your morning commute!
6 a.m. - The National Weather Service has tweeted out an alert about ice on the roads. Chilly temperatures last night caused melting snow to refreeze and create hazards on the roads. Black ice is likely through 9 a.m. A Winter Weather Advisory is in effect until 10 a.m.
MONDAY, December 10, 2018:
11 p.m. - A car warehouse collapsed due to heavy snow. Greensboro Fire said it happened at the Alaa Export Cars on Goldsboro Street. Thankfully no one was hurt!
10:35 p.m. - Check this out! WFMY News 2 crew helps tractor-trailer filled with milk turnaround in Guilford County
9:35 p.m. - Alamance County family spends snow day digging others out of the mess! Got a snow angel? Email us at webteam@wfmy.com
8:44 p.m. - 8th Street between Oak And Cherry Streets closed for a minor traffic crash. Police warn drivers to stay at home and don't venture out if possible.
7:35 p.m. - New snow totals released and you better believe it's one for the history books!
Related: SNOW TOTALS: Historic Snowfall Across The Piedmont
6:35 p.m. - Three horses died after an open-air arena collapsed at Sunnyside Farms due to the snowstorm.
5:33 p.m. - Statewide there are 79,596 outages that's a decrease compared to more than 200,000 on Sunday.
4:00 p.m. - Winston-Salem building collapses from the weight of the snow. It's the second reported one in the Triad.
3:45 p.m. - It's snowy down south yall! Greensboro has had more snow so far this season than Minneapolis, New York City, and Boston.
3:26 p.m. - The North Carolina Highway Patrol responded to a crash on I-40 involving a livestock truck near the TN line. Troopers had to round up the pigs.
2:20 p.m. - Snow and icy roads have forced the cancellation of the WFMY News 2 Holiday Blood Drive Tues. Dec. 11, 7a-7p.
1:30 p.m. - New snow totals! Mt. Airy received 16 inches of snow, 14.5 in Winston-Salem, 12 in Greensboro, 11.5 in Kernersville, 11 in both High Point and Burlington and 8 in Lexington.
PHOTOS | Snow, Winter Storm Continues on Monday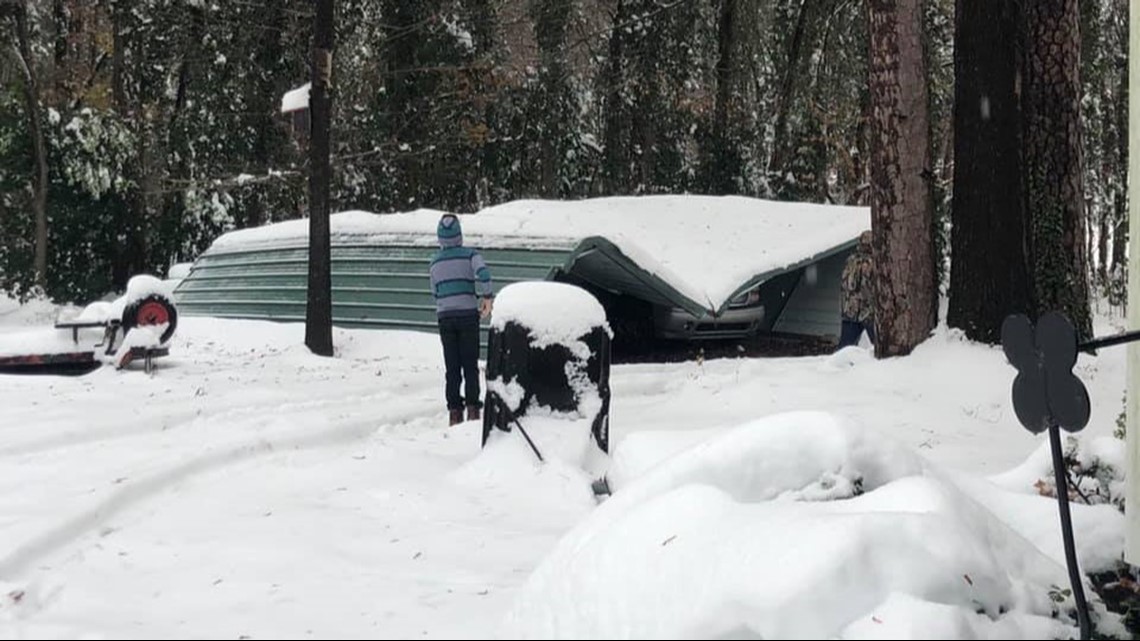 1 p.m. - The NC Highway Patrol says they've had 754 calls for service since midnight throughout the state. There have been 319 crashes since midnight.
Noon - Several local school districts are announcing closures for Tuesday and Wednesday. Check them out here.
10:30 a.m. - North Carolina Governor Roy Cooper provides an update on the winter storm. Cooper said two deaths in the state are attributed to the storm while a third is being investigated.
9:50 a.m. - NC Emergency Management says the total power outage number is 145,558.
9:30 a.m. - High Point Police report they've responded to 82 assist motorist calls for an average of (30 min per call), 16 assistance calls, seven traffic accidents, and two traffic-related calls since midnight Sunday.
9:10 a.m. -
8:45 a.m. - Here's a look at what we're seeing across the Triad as the winter storm enters Day 2.
7:25 a.m. - Some storm impact by the numbers: WNCN reports the North Carolina Highway Patrol responded to 709 crashes and 1,892 calls for service from midnight to 3 p.m. Sunday. NC DOT crews used more than 13,000 tons of salt and 1,600 tons of salt and sand mixture to clear roads.
6:15 a.m. - High Point 911 has posted photos of a collapsed vacant building on English Road.
5:45 a.m. - Latest power outage numbers for our area:
Guilford: 8,897
Forsyth: 2,710
Rockingham: 3,544
Randolph: 4,554
Alamance: 2,630
Stokes: 2,997
Surry: 2,386
Davidson: 323
5 a.m. - There are major delays on I-77 between Exit 82 (NC-67) near Elkin and the Virginia state line. Both directions are reduced to one lane.
4 a.m. - Crews are out clearing roads in Greensboro. And the flakes are coming down again in Kernersville.
2:30 a.m. - The latest power outage totals for local counties from the state department of public safety -
Guilford: 8,429
Forsyth: 3,042
Rockingham: 2,459
Randolph: 4,251
Alamance: 2,586
Stokes: 3,399
Surry: 2,463
Davidson: 343
SUNDAY, December 9, 2018:
11:15pm - More than 7,000 without power in Greensboro.
11:00pm - Greensboro police announce Gallimore Dairy Road closed possibly for the next 12 hours between Chimney Rock Road and I-40, due to a disabled tractor-trailer in the roadway. Drivers are asked to avoid this area.
10:00pm - Power outages drop for Winston-Salem, increase in Greensboro.
9:00pm - Snow changes to mostly sleet, wintry mix.
8:00pm - Power outages increase significantly for Winston-Salem at more than 5,000.
7:00pm - Ice accumulating on cars and trees.
6:30pm - 12-year-old on a sled being pulled by ATV injured after he hits a pole.
6pm - One death confirmed in Matthews, NC after a tree falls on a car. Investigators also confirmed a tractor trailer driver is missing after his truck went into the Neuse River. The search for the driver has been suspended.
5:37pm - Durham Co. deputy's windshield cracked after a chunk of ice fell from an overpass.
5pm: Red cross opens more shelters.
4pm - More and more drivers are having to be rescued. WFMY News 2 Erica Stapleton's video from Winston-Salem back to Greensboro on I-40 shows no matter if you have 4-wheels or 18, this snow owns the roads.
3pm - NC Zoo says it will be closed through Tuesday, December 11.
2pm - NC Highway Patrol continues to caution drivers about being on the roads as conditions continue to deteriorate.
1pm - Power outages increase. Calls for service to Highway Patrol or 911 centers also increase.
Noon - The majority of school systems across the Triad and NC are CLOSED Monday.
12:00am - Snow starts in Greensboro, other parts of the Triad.
5:00am - Snow building up in areas across the Triad.
7:00am- Just over 2,000 power outages on the Duke Energy map.
8:00am - Lots of crashes being reported at the I-85/40 split in Greensboro, between Randleman Road and South Elm Eugene Street Exits.
9:45am - Greensboro Coliseum announces the Trans-Siberian Orchestra Concert is rescheduled to Tuesday, December 11.
10:00am - Power outages increase. Winston-Salem has the most of around 4,000.
10:30am- Several Triad schools make the call to close Monday.
11:00am - Governor Cooper does update and warns about any type of traveling. First responders are dealing with hundreds of wrecks.
11:10am - Guilford County leaders declare a State of Emergency for the entire county.
Saturday
8:19 a.m. -- Duke Energy Midwest crews traveling to Greensboro to aid in winter storm efforts.
12:00 p.m. -- Governor Roy Cooper gives an update on the major winter storm expected to hit the Triad.
STATE OF EMERGENCY
Gov. Roy Cooper has issued a state of emergency for all 100 counties in North Carolina
The Governor declared the State of Emergency in an effort to get any essential supplies, equipment, and utility trucks to restore power to get where they are needed quickly. He has also activated the National Guard in addition to declaring the State of Emergency.
Related: 'State of Emergency' To Be Declared in NC Ahead of Major Winter Storm; National Guard Activated
POWER OUTAGES
Duke Energy is projecting the winter storm could result in 500,000 plus power outages in the Carolinas. Widespread, multiple-day power outages are expected for the Mountains, Foothills, Piedmont, Triad and Triangle areas of North Carolina. Duke Energy has more than 8,700 line and tree workers, damage assessors and support personnel ready to respond to outages.
Related: 500,000 Plus Power Outages Expected With Winter Storm: Duke Energy
REPORTING DUKE ENERGY OUTAGES
Here's how to report a power outage:
• Text OUT to 57801 (standard text and data charges may apply)
• Call the automated outage-reporting system at 1-800-POWERON, 1-800-769-3766 for Duke Energy Carolinas customers and 800-419-6356 for Duke Energy Progress customers.
• Report an outage or view current outages online at www.dukeenergyupdates.com
REPORTING OUTAGES
Duke Energy Progress: 1-800-419-6356
NC Electrical Cooperatives: 1-888-411-7870
Energy United: 1-800-386-4833
Randolph Electric: 1-877-736-2633
Piedmont Electric: 1-800-449-2667
Surry-Yadkin Electric: 336-356-8241
City of Lexington Electric: 336-248-2337
City of High Point Electric: 336-883-3111
ROAD PREPARATIONS
The North Carolina Department of Transportation (NCDOT) is working to prepare major roadways for the winter storm including in Davidson, Davie, Forsyth, Rowan and Stokes counties.
On Friday, 116 NCDOT Division 9 workers along with 32 trucks brined interstates, four-lane primary routes, and secondary routes. Crews are using a mixture of 77-percent water and 23-percent salt. It's effective for pre-treating roads that are expected to remain dry when snow begins falling. It costs about $6 per lane mile to treat.
WINSTON-SALEM
In Winston-Salem, city crews have already been applying salt brine to streets and will continue through Saturday. Once the storm arrives, crews will first salt all major roads, bridges, around hospitals, and medical facilities.
Related: Winston-Salem Preparations Ahead Of Winter Storm
Winston-Salem Traffic Field Operations will operate under snow mode starting at 10 a.m. Saturday morning. This means they will begin working around the clock in rotating 12-hour shifts.
The City's "CityLink" will operate on a 24-hour shift beginning on Saturday through December 11.
Beyond Salting The Drive: How 2 Prep Your House For Snow
http://www.wfmynews2.com/news/local/school-road-and-grocery-preps/622169054
SHARING YOUR PICS. AND VIDEOS
Join the WFMY News 2 Team: When it's safe, we want to see your snow photos and videos. Your reports help us see what's happening in every corner of our coverage area. Send photos and videos to myphotos@wfmy.com or webteam@wfmy.com
Also, post pictures on the WFMY News 2's Facebook page plus like the page for updates and tag us on your Twitter Post @WFMY using #Snowon2
HOW TO GET YOUR MAIL
The Postal Service is reminding customers to keep curbside mailboxes and walkways free of snow and ice for safe delivery.
Related: Here's How to Get Your Christmas Cards, Packages From the Post Office During The Winter Storm
For curbside delivery, snow must be cleared to the curb for a least six feet on both sides of the mailbox so the carriers' cars may approach and leave without backing up.
Delivery that is unable to take place safely due to snow or ice will be attempted again the next day.
Customers with questions or comments about their mail service can call toll-free 1-800-ASK-USPS (800-275-8777) or contact @USPShelp via twitter.
POWER LINE SAFETY
Safety Stay away from power lines that have fallen or are sagging during a storm. Consider all lines energized as well as trees or limbs in contact with lines. Report downed power lines to your local power company and to your police department.
If a power line falls across a car that you're in, stay in the car. If you MUST get out of the car due to a fire or other immediate life-threatening situation, do your best to jump clear of the car and land on both feet. Be sure that no part of your body is touching the car when your feet touch the ground.
GENERATOR SAFETY
You need to be especially careful during power outages, as the risk of carbon monoxide (CO) poisoning and fire increase. Here's how you can keep your family safe.
Use portable gas generators safely. Read the label on your generator and the owner's manual before a storm hits.
If you lose power, use your generator OUTSIDE your house ONLY, at least 20 feet from your home.
NEVER use a generator inside a home, garage or shed. Carbon monoxide from generators is poisonous and can KILL you in minutes. CO is called the "invisible killer" because you cannot see it or smell it.
Make sure you have working CO alarms in your home. They should be placed outside separate sleeping areas and on each floor of your home.
Make sure you have working smoke alarms too. Check the batteries! They should be placed on every level of your home, outside sleeping areas and inside each bedroom.
WEATHER ALERTS, EMERGENCY NEWS APPS
Make sure you download the WFMY News 2 App, and the WFMY News 2 Weather App for the latest news emergency information.
DOWNLOAD NOW: WFMY News 2 App: Apple Users, Android Users
WFMY News 2 Radar App: Apple Users, Android Users
SNOW CLOSINGS | How To Get A 'Snow Code,' How To Use It
If the power or cable goes out, you'll still be able to connect online. Download the WFMY News 2 App for live streaming video, updated weather forecasts, and reports from our field crews. Be sure to check the county where you live and work, so you'll get alerts in your area. You can also get alerts for other locations.
►Get WFMY News 2 Weather, Breaking News Alerts, Notifications
You'll want to make sure you have the latest emergency apps and contacts on your phone in the event of a hurricane or other natural disaster. This will make it easier to get the information you need.
CHARGE IT UP
Charge Up Your Tech Devices: With severe weather, there's always the possibility of power outages. Plan ahead and get your phones, laptops, and tablets charged up now. The more options you have when the power goes out, the longer you'll be able to keep in touch.
TWITTER VS. FACEBOOK FOR WEATHER UPDATES
Twitter vs. Facebook: Don't depend solely on Facebook to deliver timely weather alerts. Facebook uses an algorithm to determine what shows up in your newsfeed. Every post does not show up in your feed even if you've liked a page. You will miss important posts if you only depend on seeing them through Facebook. Twitter, on the other hand, will show every single post from a source you're following. Be sure to double-check timestamps on tweets.
EMERGENCY INFORMATION TWITTER HANDLES
Twitter Handles to Follow for emergency updates:
@NCEmergency
@NCPublicSafety
@ReadyGov
@FEMA
@FEMARegion4
WFMY NEWS 2 Twitter Handles
@WFMYWeather
@WFMY
@TimBuckleyWx
@tkweather
@EdMatthews2
@EricChilton