GREENSBORO, N.C. (WFMY) -- Florence is over land, slowing down, and now a tropical storm, but don't let that fool you.
► Related: Florence now a tropical storm, major flooding headed to the Triad
PHOTOS | Florence Wind Damage in the Piedmont Triad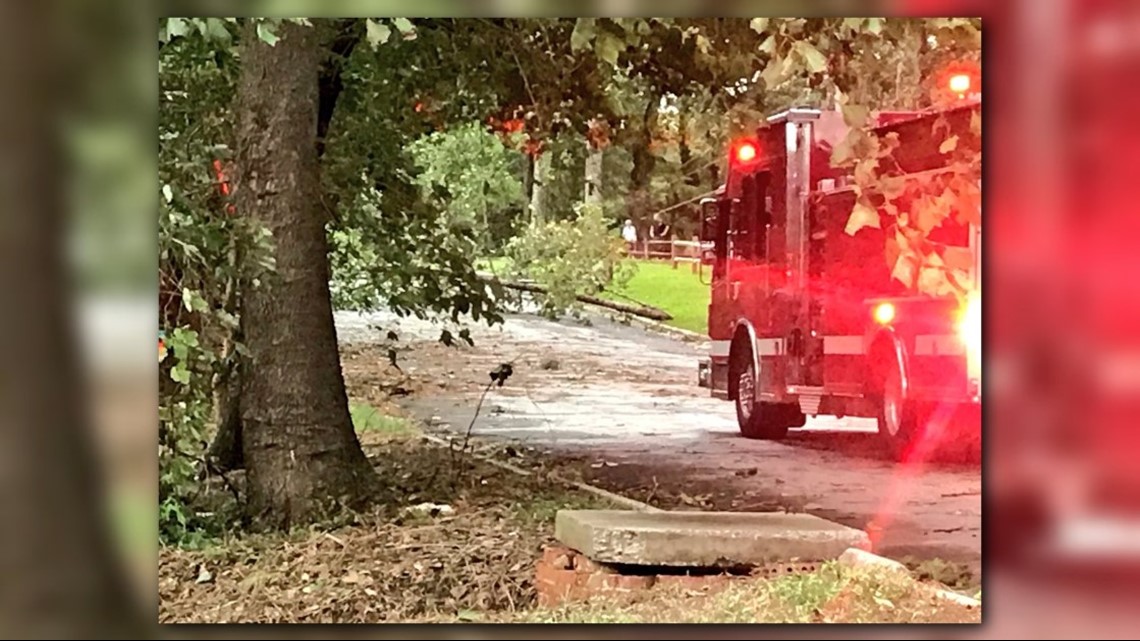 PHOTOS | Sunday Florence Flooding And Damage Across NC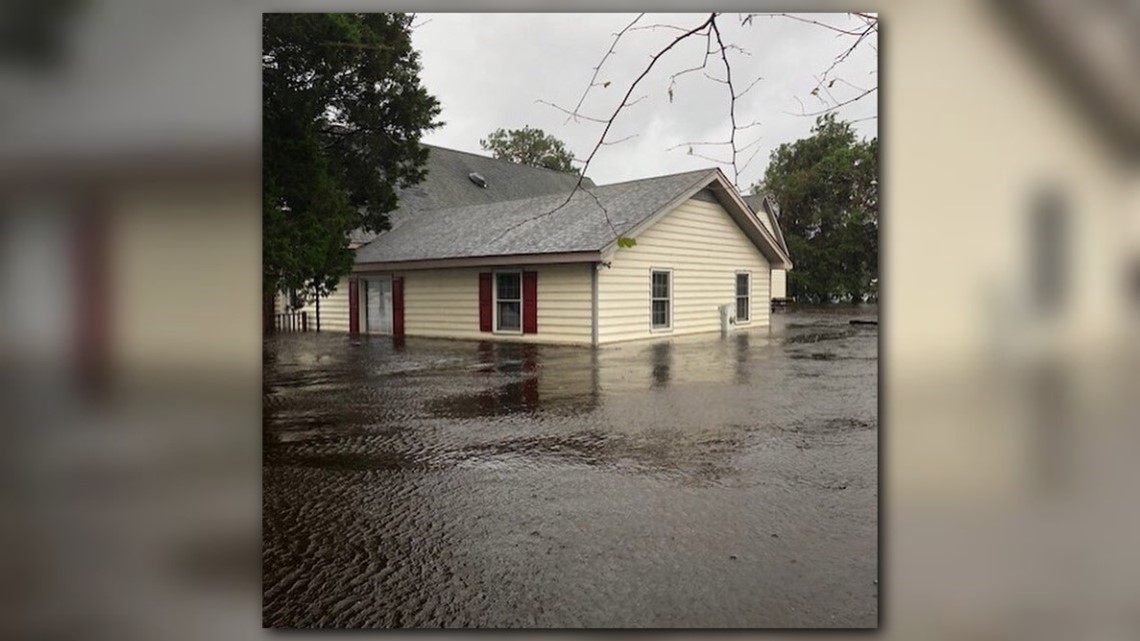 PHOTOS | Florence Wind Damage in the Piedmont Triad
11:13 p.m.: It was a pretty incredible day for rainfall in the Piedmont on Sunday.
10:26 p.m.: A look at our weather garden here at WFMY News 2.
8:31 p.m.: Rainfall estimates from Sunday. Over 6" of rain so far in the southern Piedmont!
8:07 p.m.: Current power outages
Guilford- 4,733
Forsyth- 427
Randolph-1,305
Alamance-101
Montgomery- 3,778
Stokes- 489
6:59 p.m: Flash flooding is happening!
5:50 p.m.: What the average yard in Greensboro is starting to look like due to all the rain.
4:37 p.m.: Tree down in Winston-Salem along S. Main St.
3 p.m.: A Guil-Rand fire truck has tipped over on Harlow Drive near NC 62 in the High Point area.
2:30 p.m.: The Associated Press reports a slope has collapsed under Florence's heavy rain at a coal ash landfill at a closed North Carolina power station. Duke Energy spokeswoman Paige Sheehan said Saturday night that about 2,000 cubic yards (1,530 cubic meters) of ash have been displaced at the L. V. Sutton Power Station outside Wilmington. That's roughly enough ash to fill 180 dump trucks.
1:30 p.m.: A property restoration company on the scene cleaning up debris from the siding collapse at IHFC building in downtown High Point.
1 p.m.: The state says there's still 703,942 power outages.
12:30 p.m.: NC Emergency management says over 150 roads are closed in the state, including parts of I-95 and I-40.
11:40 a.m.: Photos of the tree down on the home on Farriss Drive.
11:15 a.m.: There's damage to the International Home Furnishings Center in High Point.
11 a.m.: Power lines were knocked down by downed trees on Eastchester Drive. A tree also fell on a house in the 400 block of Farriss Ave. A transformer blew when a tree fell on a power line on Whites Mill Road.
9:30 a.m.: North Carolina Emergency Management with an update on Sunday's expected rain totals. Parts of the Piedmont could see as many as 7 to 10 inches.
12:26 a.m.: Flooding threat peaks in the Piedmont & Foothills tomorrow, rain will taper off on Monday.
SUNDAY
10:40 p.m.: The FLASH FLOOD WARNING continues for Montgomery County until 6:15 Sunday morning.
6:49 p.m.: Power lines fell onto a truck on Trinity St. between Conrad St. and Mason Way in Thomasville, no injuries were reported.
6: 26 p.m.: Tree hanging over a power line on HWY 73 just outside of Mt. Gilead city limits in Montgomery County.
4:16 p.m.: Troy Fire Department cutting down trees so they can clear roadways.
3:50 p.m.: Community sitting right by a creek in Asheboro is concerned about their safety if the creek were to flood.
2:55 p.m.: Rain from Florence starting to come to the Triad.
2:30 p.m.: A Flash Flood Warning has been issued by the National Weather Service for several counties in central North Carolina. The counties affected include Anson, Davidson, Forsyth, Guilford, Montgomery, Randolph, Richmond and Stanly.
2:00 p.m.: The Union County Coroner confirmed the driver killed in South Carolina by a fallen tree was Amber Dawn Lee, 61, of Union.
1:10 p.m.: South Carolina has had its first death related to Florence. A 61-year-old woman was killed late Friday when the vehicle she was driving hit a tree that had fallen across Highway 18 near Union, SC. There were no passengers in the car when it crashed.
1 p.m.:
Catastrophic flooding is on the way for much of North Carolina. The eye of the hurricane first hit the coast Friday morning, but the rain and wind is just getting started. Severe flooding is likely in the Piedmont and the Foothills this weekend.
Noon: Here's a look at the damage Saturday from Florence:
PHOTOS | Florence Leaves Path of Destruction Across NC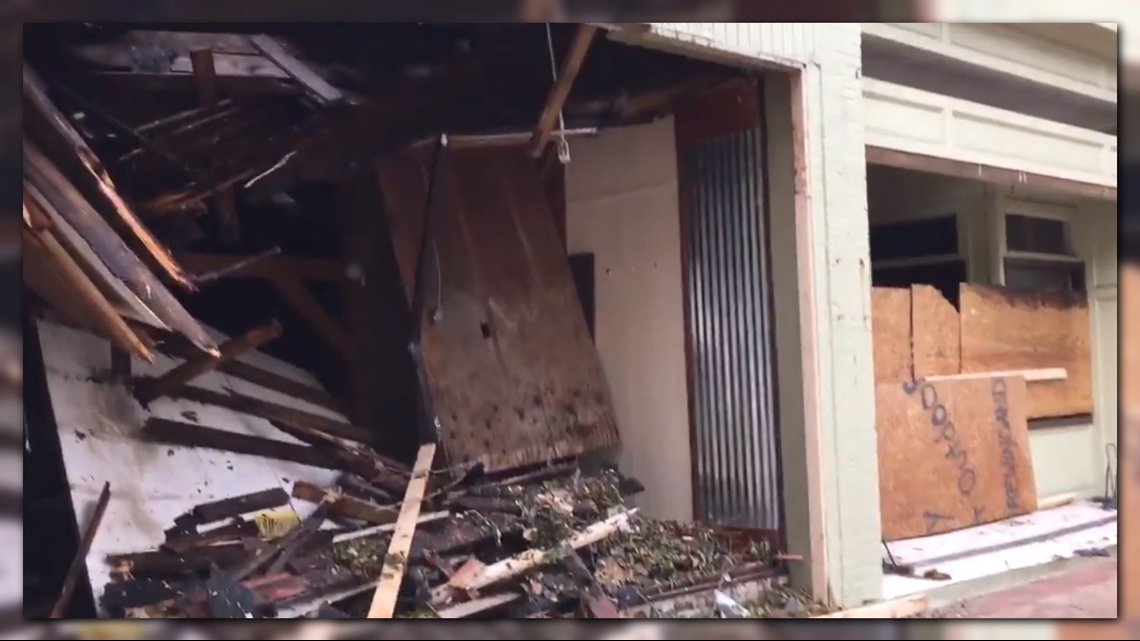 11:30 a.m.: Some quotes from Gov. Roy Cooper's news conference Saturday morning -
"Five deaths have been reported related to the storm and more are being investigated. The Loss of life is heartbreaking. Every hour, first responders are preventing more deaths."
"Even though the storm has been downgraded, the rainfall will still be epic. We are telling people to look at FIMAN map to be aware and then to listen out for evacuation orders from their counties. "
"Don't go out, especially in southeastern North Carolina. You may put yourself at risk or impede rescue efforts. Use common sense and be safe. The ReadyNC app is a helpful resource."
"The flood danger from the storm is more immediate today than when it made landfall 24 hrs ago. We face walls of water. More people now face a threat than when the storm was offshore. Flood waters are rising, and if you aren't watching for them, you are risking your life."
10 a.m.: FEMA and other government officials held a press conference Saturday morning to say they are prepared to deal with the impact of Florence.
A FEMA official said they estimate they have adequate meals and generators to help residents staying in the shelters, and they did not anticipate any shortfalls.
The Environmental Protection Agency also spoke to say they are monitoring releases and hazardous substances. They mentioned there had been a release of 7,000 gallons of used oil in Shelby, NC on September 14 that was unrelated to Florence. They said local contractors were working to clean up that ahead of the worst impacts of the storm and mitigate the amount of oil that makes it into local freshwater.
Rear Admiral Meredith Austin from the U.S. Coast Guard said they are assessing damage and doing search and rescue.
A spokesperson from the Army Corps of Engineers said the dams and levees are all in good condition, but they have brought in experts as a preventative measure. Ray Alexander, from the Army Corps of Engineers, said they also had 120 generators on hand and were making some installations.
8:30 a.m.: The NC DOT is reporting Interstate 40 is closed north of Wilmington. All Lanes of I-40 are closed in both directions near Warsaw between Exit 364 (NC-24) and Exit 369 (US-117) due to flooding.
The road is expected to reopen Monday morning.
8 a.m: A tree is down on Lake Lucas Road in Asheboro.
7:45 a.m.: Power outages are starting to appear in the Triad. Duke Energy's power outage map is over 1,000 outages in Guilford County and over 2,000 in Randolph County. The State Dept. of Public Safety is reporting 788,590 outages statewide.
Here's a look at our rain totals to this point:
SATURDAY
11:50 P.M. - Power crews ready to go and already hard at work across the Piedmont. Crews helped to restore power in Moore, Montgomery, and Randolph Counties.
11:00 PM - Extended Storm Track 2 coverage of Tropical Storm Florence from the coast to the Piedmont Triad.
9:00 PM - Alamance Co. Emergency shelter - Lamb's Chapel reaches capacity. If you need shelter in Alamance Co. go to the Fairchild Center located at 827 South Graham-Hopedale Road in Burlington.
► Related: Full-List Of Emergency Shelters Open In the Piedmont Triad
8:00 PM - Check out the winds from Tropical Storm Florence. Look closely at the awning over the gas pumps at this station in Montgomery Co. The county did end up with some power outages as a result.
7:00 PM - Trees come down across a power line on Broughton Street and Wood Street in Montgomery County
►Montgomery County Preps For Tropical Storm Florence, Expected To Be Hit Hard
6:00 PM - Power issues in Montgomery County as Tropical Storm Florence wind gusts move through the area. Multimedia Journalist Tony Black experienced the power issues firsthand while at a gas station.
4:30 PM - Extended Storm Track 2 coverage of Tropical Storm Florence from the coast to the Piedmont Triad.
4:00 PM - Power crews busy already in Greensboro trying to get the lights back on!
3:00 PM - These Saxapahaw residents are already seeing some of the effects of #Florence after a tree fell on Bethlehem Church Road.
SHARING YOUR PICS. AND VIDEOS
Join the WFMY News 2 Team: When it's safe (and ONLY when it's safe!), your reports help us see what's happening in every corner of our coverage area. Send photos and videos to myphotos@wfmy.com or webteam@wfmy.com
Also, post pictures on the WFMY News 2's Facebook page plus like the page for updates and tag us on your Twitter Post @WFMY using #STORMTRACK2
FLOOD SAFETY
If flash flooding is a risk in your location, then monitor potential signs, such as heavy rain.
Remember to TURN AROUND, DON'T DROWN!
If told to evacuate, do so immediately. Never drive around barricades. Local responders use them to safely direct traffic out of flooded areas.
If your vehicle is trapped in rapidly moving water, then stay inside. If water is rising inside the vehicle, then seek refuge on the roof.
If trapped in a building, then go to its highest level. Do not climb into a closed attic. You may become trapped by rising floodwater. Go on the roof only if necessary. Once there, signal for help.
Stay away from high water, storm drains, ditches, ravines, or culverts
12 inches of water can carry away a small car
More than half of ALL flood-related drownings occur when a vehicle is driven into flood waters
Many flash flood deaths occur at night
6 inches of fast moving water can knock you off your feet
It takes only 2 feet of water to float away most vehicles
Never walk through flood waters
If you're trapped by moving water move to the highest point and call 911
If line markings on the road are not visible, DO NOT drive through the water
Avoid driving through pools of standing water.
POWER LINE SAFETY
Safety Stay away from power lines that have fallen or are sagging during a storm. Consider all lines energized as well as trees or limbs in contact with lines. Report downed power lines to your local power company and to your police department.
If a power line falls across a car that you're in, stay in the car. If you MUST get out of the car due to a fire or other immediate life-threatening situation, do your best to jump clear of the car and land on both feet. Be sure that no part of your body is touching the car when your feet touch the ground.
REPORTING POWER OUTAGES
Duke Energy: 1-800-POWERON, 1-800-769-3766 Customers may also report an outage or view current outages online
Duke Energy Progress: 1-800-419-6356
NC Electrical Cooperatives: 1-888-411-7870
Energy United: 1-800-386-4833
Randolph Electric: 1-877-736-2633
Piedmont Electric: 1-800-449-2667
Surry-Yadkin Electric: 336-356-8241
City of Lexington Electric: 336-248-2337
City of High Point Electric: 336-883-3111
GENERATOR SAFETY
You need to be especially careful during power outages, as the risk of carbon monoxide (CO) poisoning and fire increase. Here's how you can keep your family safe.
Use portable gas generators safely. Read the label on your generator and the owner's manual before a storm hits.
If you lose power, use your generator OUTSIDE your house ONLY, at least 20 feet from your home.
NEVER use a generator inside a home, garage or shed. Carbon monoxide from generators is poisonous and can KILL you in minutes. CO is called the "invisible killer" because you cannot see it or smell it.
Make sure you have working CO alarms in your home. They should be placed outside separate sleeping areas and on each floor of your home.
Make sure you have working smoke alarms too. Check the batteries! They should be placed on every level of your home, outside sleeping areas and inside each bedroom.
EMERGENCY INFORMATION TWITTER HANDLES
Other Twitter Handles to Follow for emergency updates:
@NCEmergency
@NCPublicSafety
@ReadyGov
@FEMA
@FEMARegion4
WFMY NEWS 2 Twitter Handles
@WFMYWeather
@WFMY
@TimBuckleyWx
@tkweather
@EdMatthews2
@EricChilton
Follow WFMY News 2 on Facebook and Twitter
► Make it easy to keep up to date with more stories like this. Download the WFMY News 2 App: Apple Users, Android Users