GREENSBORO, N.C. — Yes, there's always a "milk and bread" alert for the Piedmont Triad with the mere mention of the word, "snow!"
WFMY News 2 wants to see your winter weather photos and videos including your "milk and bread" selfies but that's not all. We depend on our viewers for winter weather storm damage reports, snow totals and even reports of problem roads. Keep reading to find out how to text us your photos and videos.
TEXT WFMY NEWS 2
We've made it easier than ever to share your snow photos and videos. Here's how to share your photos and videos.
SHARE PHOTOS AND VIDEOS
Text WFMY News 2 your photos and videos to 336-379-5775. Make sure to include your name and location.

GOT SNOW TOTALS? TEXT US!
You can also text WFMY News 2 your snow totals! Many times, when it snows our viewers will grab a yardstick and drop it into the snow, then take a photo. If you do, make sure to text us at 336-379-5775. You'll need to include your name and location.

PROBLEMS WITH ROADS?
Is your road slick? Have you seen accidents from the storm? Text WFMY News 2 any issues and make sure to include the road, city, and county. Make sure never to text while driving!
STORM DAMAGE
Do you have damage from the winter storm? It could include fallen trees and powerlines. Make sure to text us a photo or video at 336-379-5775. Also, include your name and location with your text.
GOT MILK & BREAD SELFIES?
So, we want to have a little fun! Make sure to text WFMY News 2 your "milk and bread" selfies. Include your name! You can also text us information about which stores have low supplies. Just text 336-379-5775.

SHARE PHOTOS, VIDEOS ON THE WFMY NEWS 2 APP
Download the WFMY News 2 App! Then open the app select 'Near Me' and shoot it our way.



HOW TO SUBMIT ON THE APP
To start, make sure you have the most updated version of the WFMY News 2 app downloaded on your phone. If you have not updated recently, you may need to do a quick update in the app store in order to see the new feature.
Next up, open the app, and on the bottom of your screen, click the button that reads, "Near Me." Then click the orange button in the upper left corner that reads, "Share with us."
(You will be allowed to upload up to three photos or one video at a time. Users can take an original photo/video or upload one from your camera roll.)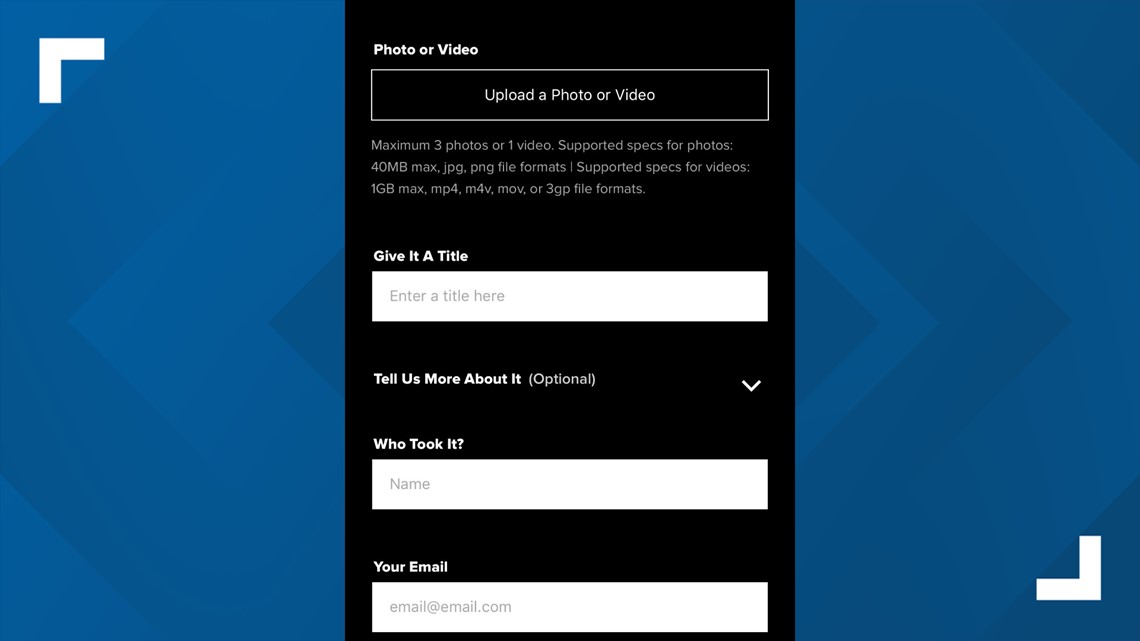 Make sure to give your photo or video a brief title, (ex: Winter Storm 2021).
Share your name (so we know who to credit).
Include your email.
Tag the location where you took the photo or video.
Finally, hit submit and once you see "success" pop up, your photo or video has reached our team!
Where do I see photos and videos that I submit?
The WFMY News 2 team will review all submissions, and once approved, they'll be live in our app. They may also be used online or in our broadcasts so be sure to always tune in!

Stay connected to local, national and breaking news: Download the new WFMY News 2 app.
►Text the word APP to 336-379-5775
►For the latest weather conditions and forecast text the word WEATHER to 336-379-5775
►For traffic alerts text the word TRAFFIC to 336-379-5775