GREENSBORO, N.C. — The Triad is getting a mix of rain and snow, on and off, early Friday afternoon. The best chance for accumulation appears to be later this afternoon for the Greensboro area. Follow this blog for live updates on weather conditions, roads, schools, and your snow photos and videos. You can text photos to us at 336-379-5775.
WEATHER BLOG: January 8, 2021
8 p.m. Duke Energy reports 1,841 NC customers are without power as of 7 p.m. Friday with 446 people in Forsyth County without power. No other utility service companies in Triad are reporting outages.
5:29 p.m. WFMY's Christian Morgan is on Facebook Live reporting the latest on snowfall in the Triad! Slick roads are possible as it gets dark Friday night.
5:28 p.m. According to Duke Energy as of 5 p.m. Friday, 230 NC customers are without power. No outages have been reported in the Triad except in Wilkes County.
4:30 p.m. More snow is starting to fall in parts of the Triad and starting to accumulate in some spots.
4:25 p.m. - Let it snow! This is in Jamestown!
4:15 p.m. - Snow sticking in Rockingham County. Check out the roads. Thanks to Chris Burleson for sharing this video.
3:57 p.m. - Reports of snow now in Winston-Salem.
3:40 p.m. - Snow starting to come down in High Point!
3:30 p.m. -- Check out the snow in Stokes County! This is from Dwayne Young. Text your photos to 336-379-5775. Give us your name and location!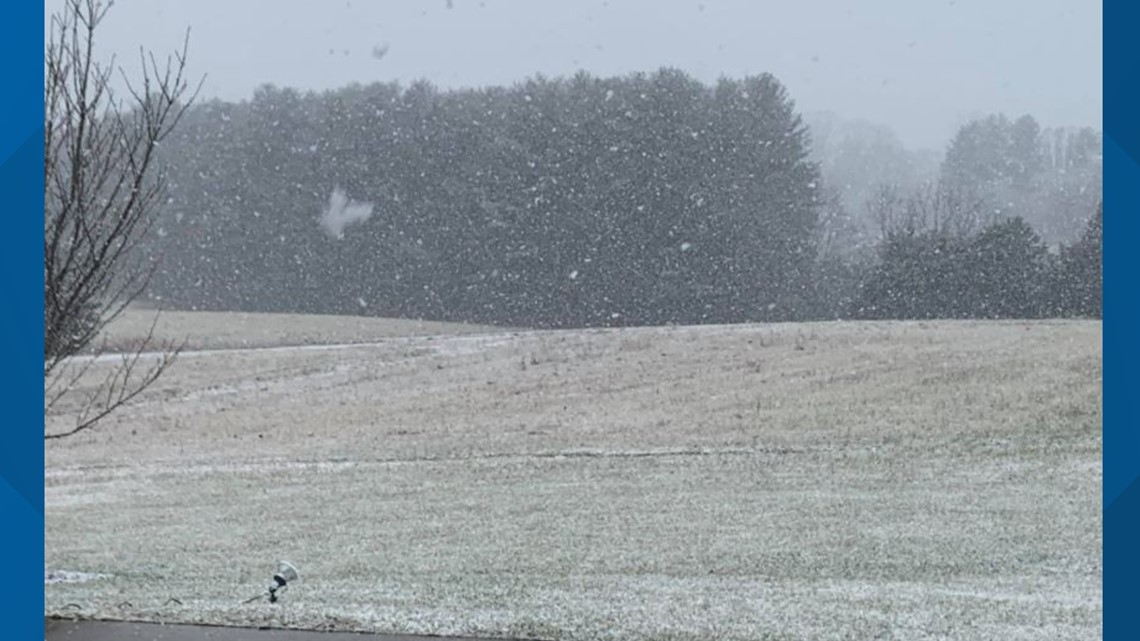 3:00 p.m. -- One dead in Carolina snowstorm
One person has died as a winter storm brings snow to the Carolinas Friday.
A winter storm has already brought heavy snow to the mountains, where snow totals have surpassed 6 inches and counting in some places already by Friday afternoon.
In Ashe County, David Oscar Osbourne, 74, of Mouth of Wilson, Virginia, died when his 2001 Ford Ranger ran off NC 16 near Shatley Road, North Carolina State Highway Patrol announced later Friday.
1:17 -- Big flakes coming down in Dobson!
11:44 a.m. -- Where's the snow? The chance of seeing accumulating snow across the Triad is decreasing, but 1-2 inches of snow is still possible later Friday. How did the forecast change? Two big things: More dry air moved in and there was more sleet than expected, according to our weather team.
10:07 a.m. -- Moderate to heavy snow is falling in Mount Airy.
9:17 a.m. -- Snow is falling in Greensboro. Our chief meteorologist Tim Buckley is getting a snow/sleet mixture at his home.
9:04 a.m. -- A light snowfall starts in Winston-Salem.
8:10 a.m. -- We found snow in Greensboro! Just a few flakes reported by our photojournalist Ryan Gavette. It's not sticking at this time.
7:29 a.m. -- A viewer shares a report of sleet near the Climax/Pleasant Garden area.
7:22 a.m. -- Wondering where the snow is? Terran Kirksey says the best chance for accumulating snow in the Triad will be this afternoon.
6:20 a.m. -- Our Itinease McMiller is in Greensboro keeping an eye on road conditions. Several trucks have passed through the city, salting roads in preparation for snow accumulation.
6:15 a.m. -- All is quiet in Winston-Salem at this hour. Roads are clear.
6:00 a.m. -- Meteorologist Terran Kirksey shares an update on snow totals and expected conditions. Snow reached the North Carolina mountains overnight and is heading for the Triad.
2:30 a.m. -- Snow falling in Blowing Rock, North Carolina.
MORE FROM OUR METEOROLOGISTS:
According to our meteorologist, we are expecting 2-4" in Triad areas. As far as travel is concerned, it will likely be rough through Saturday morning, and trees and power lines could get weighed down.
SUBMIT SNOW PICTURES:
If you would like to submit photos of snow in your area, you can text them to us at (336) 379- 5775! Make sure to include your name and location and you just may see your picture or video on the TV screen.
HOW TO GET A SNOW CODE:
In the event of inclement weather you'll want to make sure your school district, business, church, or organization has a snow closing code.
You must have a snow closing account before a snow event in order to list a closing. You can learn more about the snow code by clicking here.