GREENSBORO, N.C. — While some areas have been able melt half or even all of their ice away this afternoon, there are still many places along and north of I-40 that still have ice coating the trees. Heading into tonight, another round of light freezing rain will be possible that could add to some already existing ice on trees.
Here's the forecast from our WFMY Weather Team.
Check out some ice totals from earlier today. Generally, the Triad picked up around .2" - .25" of ice while spots to the north and west picked up a little more than .25". These are the areas that we'll need to watch the closest for an extra glaze overnight.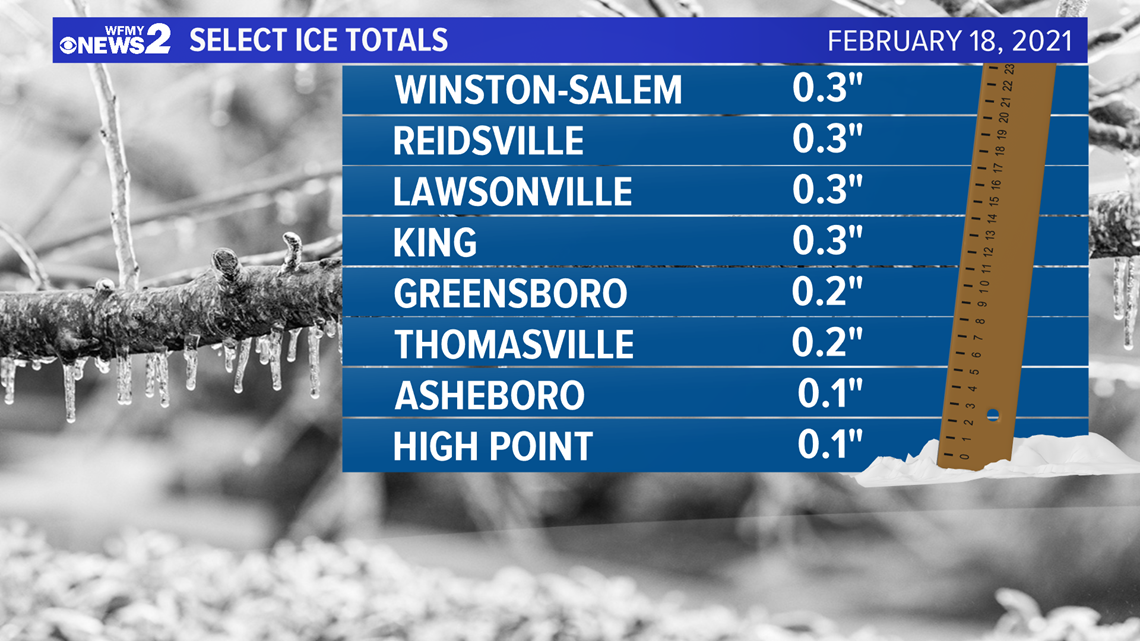 THE SETUP:
The big "first wave" of the system brought a good amount of ice that bent trees across much of the area this morning. That has moved out.
Thankfully, temperatures warmed slightly above freezing this afternoon. Some melting is happening. The more ice we can get off the trees and power lines the better before we go into tonight.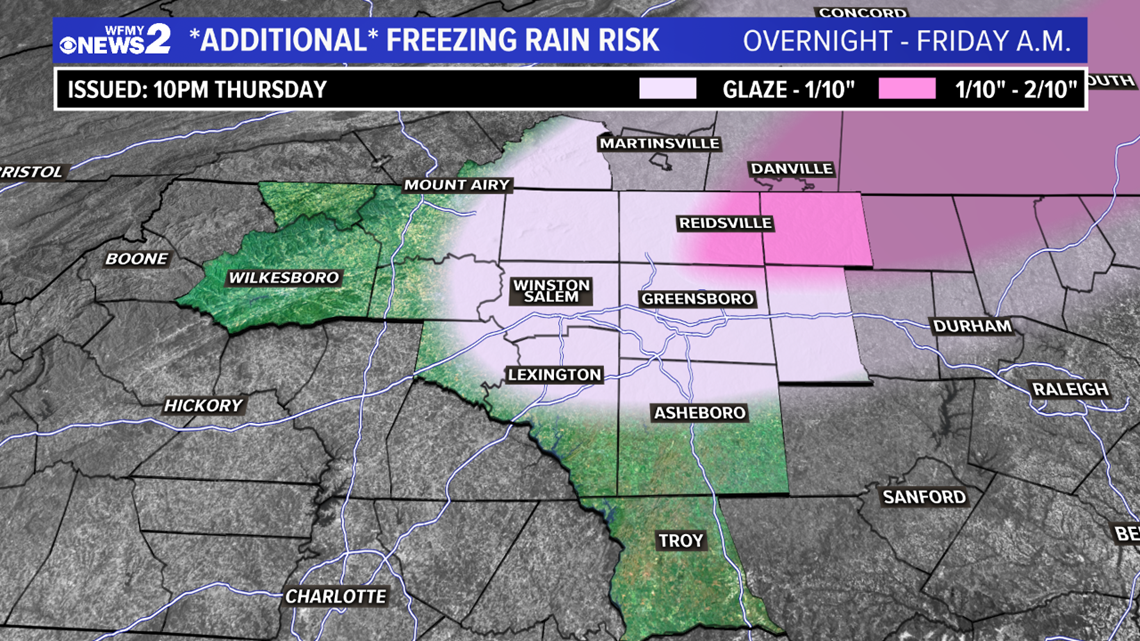 Temperatures will drop a degree or two overnight, and that could introduce the possibility for one last batch of freezing rain in parts of the area.
Like before, this would mostly be for elevated surfaces and trees. Areas along and north of I-40 could pick up a glaze to as much as a tenth of an inch.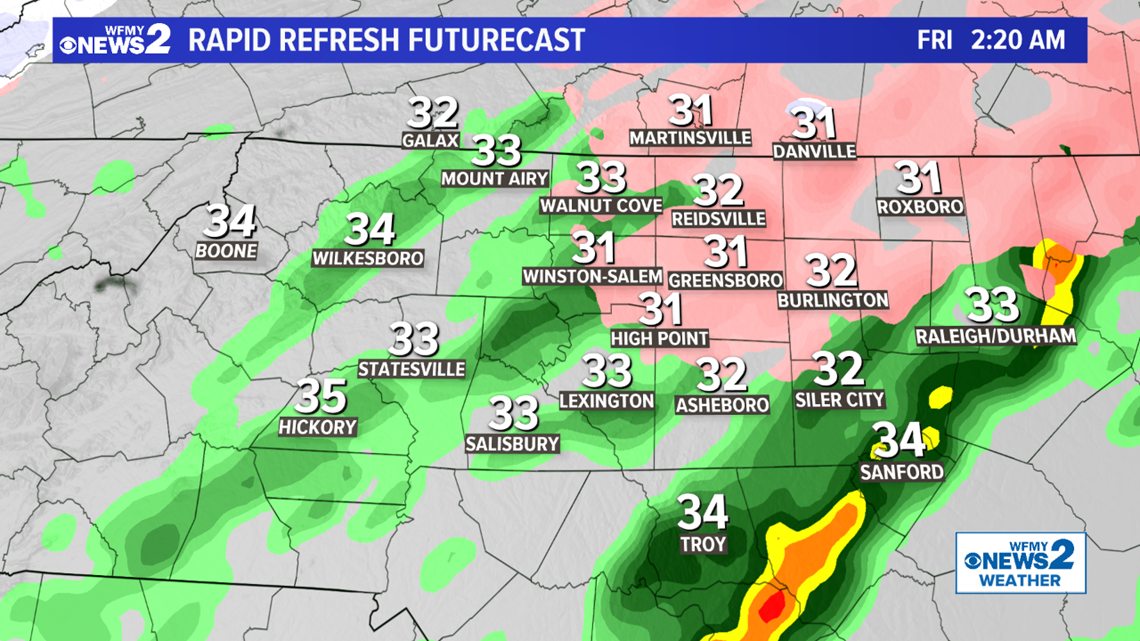 On Friday morning, the last of the rain and drizzle will be moving out. Clouds will linger through midday but sunshine is likely to break out by the afternoon and evening hours. Highs will reach the low/mid 40s to the west, but stay a bit cooler to the east where clouds will linger.
The weekend will be sunny, breezy, and cool. Both mornings will start in the mid 20s. Saturday will have a high right around 40. Sunday will warm up into the mid 40s. Still cool for this time of year.
TIMING:
Thursday Evening - Night: Precipitation tapers off some, then another batch of freezing rain is possible after 7 PM. Additional ice accumulations around 1/10" overnight in areas along and north of I-40.
Friday Morning-Midday: Rain comes to an end. Slick bridges possible. Trees could still fall and power outages could still add up. Storm moves away, slow clearing temperatures in the 40s.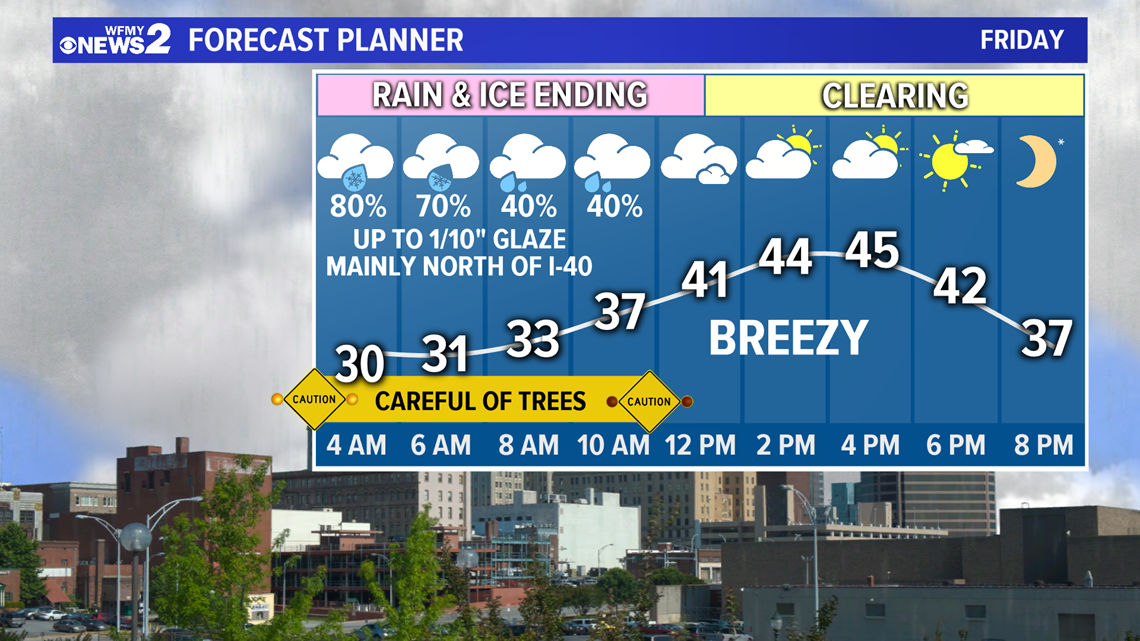 We'll still need to be aware this evening, overnight, and Friday morning that ice could still be weighing down trees enough to make them fall, block roads, and cause some additional power outages.
By midday Friday, we're clearing out and bringing the sunshine back slowly, warming up above freezing which will be good news and give us a chance to melt the ice and dry things out some.
STAY CONNECTED:
Text APP to 336-379-5775 to download the free WFMY News 2 app and keep track of severe weather right from your phone.
Subscribe to our YouTube channel, where we'll bring you live updates during the ice storm.
Follow the WFMY News 2 Weather team on Twitter: