CARTERET COUNTY, NC (WNCN) - A pair of tornadoes touched down in eastern North Carolina Saturday.
The National Weather Service (NWS) says an EF-2 tornado hit Emerald Isle Saturday with top winds of 120 mph. A separate EF-0 tornado with top winds of 80 mph was confirmed to have hit Cape Carteret.
Tornadoes Touchdown in Carteret County, NC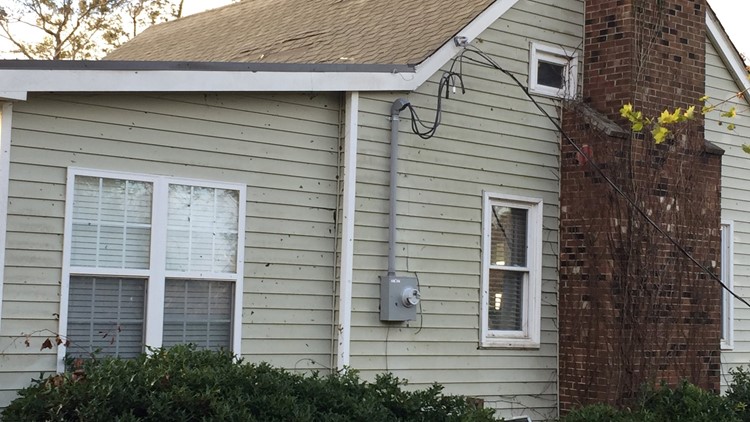 The EF-2 tornado caused damage to several homes and knocking out power to thousands, according to the NWS.
The NWS confirmed an EF-2 tornado in Emerald Isle between 2:10 and 2:16 p.m. Saturday. The twister was about 75 yards wide and was on the ground about 2.8 miles, including distance as a waterspout.
It was later confirmed an EF-0 tornado hit Cape Carteret just after 2 p.m. with maximum winds of 80 MPH.
Carteret-Craven Electric Co-Op said power lines were taken out and nearly 15,000 customers were really in Carteret County without power. The EF-2 tornado took out lines and poles between 8th and 9th Street in Emerald Isle, the company said.
The tornado became a waterspout over Bogue Sound it weakened as it crossed back over land as a tornado near Adams Lane and Broad Creek Loop Road.
The NWS tweeted several photos damaged homes in Emerald Isle.
Initial reports said seven homes were damaged.
A tornado warning was issued earlier for the area and nearby areas were under a tornado warning until 5:15 p.m.
A tornado hit the area already in November. Damage was reported after the EF-1 tornado hit nearby Atlantic Beach and Morehead City on Nov. 13.
No one was injured in either tornado.