CHARLOTTE, N.C. — Charlotte and surrounding counties are under a Winter Storm Watch for Sunday.
Snow, sleet, and ice accumulations are likely to have significant impacts on the areas.
Communities impacted include the mountains, foothills, and piedmont along with the City of Charlotte.
Snow, wintry mix, rain
Here's an overview of the wintry precipitation types the Charlotte area will face over the weekend.
Everyone will likely see some snow. Then, there's a transitional period to a wintry mix.
The biggest concern is the areas shaded in pink, which is where ice accumulations may be the highest.
Snow and sleet potential
The potential snowfall will vary depending on where you live, with higher totals likely in the mountains and foothills., There's a high chance of snow and wintry mix for areas along Interstate 85 and southeast of Charlotte.
Be prepared for ice accumulations across the board with this winter storm. Ice build on limbs and power lines along with gusty winds will lead to downed trees and power outages.
Ice potential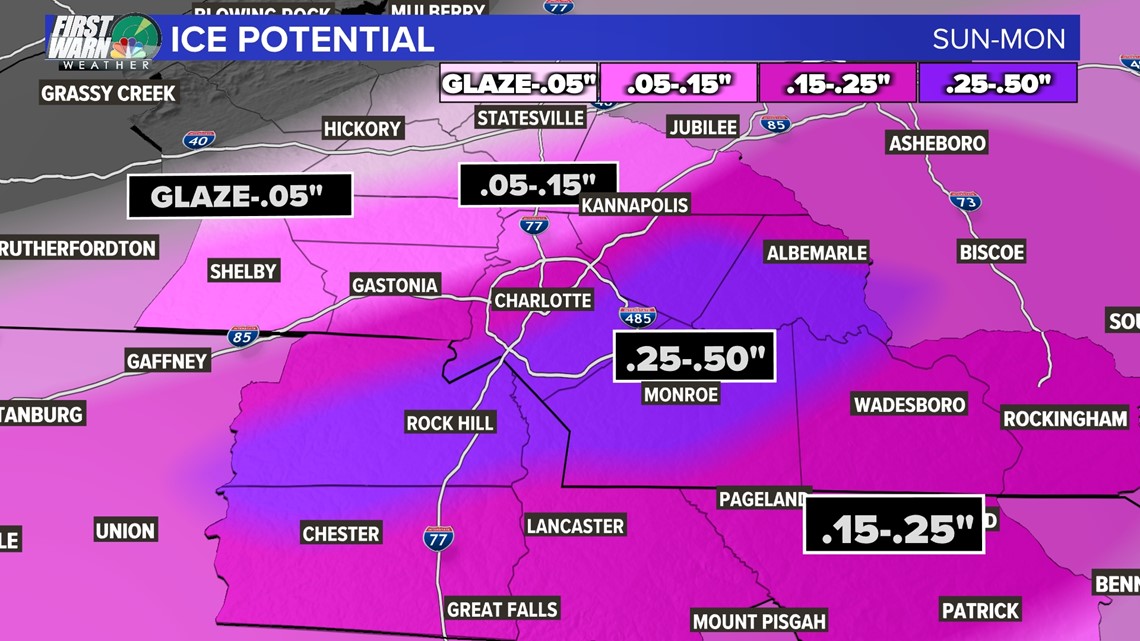 Impacts and timeline
Late Saturday night after midnight into early Sunday morning, Charlotte could see some light snow as early as 2 a.m.
Again, precipitation will not stay as all snow. A wintry mix is a strong likelihood with sleet and icy conditions.
NOTE: This is becoming a major story for the United States. Millions of people could see significant snow following the Appalachian Mountains up into the Northeast.
Expect travel to be hazardous throughout the entire day Sunday across the board, so make preparations ahead of the storm. Be ready in the event of power outages, ice accumulation on power lines, and gusty winds may increase the number of outages.
Plan now for ways to keep warm if you lose power for several hours, non-perishable food items, and charge up for your phone and devices in advance.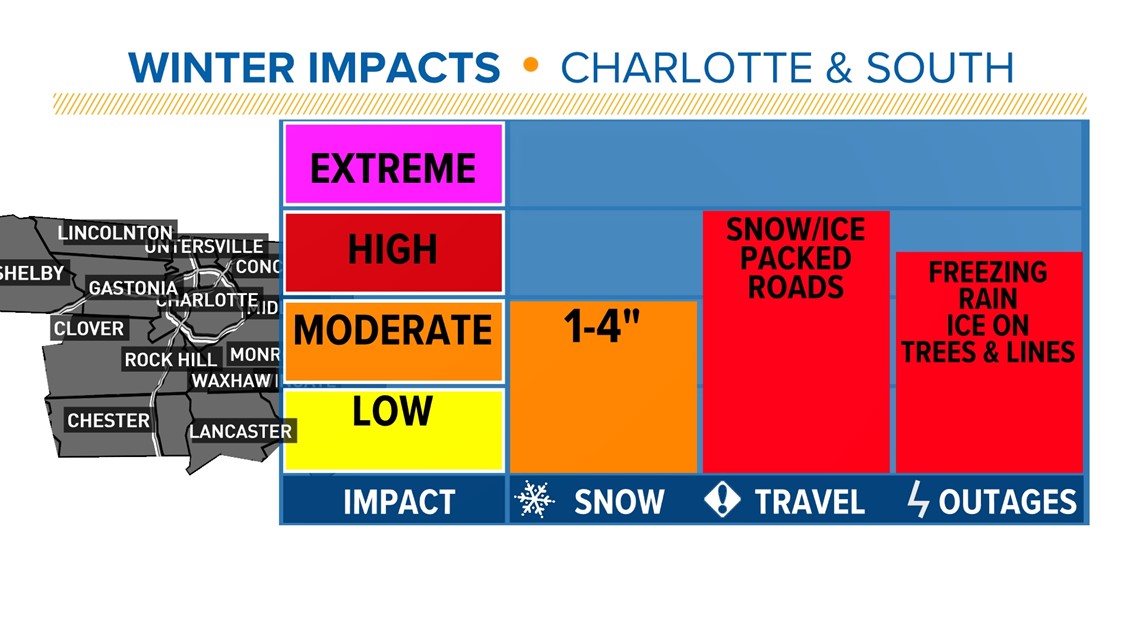 Mostly all snow with some sleet throughout the daylight hours for areas along and north of I-40.
Watch for snow and ice-covered roads, freezing rain may produce a light glaze, and plan for some power outages by having some supplies such as snacks, medicine and ways to keep warm.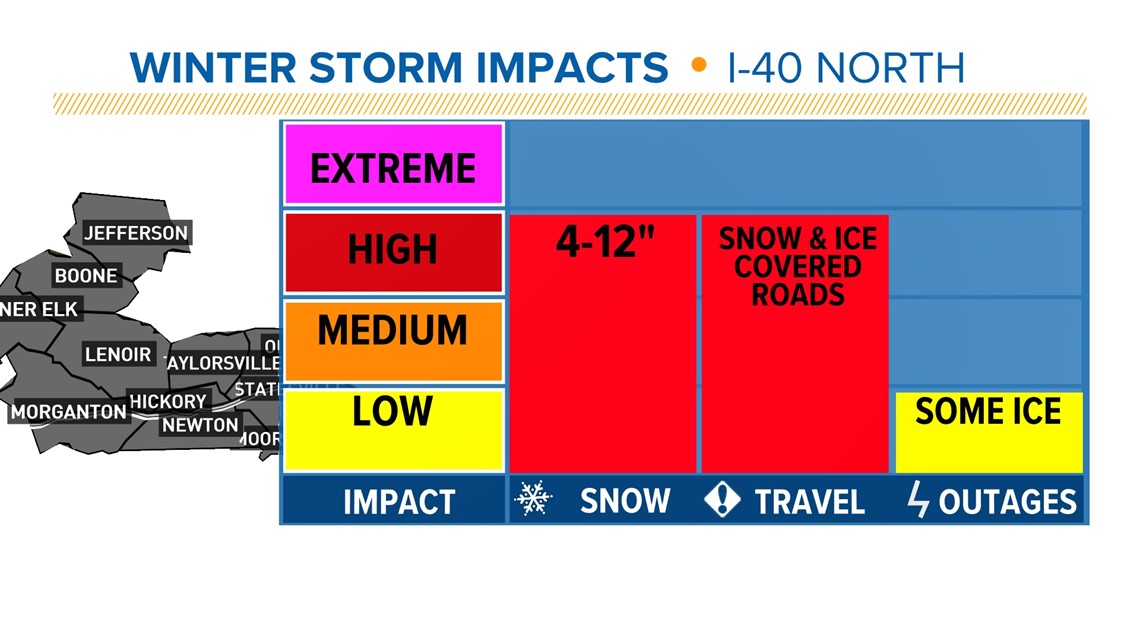 What we will know next
24-36 hours out: Winter Storm Watches will be upgraded into Winter Storm Warnings. The entire WCNC Charlotte viewing area will be under a warning by the time the weekend starts.
Rules of winter weather forecasting
Brad's rules of winter weather forecasting go like this.
Within the 7- to 10-day range, you're looking at pattern recognition. That means watching for a pattern that you know can sometimes result in snow.
Note: this is another reason why meteorologists are better than a weather app. They just use raw model data!
Then, on days five to seven, you'll watch for consistency and trends. Are models coming into better agreement? Is there good consistency between model run to model run? (i.e. is the same model showing widespread snow one hour and keeps all the snow north of us the next).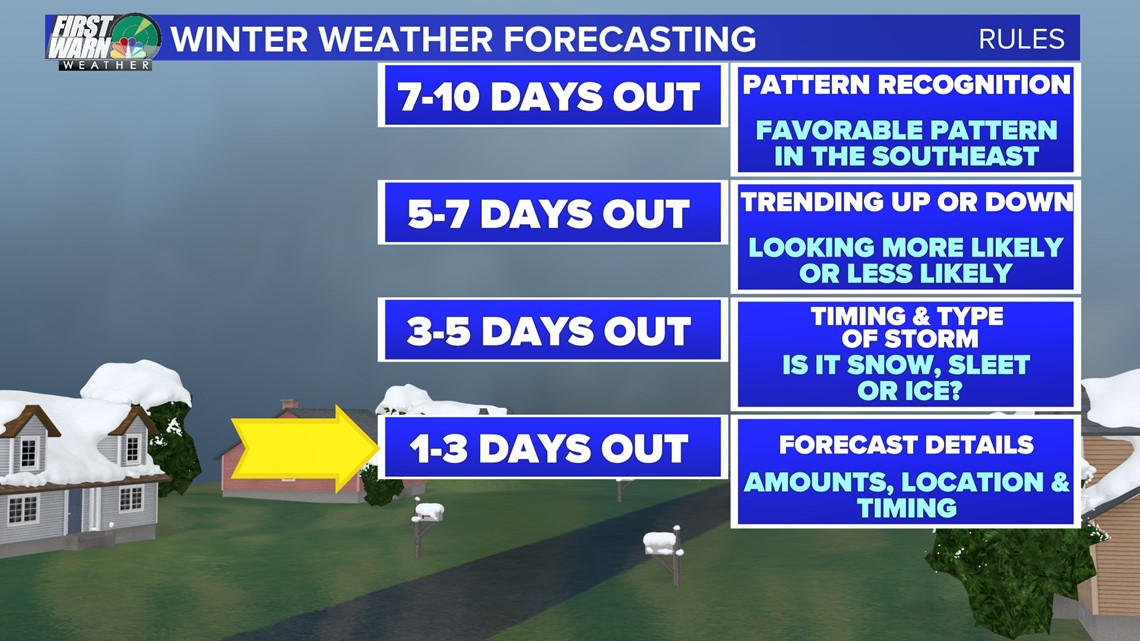 The forecast timing is now in the three to five days out time frame. At this point, we will be nailing down certain specifics, like the exact timing and precipitation types as we draw closer to the weekend. By Thursday into Friday, our final totals will gain confidence and you will know a better idea of what your neighborhood could see this weekend.
Lastly, the one- to three-day time frame is where the track is confirmed, timing and peak intensity are whittled down to within 1-2 hours and our short-range models add their two cents on how much snow will fall. For this challenging forecast, the biggest information gained will be the location of the rain/snow line that will control how much snow and ice the Piedmont will get.
The more and more we look at this, the more likely winter weather is for our area. This is the time to prepare and know what is coming next.
All of WCNC Charlotte's podcasts are free and available for both streaming and download. You can listen now on Android, iPhone, Amazon, and other internet-connected devices. Join us from North Carolina, South Carolina, or on the go anywhere.