GUILFORD COUNTY, N.C. -- A Weaver Academy teacher shared his good news with the Good Morning Show and we couldn't wait to share it with all of you.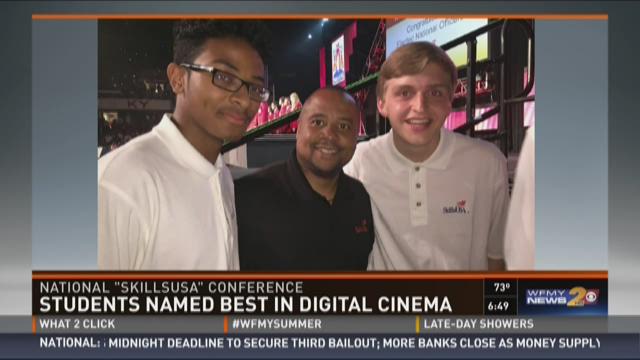 Michael Crenshaw and his two students Maleek Loyd and Brannon Carty won the silver medal in the National SkillsUSA Conference in Kentucky. That's 2nd place among more than 6 thousand students; quite an accomplishment!
Crenshaw and Loyd had the smiles of champions when they joined WFMY News 2's Tracey McCain to talk about the experience.
"SkillsUSA is an organization where high school and college students get to compete in leadership and skill competitions against other students from across the country," said Crenshaw. "Each team had to be a 1st place state winner in order to compete at the nationals."
Loyd and Carty competed in the Digital Cinema competition.
"We had to produce a 5 minute short film on a theme given to us at the conference orientation in 48 hours," said Loyd. "We were able to beat 28 of the 29 teams at the conference."
Loyd plans to use the skills he learned at Weaver Academy and at the SkillsUSA competition toward a career in film, started with an education at Appalachian State University.
"I'm very proud of my students," said Crenshaw.
You can see their award winning team video online, by clicking here.