KERNERSVILLE, NC -- Major League Baseball in North Carolina?
MLB Commissioner Rob Manfred caused a stir among NC sports fans this week, when he said Charlotte would be in the top three cities considered for a future league expansion.
But did you know, MLB already struck out in North Carolina...19 years ago?
For 19 years, baseball fanatic Mike Solomon has never forgotten it. Inside his home in Greensboro, his living room cabinet is a shrine of America's favorite pastime. It's stocked full of baseball memorabilia and pictures. But, there's something missing -- a collection he has kept tucked away, just in case. His NC Baseball collection.
"Oh, I'll pass it along to my grandchildren," Solomon says nostalgically.
The campaign was called Vote Yes for Triad Baseball -- a three-year campaign to bring Major League Baseball to North Carolina.
"This was the only major franchise missing from NC. The Hurricanes were heading to Raleigh, and obviously the Panthers and Hornets (were already) in Charlotte," Solomon said.
Solomon led the charge as executive director of the now-extinct North Carolina Baseball Group.
"I made 260 speeches. The plan was well thought out. It took three years. They wouldn't have laid a single brick, until we had a team," he said.
Solomon knew the Minnesota Twins were looking for a new stadium and willing to move. And, at the time, Greensboro's Minor League Stadium -- War Memorial -- was the oldest minor-league ballpark in the country and was falling apart.
So, the solution? Scrap minor league and go big league. The vision -- to transform farmland (which still sits there today) at the busy I-40-Business-40 split to a $240 million multiplex.
Don Beaver would have owned it. If you recognize his name, it's because he owns the Hickory Crawdads and owns interested in a half-dozen other baseball teams, including the Charlotte Knights and Pittsburgh Pirates. Beaver planned to pay for a third of the stadium, while Guilford and Forsyth County taxpayers absorbed the other two thirds.
The tax proposal was a $.50 tax on ballpark tickets, plus a 1% tax on prepared foods and beverages, meaning restaurant food.
"Rather than talking about benefits from quality of life, economic development and baseball itself, it became a conversation about increased taxes and restaurant folks thought it'd be a burden placed on their industry," said Kernersville real estate broker Arnold King.
King was part of the stadium planning, along with current Kernersville town manager Curtis Swisher, who had just been elected alderman when baseball hit the ballot.
"I think the biggest thing I remember is the two distinct sides," Swisher recalled.
A restaurant association group -- Citizens for Unfair Taxes - mounted a campaign against MLB.
"They stuck to the theme of we're putting taxes on prepared foods. It's going to cost you more. That's not the way to pay for a baseball stadium," Swisher explained.
The other side --Say Yes Baseball -- saw baseball's overall economic payoff.
Fast forward to May 5, 1998 -- election day. Turnout was high for a primary election.
"We knew it was going to be close. We were optimistic. It failed by a larger margin than any of us had thought," King said.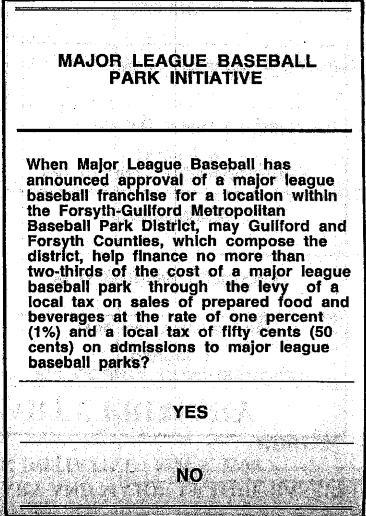 It failed two to one in both counties. It struck out in every Guilford County precinct, and it defied the polling data that predicted the young baseball supporters would turn out to vote.
"We were having significant success reaching those younger voters," recalled market researcher Walt Klein.
Klein was tapped to do the poll research on NC Baseball because he had worked on a similar project to bring the Rockies to Denver. That effort had a different ending and changed the face of Denver.
"The minute the cranes went up to build the baseball stadium, then this debilitated lower downtown part of Denver saw cranes go up all over the place," Klein said.
He added, "It (Denver) has gone from being one of the most dilapidated parts of the city to the most vibrant. And it all began with the Major League Baseball stadium. My own feeling is a very similar thing would have happened in the Triad," Klein said.
And, it would have transformed Kernersville.
"Baseball's a nine-months-out-of-the-year thing right now. It would be nice to hear Kernersville mentioned on ESPN nine months out of the year," King admitted.
So has the window of opportunity closed for MLB in the Triad? Has the Triad struck out on MLB?
"Truthfully, I would have to say yes, because of having two brand new minor league ballparks," said Solomon of the Winston-Salem Dash's BB&T Field and Greensboro Grasshoppers' First National Bank Field.
But it's a vision Solomon can't shake.
"Twenty years ago, I was envisioning cutting the infield grass today. But, it's not out of the realm of possibility," he said.
So, if one day, he catches that coveted fly ball from North Carolina's 'field of dreams,' he'll run it for home...to the living room cabinet where an empty space is still reserved.