The U-Haul truck parked in Sian Thiessen's Palm Desert driveway on Monday bore just one hint of where it was headed. In black marker, a sign on the side of the truck read, "Here we come, Paradise!"
Inside, the box truck was beginning to fill up with donated clothes, pet supplies and household items destined to make the nearly 600-mile drive to Paradise, the small northern California city reduced to ashes by the deadly Camp Fire on Nov. 8. Residents who lost homes to the Camp and Woolsey fires near Malibu are entering the holiday season with little more than their lives and items they may have collected in the terror and confusion of a last-minute evacuation.
Nearly two weeks after the first first struck, thousands remain displaced, some still barred from returning to their homes to see what remains. Local, state and federal officials are working to contain the fire and slowly begin the rebuilding process.
Coachella Valley residents have mobilized, stepping in to provide a hand amid the devastation that has struck just before many typically gather to spend time and give thanks with family.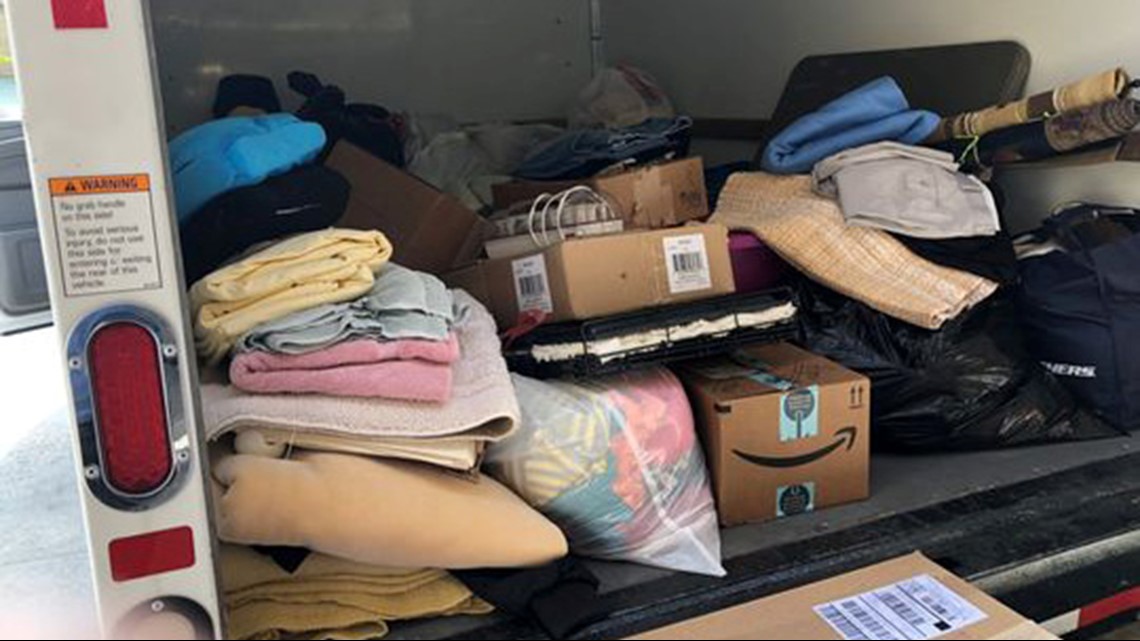 Thiessen, 55, and her friend, Joan Palmtag, 57, began receiving donations early this week after they put out a call on social media for clothes, pet supplies and household goods that Palmtag and her sister will deliver to communities affected by the wildfire. "We're just trying to get everything we possibly can up there as quick as possible," said Palmtag, regional director for the Hawaii Visitors and Convention Bureau.
Palmtag was preparing to meet a friend in Orange County, who also was collecting donations in another U-Haul truck. They planned to drive together to Paradise on Tuesday, hoping to make it in time for Thanksgiving. "It's heartbreaking," Palmtag said. "It's not only about money. It's about survival at this point. Anything that anybody can do to get goods and services and medication and things like that up to that area is really important."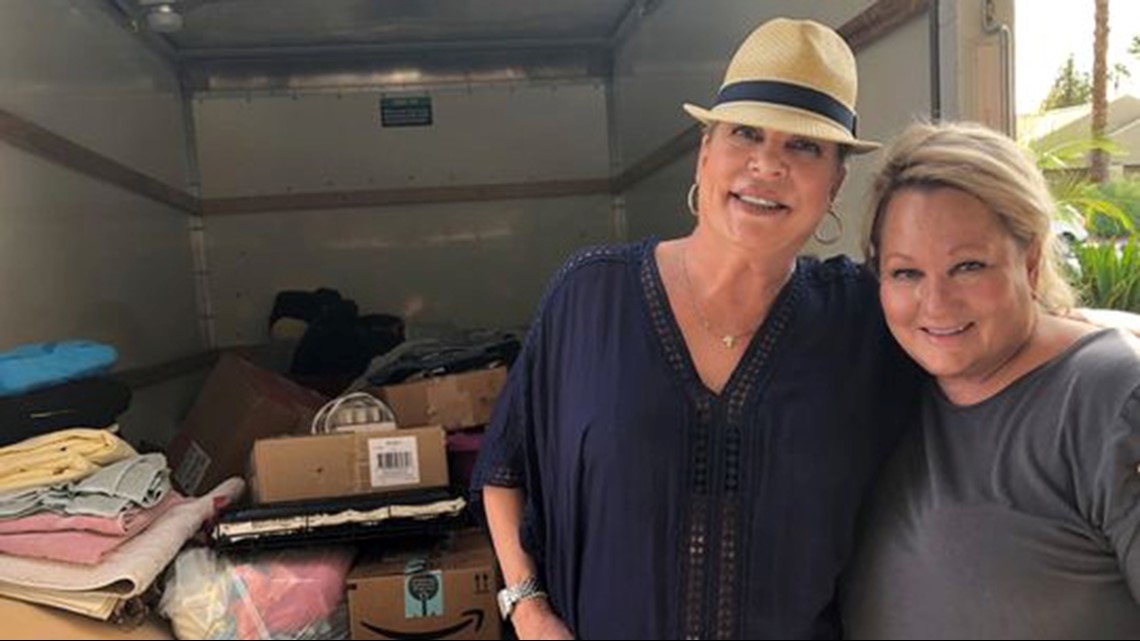 Palmtag will forego her usual Thanksgiving plans, but she thinks this is better. "Normally we eat too much, and we cook too much and have an abundance of things, so to be able to make even the smallest bit of difference for someone who's going through the most horrific thing of their whole life, that's really what Thanksgiving is all about to me," she said.
Thiessen, a medical laser spa specialist, said she was gratified by the outpouring of donations, motioning to a pile of freshly dry-cleaned clothes as an example of the community's desire to help. One box of items had a short note scribbled on it: "Packed with prayers for all of you," the well-wisher said.
In addition to donations, others, like Indian Wells City Manager Wade McKinney, have volunteered their labor to provide respite to beleaguered Malibu city officials. McKinney on Saturday helped staff Malibu's emergency operations center, assisting city officials coordinate the post-fire response, which included restoring utilities and cell phone service.
McKinney said city managers from around the state had answered the call for extra bodies from the California City Management Foundation, an advocacy and support group for more than 500 city managers in the state. The city manager for Beverly Hills, he said, took the shift after him.
"It was really great," McKinney said. "You learn more about the staff and the emergency operations and you can assist with the expertise you have and help come up with ideas and repairs for their own recovery."
As thousands of fire evacuees still struggle to find permanent housing, former Paradise resident Mary Lee Harmon has recently settled into her new retirement community in La Quinta. The 86-year-old retired pharmacy technician had lived in the northern California town for two years, moving there to be near her son, Randy. Now, her home is the Coachella Valley.
When the Camp fire broke out that morning, Harmon's son was among those who received the emergency alert to evacuate and instructed Harmon to be ready in 10 minutes. She packed her walker, medications and her dog, Sparky. When they left her Paradise retirement community, the fire had already reached the trees behind the cottages where some retirees lived.
Harmon's luck extended to finding housing in La Quinta. She found a unit in a sister property to her former retirement community and her previous rent was honored, even though it was substantially less than what she might have paid normally for the La Quinta unit.
Harmon's daughter, Palm Desert real estate agent Nan Gillin, drove to Sacramento a few days after the fire to pick up her mom. Sitting next to her mom on Tuesday, Gillin said she's grateful her family managed to escape the fire, even if her brother Randy's home was lost.
"Nobody was injured in our family," Gillin said. "That's why we feel particularly thankful and grateful (this Thanksgiving) because the rest of it is just stuff."
Ways to donate:
The Salvation Army accepts financial donations for those people displaced by the Camp Fire. Make sure to specify a donation should go to Camp Fire aid. Mail donations to: The Salvation Army , P.O. Box 348000, Sacramento, CA 95834. Call (530) 776-1009 or (800) 725-2769. Go to https://deloro.salvationarmy.org/ to give online.
The United Way of Northern California has set up a relief fund for victims. Go to https://bit.ly/2OzNUer to donate, or text "BUTTEFIRE" to 91999. The fund will provide emergency cash to victims and aid the United Way in its response to the fire. Businesses and organizations that want to contribute to the fund can call Jacob Peterson at (530) 241-7521 or (916) 218-5424; or email jpeterson@norcalunitedway.org.
Neighborhood Church of Chico accepts mail donations at its evacuation shelters at 2801 Notre Dame Blvd. in Chico, CA, 95928. Call (530) 343-6006. Go to http://www.ncchico.org/camp-fire-information/ to give online.
The North Valley Community Foundation is accepting financial donations to help fund services for those killed in the Camp Fire. To donate, go to https://bit.ly/2T1cZT1
Pleasant Valley Baptist Church, 13539 Garner Lane in Chico, accepts monetary donations to help with the evacuation center. Donate online at https://bit.ly/2QJ34Q8; specify your donation should go to "Camp Fire."
The Veterinary Catastrophic Need Fund pays some of the cost of veterinary medical treatments for animals injured in the Camp Fire at the William R. Pritchard Veterinary Medical Teaching Hospital at the University of California, Davis. Injured and burned cats, horses, pigs, goats and other animals are receiving care. Call (530) 752-7024 or go to https://give.ucdavis.edu/VMTH/V6TH631 to contribute.
The Veterans Resource Center accepts cash donations to deliver supplies to evacuees and assist with relief efforts. Make donations at www.vetsresource.org; click "Donate." Donors can also visit www.best-charities.org and search for Veterans Resource Centers of America; clicking "Make A Donation" at the top of the VCR page. Note that the donation is for the "Camp Fire evacuees."
The California Farm Bureau Federation established a Farm and Rural Disaster Fund to collect monetary donations to aid communities affected by natural disasters. Online contributions to the fund may be made online via the CFBF website at www.cfbf.com or the California Bountiful website at www.californiabountiful.com.
Butte County Fairgrounds: Gift cards are needed for evacuees to pay vet bills and replace items lost in the fire. Drop off or mail gift cards and monetary donations to the fairgrounds at 199 East Hazel St. in Gridley. Call (530) 846-3626 for more information.
Oroville Hope Center: This facility provides for several area Red Cross evacuation sites. To donate, write to Oroville Hope Center, 1950 Kitrick Ave A, Oroville, CA 95966. Donate money at https://www.orovillehopecenter.org/
Yuba-Sutter Fairgrounds evacuation center: Donations are needed for evacuated people and animals. Donations can also be sent to the Habitat for Humanity Yuba/Sutter ReStore at 202 D St., Marysville, CA 95901 or mailed to the Yuba-Sutter Fairgrounds at 442 Franklin Ave., Yuba City, CA 95991. You may also call (530) 812-3815 or donate online on the Yuba County Facebook page at https://www.facebook.com/YubaCounty/
Ventura County Community Foundation: The foundation along with the Conrad N. Hilton Foundation, Amgen Foundation, California Community Foundation and city of Thousand Oaks, is collecting money for families, law enforcement and organizations providing support for victims of the Borderline Bar & Grill shooting. To donate, go to www.vccf.org or call Bonnie Giles at (805) 330-6681.
United Way of Ventura County: In partnership with the United Way of Los Angeles, the United Way of Ventura County has launched a Disaster Relief Fund to help those impacted by the fires. You can donate to it by texting "UWVC" or "2018fires" to 41444 or visiting https://www.unitedwayla.org/en/give/disaster-relief-fund.
Ventura County Community Foundation: The foundation has launched a Hill Fire and Woolsey Fire Sudden and Urgent Needs Effort Fund to collect donations. Donations can be made at https://vccf.org/donate.
Raffle: Conejo Valley Fire Side BBQ & Appliances will hold a raffle in memory of Sgt. Ron Helus, the Ventura County sheriff's deputy killed in the Thousand Oaks shooting. Each raffle ticket is $50 with the chance to win a barbecue worth more than $2,999. All proceeds will be given to the Helus family. The raffle ends Dec. 15 and the winner will be announced Dec. 16. Visit https://www.bbqfireplace.com.