WASHINGTON — WASHINGTON (AP) — The Latest on the presidential campaign (all times local):
A Michigan judge has dismissed a lawsuit by President Donald Trump's campaign in a dispute over whether Republican challengers had access to the handling of absentee ballots.
Judge Cynthia Stephens noted that the lawsuit was filed late Wednesday afternoon, just hours before the last ballots were counted. She also said the defendant, Secretary of State Jocelyn Benson, was the wrong person to sue because she doesn't control the logistics of local ballot counting, even if she is the state's chief election officer.
The Associated Press called the Michigan presidential election for Democrat Joe Biden on Wednesday evening. Trump won the state in 2016.
The lawsuit claimed Benson, a Democrat, was allowing absentee ballots to be counted without teams of bipartisan observers as well as challengers. She was accused of undermining the "constitutional right of all Michigan voters ... to participate in fair and lawful elections."
Benson, through state attorneys, denied the allegations. Much of the dispute centered on the TCF Center in Detroit where pro-Trump protesters gathered while absentee ballots were being counted.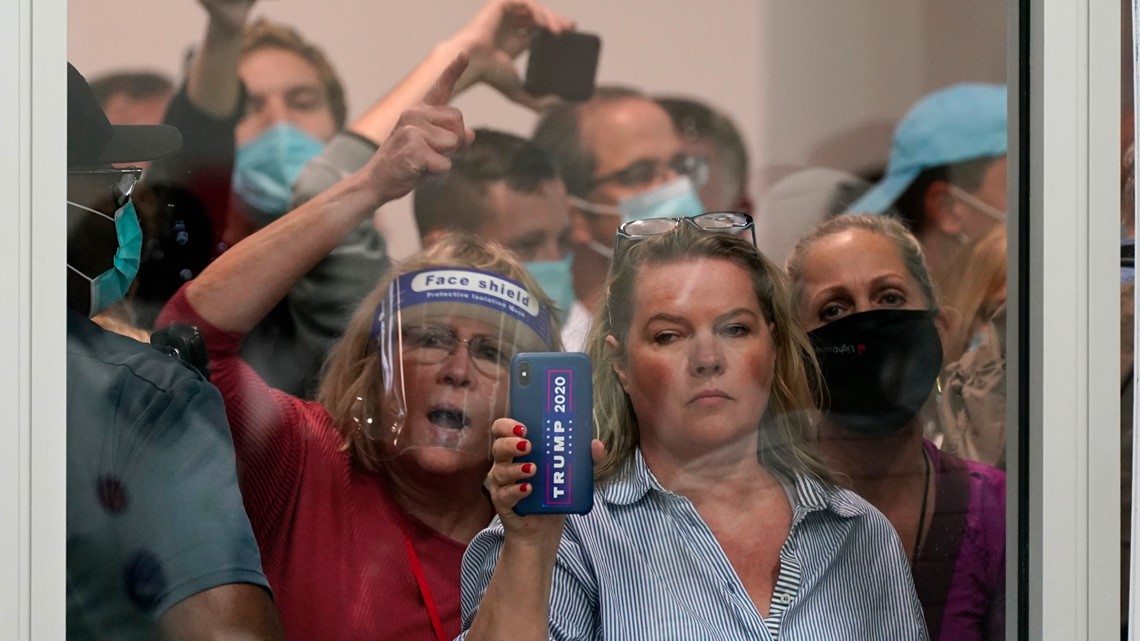 Michigan Attorney General Dana Nessel's Press Secretary Ryan Jarvi released the following statement after the dismissal:
"We are pleased with Court of Claims Judge Cynthia Stephens' swift action in today's hearing on Trump v Benson to deny the relief requested by plaintiffs. She identified the same defects in the campaign's filings as we did, namely a complete lack of any evidence of wrongdoing on the part of election officials, and meritless legal arguments. Michigan's elections have been fair, transparent and reflect the will of the voters, and we will continue to defend against any challenges that claim otherwise."
WATCH | MICHIGAN COURT OF CLAIMS HEARING
GEORGIA LAWSUIT DISMISSED
A judge in Georgia has dismissed a lawsuit by the state Republican Party and President Donald Trump's campaign that asked him to ensure one county was following state laws on processing absentee ballots.
Chatham County Superior Court Judge James Bass did not provide an explanation for his decision Thursday at the close of a roughly one-hour hearing. The county includes the heavily Democratic city of Savannah.
The suit had raised concerns about 53 absentee ballots that poll observers said were not part of an original batch of ballots. County elections officials testified that all 53 ballots had been received on time.
TRUMP LEGAL VICTORY IN PENNSYLVANIA
The Trump campaign and the Republican Party mounted several legal challenges to aspects of the vote count, contending, for example, that GOP election observers were kept too far away from the tabulation in Philadelphia, that some Democratic-leaning counties unfairly allowed people to fix technical problems with their mail-in ballots, and that mail-in ballots arriving after Tuesday should not be counted.
Trump scored one legal victory as intermediate state appeals court on Thursday granted more access to party and candidate observers, allowing them to get closer — 6 feet away — to election workers processing mail-in ballots in Philadelphia.
The city filed an appeal with the Pennsylvania Supreme Court, citing concerns over worker safety and the potential for intimidation.
The Trump campaign had sued after complaining that its observer could not get close enough to election workers to see the writing on mail-in ballot envelopes, to ensure that the envelope contains a signature and an eligible voter's name and address.
Ballots without that kind of information could be challenged or disqualified. A Philadelphia judge had turned down the Trump campaign's complaint, saying that observers are allowed by law to watch, not audit.
It was unclear whether any of the legal challenges would make a difference to an eventual outcome.