PHOENIX - First reports of a UFO sighting in Charlotte, NC this week and now one in Phoenix, Arizona.
We put together a picture of both sightings side by side.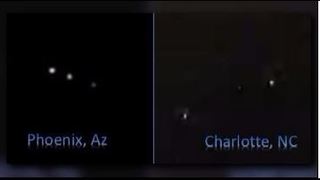 Dozens of social media reports indicated people saw strange-looking lights in the East Valley Tuesday evening.
Most reports happened in the Queen Creek area in Arizona from about 6 p.m. to 6:45 p.m.
Christina emailed us with videos of streaks of light in the southwestern sky, moving south-southeast.
I SWEAR I JUST SAW A UFO😵😵😵😵👽👽

— Tyler Reese (@TylerReesee) October 26, 2016
Anybody else just see the UFO👀👽

— Max Elenes (@max_elenes) October 26, 2016
One possible explanation is flares from Air Force jets or helicopters.
"With the air traffic patterns in the Valley, what we see are a lot of stacked aircraft that are coming into Sky Harbor," said Dr. Sky, a TV personality and radio host of a talk show that's syndicated across the country and in Canada.
The topic of discussion on his show -- outer space and the universe.
"[Airplanes are] a possibility," he said, adding it doesn't look quite right.
"I'm 41 years old. I've seen a lot of things in the sky," said Christinna Herrmann. "This is nothing I've seen before."
"Anything that you, or people, saw that we call a UFO is simply accurate," said Dr. Sky, solely because we were not able to identify it.
"Firmly I believe that we already know about alien visitation," Dr. Sky said, citing the Roswell incident from the 1940s. "We're going to continue to search for what [everyone] saw in the skies of Arizona."