GREENSBORO, N.C. — We've gotten a good dose of rain with thunderstorms over the last couple days and will get one more good chance at some rain on Wednesday.
Wednesday will be our last day we need to watch for storms. Thursday and Friday will have a low shower chance, but the coverage of rain will be much less.
Here's what the WFMY News 2 Weather Team is tracking for you:
THE SETUP: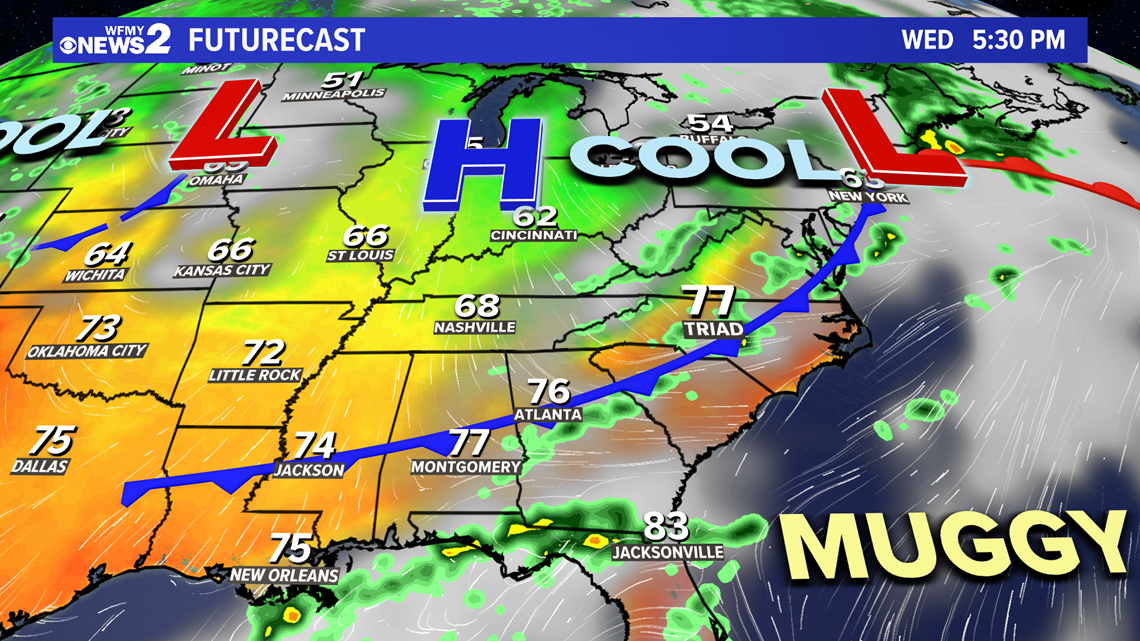 High pressure off the east coast is pumping warm and muggy air from the south. You might have even noticed that Monday and Tuesday were much more humid than we've been used to lately. All of that juicy air is pumping in from the south and can act as fuel for thunderstorms.
For Wednesday, a cold front will approach the area and eventually cross the Piedmont heading into the afternoon. That cold front can force air to rise, and with added fuel from warm and muggy air, cause thunderstorms. We'll need to watch from about 12P-4P in the afternoon for a few scattered storms that may get a little rough.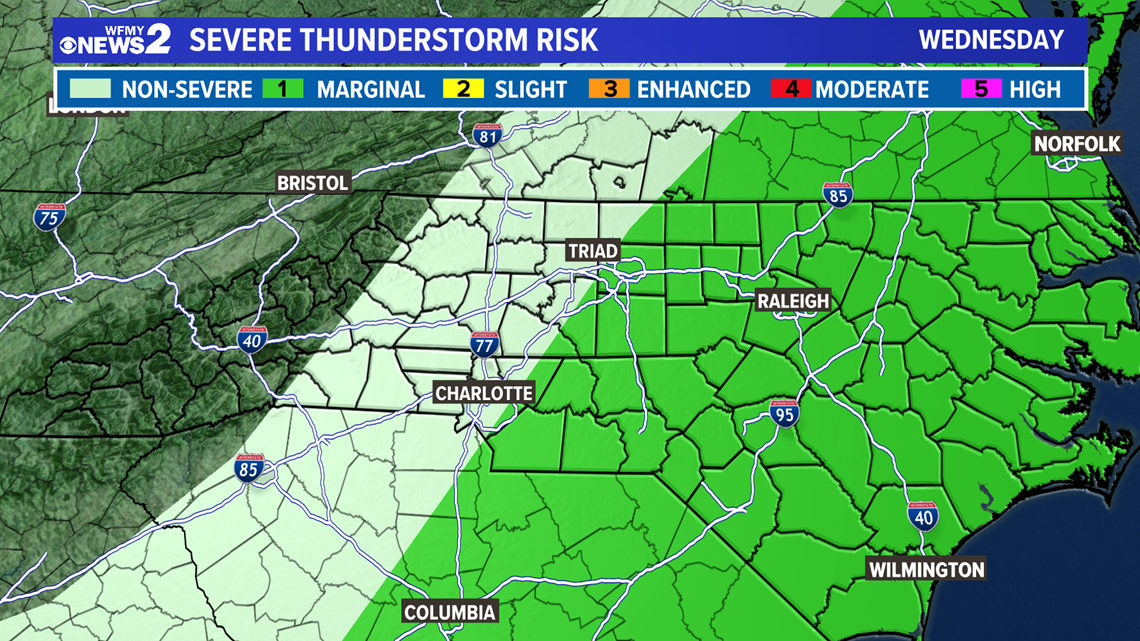 On Wednesday as the front approaches and moves by the area we'll have another chance for some scattered showers and thunderstorms in the afternoon. Right now, the severe weather threat looks to be pretty low, a level 1 out of 5 for Wednesday in the Triad, but we'll keep an eye on it to see if things change.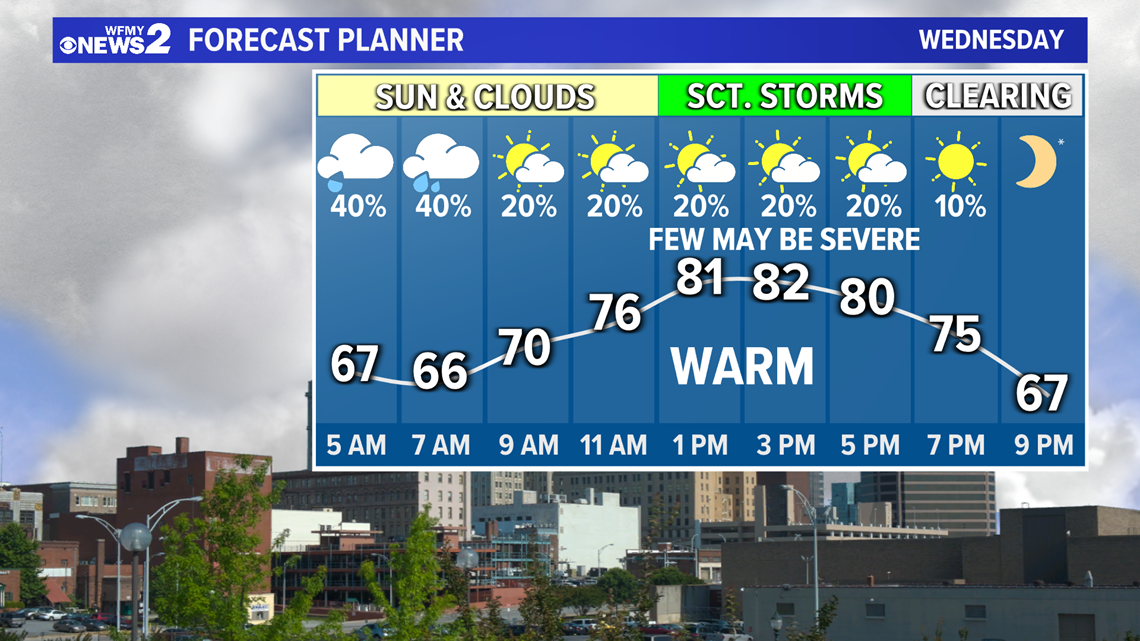 Wednesday will start out mainly dry with a mix of sun and clouds. Once we get to lunch time and through the early afternoon, we'll be watching closely for any thunderstorms that may form. Once the cold front passes us in the evening, we'll begin to clear out some as drier and cooler air starts to move in. You'll notice the humidity going away and temperatures dropping.
STORM THREATS:
As we watch for storms, the main things will be watching for if storms turn severe will be for damaging wind gusts and possibly some hail.
The tornado threat will be low with this setup as well as the flood concern, especially since it has been so dry. Even so, we'll keep a close eye on those storms and if some storms drop some really heavy rain over one area for a while there could be some quick localized flash flooding concerns.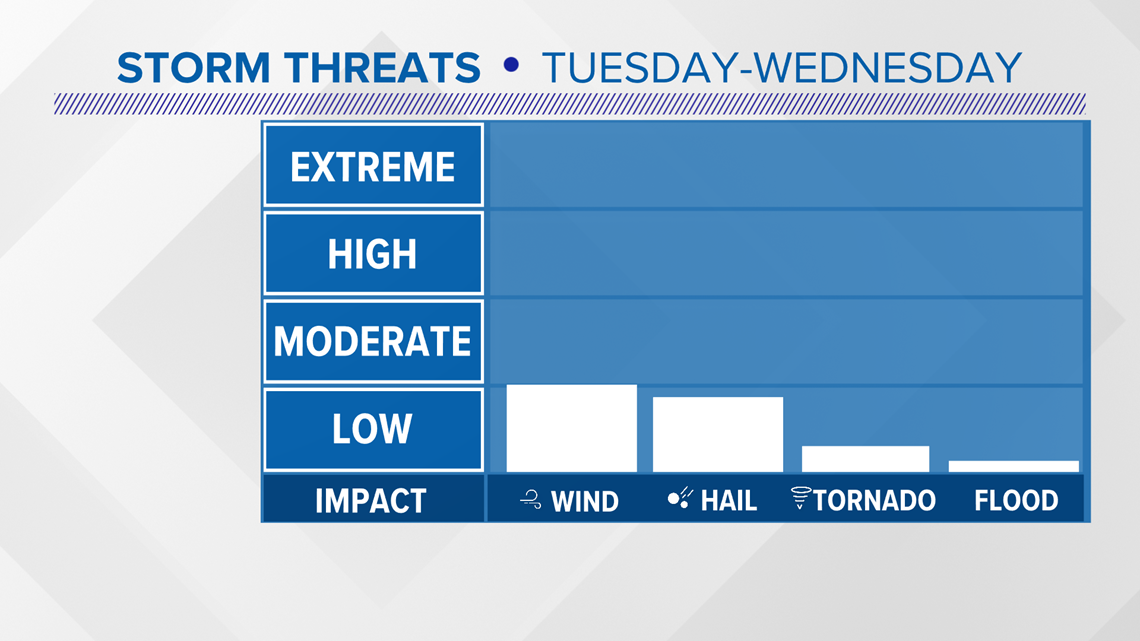 There will be a low shower chance on Thursday and Friday, but the big weather story to end the week will be the cooler air and calmer conditions that follow.
The weekend is looking nice with dry weather for Saturday and Sunday, Mother's Day.
The WFMY News 2 Weather Team will be on top of it for you on-air and online, but it's a good idea to remember to stay weather aware and keep a check on the forecast from time to time, especially if you plan to spend time outdoors.
You can follow our weather team on Twitter for the latest updates here: