GREENSBORO, N.C. — Hurricane Dorian is moving closer, and will be in the Carolinas by Thursday. The beaches are on high alert later for Thursday and early Friday. We've got you covered. The WFMY News 2 Weather Team is tracking Dorian for you.
Hurricane warnings are now in effect for the entire South Carolina coast up through the Wilmington area in North Carolina.
THE LATEST POSITION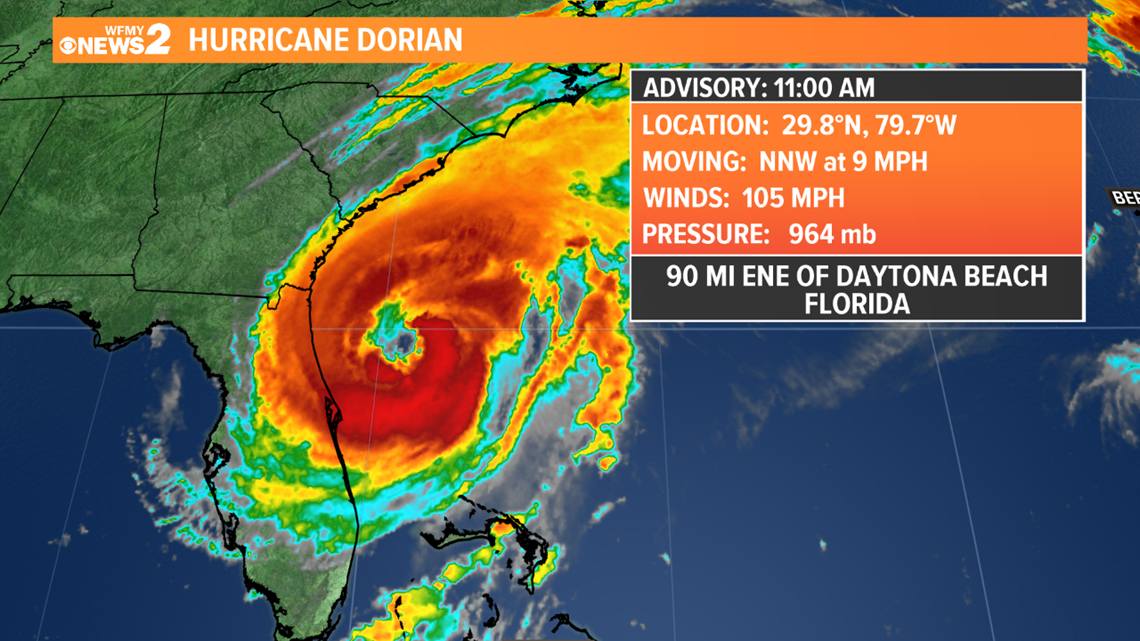 WHAT'S THE LATEST PATH?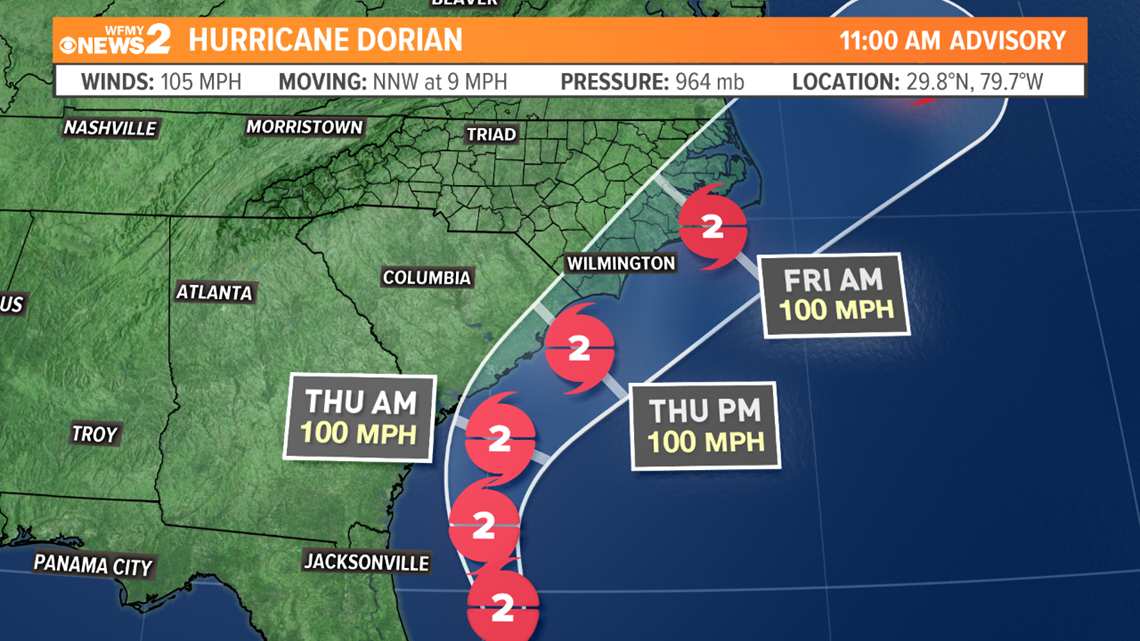 For days now, the path of the hurricane has been projected to ride along the North Carolina coast. That hasn't changed. The latest forecast puts a strong Category 2 hurricane right near the coast of South Carolina late Wednesday, then the Wilmington area Thursday, and right near the Outer Banks early Friday morning. Any of these areas could see a direct landfall, or a near miss.
Either way, major impacts are likely along the coast. High waves and storm surge will create significant coastal erosion and flooding. Rain totals over 10" in spots will create inland flooding. High winds up to hurricane strength will create widespread power outages. That's at the coast.
Farther inland, the impacts will be less severe. Here in the Piedmont, we can expect windy conditions on Thursday and Friday, with gusts maybe getting up to 40 mph. An isolated power outage can't be ruled out, but widespread outages aren't likely. Rain is less certain, many of us will stay dry, but areas south and east of Greensboro could pick up an inch or two of rainfall.
Do you have the WFMY News 2 App?


WHAT IMPACT FOR N.C.?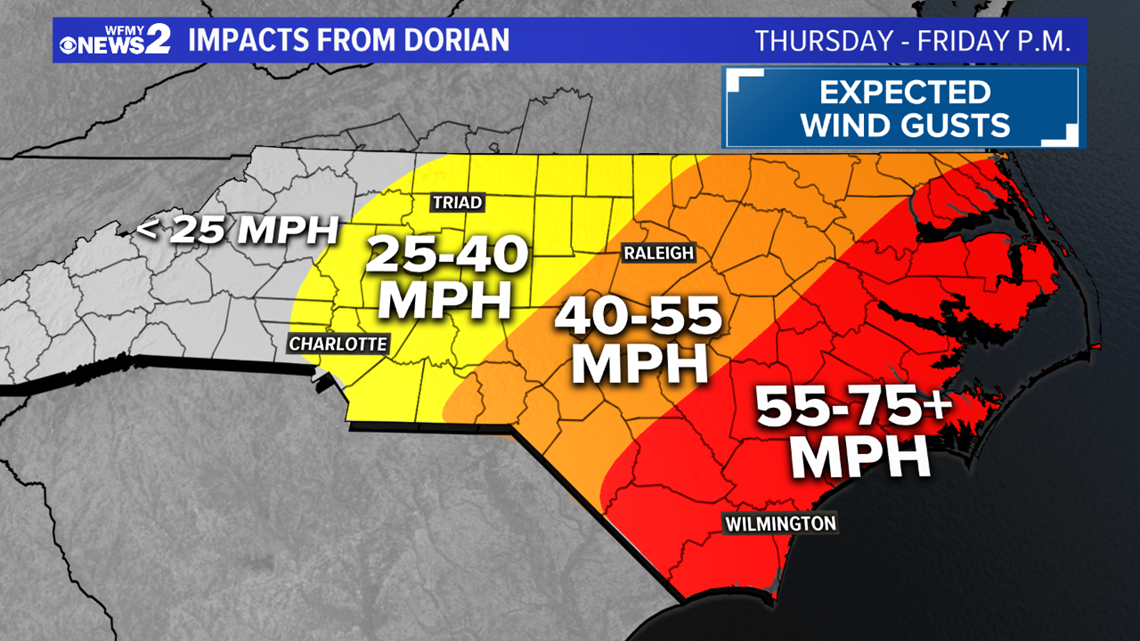 Storm surge of 4-7 feet
Rainfall 6-10 inches or higher, flooding likely
Hurricane force gusts 75+ mph, widespread power outages
Rainfall 4-10 inches or higher, flooding likely
Wind gusts of 55 mph to 75+ mph
Widespread power outages
Rainfall of 2-4 inches, flooding possible
Wind gusts of 40 to 55 mph
Scattered power outages
Wind gusts 25 to 40 mph
Rainfall of 0 to 2 inches possible
A few isolated power outages possible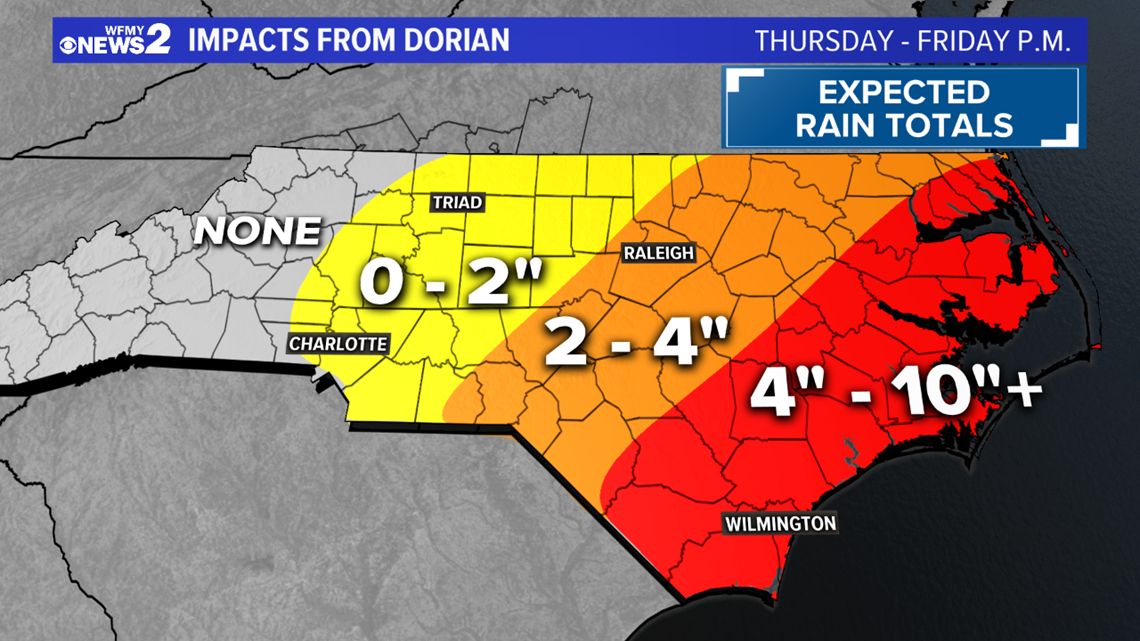 TIMEFRAME: No matter what impacts we see, we won't see anything until Thursday & Friday.