A state of emergency has been issued after heavy rains caused flooding and mudslides in Western North Carolina.
Find out more below about rising river levels, emergency shelters, evacuations, park and road closures, along with other emergency information for the mountains.
One registered rain gauge in western North Carolina measured 8.97 inches of rain over the past seven days.
As of 4:30 p.m. Wednesday, parts of Western North Carolina has received 4-7 inches of rain in the past 24 hours. Some mountain areas have received 20 inches of rain over the past two weeks.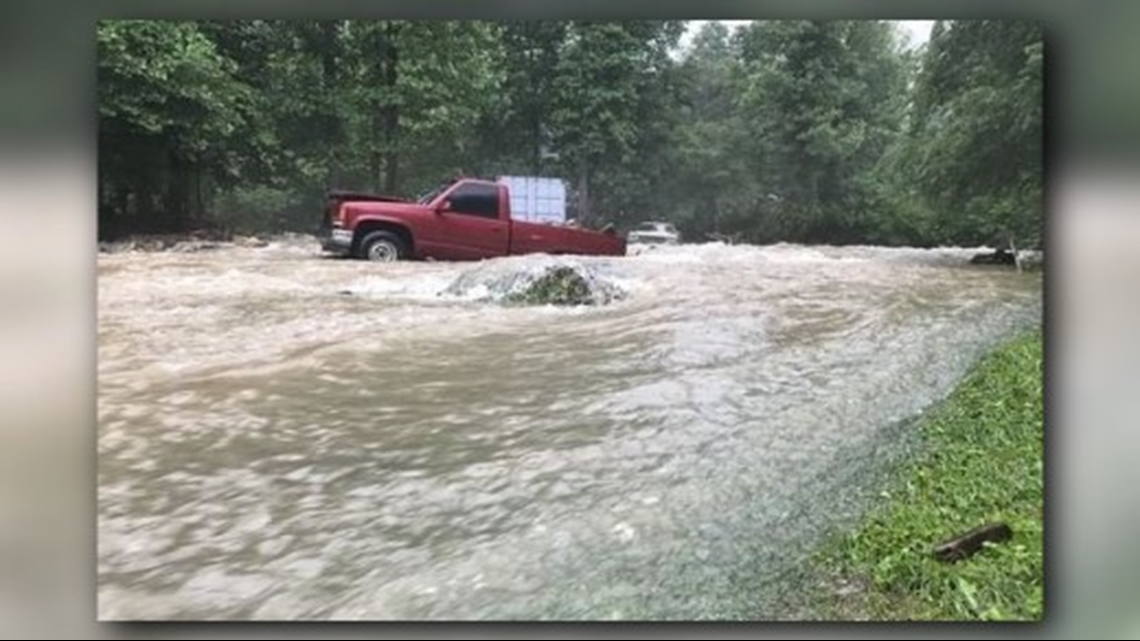 As of 9:20 a.m. Wednesday, the National Weather Service reported the following river levels:
French Broad River at Blantyre will peak at 19 feet on Thursday, May 31, with moderate flooding
Swannanoa River at Biltmore will peak today at 14 feet, greatly tapering off starting Thursday
French Broad River at Asheville will peak at 10½ feet late Wednesday evening through Thursday, with moderate flooding
French Broad River near Marshall will peak at 9 feet late Wednesday
French Broad River near Hot Springs will peak today at 6 feet
GOV. COOPER ISSUES WARNING
Governor Cooper is urging everyone to remain vigilant as more heavy rains from Alberto hit the state.
"We may not have seen the worst of Alberto yet in some parts of North Carolina," Gov. Cooper said. "More rain today on top of up to a foot of rain in some areas over the past two weeks could lead to more floods, downed trees and mudslides, and people need to continue to take this storm seriously."
The state deployed more than 50 search and rescue technicians overnight Wednesday, according to the release. More than 200 people stayed in one of the six open shelters. As of Thursday afternoon, Duke Energy's power outage map reported 341 in McDowell County were without power. The most reported power outages were in Iredell County (904).
Governor Cooper toured the storm damage Thursday afternoon in western North Carolina.
State and local officials are coordinating to respond to any resource needs while keeping a close watch on minor flooding expected along the Roanoke River near Roanoke Rapids and along the French Broad River at Fletcher and Blantyre later this week. Flooding at Blantyre could approach moderate flooding on Thursday. Officials continue to monitor the French Broad River at Asheville, the Neuse River at Smithfield, the Roanoke River at Williamston, and the Northeast Cape Fear River near Burgaw for potential flooding concerns.
American Red Cross is operating four area shelters, as of 1 p.m. Wednesday:
Swannanoa First Baptist Church, 503 E. Park St., Swannanoa
Glenwood Baptist Church, 155 Glenwood Baptist Church Rd., Marion
Bill Creek Baptist Church, 1475 Bills Creek Road, Lake Lure
Polk County Middle School
A shelter operating out of the Marion YMCA at 348 Grace Corpening Drive has been placed on standby after residents who evacuated were allowed to return home. The shelter may reopen if needed, the Red Cross said.
McDowell County Department of Social Services also opened two emergency shelters to house displaced families, including children waiting to be placed in foster care.
People may check shelter availability and whether a shelter is open on the Red Cross Emergency App. It may be downloaded via the mobile phone app store, or text "GETEMERGENCY" to 90999.
Two people have died after a landslide caused a home to collapse in Boone on Wednesday evening, according to Boone Police.
Boone Police say two people were reportedly trapped in the home off Heavenly Mountain Drive. Search and rescue crews along with multiple other agencies were called to the scene. Police say the weather is to blame for the collapse. The heavy rain and flooding has pounded western North Carolina in the past 24 hours.
Rain caused trees to topple across the Blue Ridge Parkway, closing the roadway Wednesday from Milepost 382 near the Folk Art Center in Asheville to Milepost 355 at N.C. 80. Parkway spokeswoman Leesa Brandon said park staff are assessing potential hazard trees and removing fallen trees.
The parkway is also closed from Mileposts 305-298 while repairs continue on the Linn Cove Viaduct. Heavy rainfall also forced closure of the original detour route on a section of U.S. 221 around the viaduct due to a road washout between Linville and Blowing Rock.
The Nuwati and Cragway trails at the nearby Grandfather Mountain State Park are closed indefinitely until repairs can be made.
Mount Mitchell State Park is open, but the main access from Asheville, the Blue Ridge Parkway, is closed up to the park's entrance at Milepost 355.
Lake James State Park in McDowell County is open, however, the mountain bike trails and the swim beach at the Paddy's Creek Area are closed due to flooding.
Chimney Rock State Park in Rutherford County is closed at the Chimney Rock attraction entrance after a retaining wall in its upper parking lot collapsed Saturday. The Rumbling Bald access is open.
BUNCOMBE COUNTY PARK CLOSURES
Buncombe County Recreation Services said the following parks are closed:
Hominy Valley Park
Alexander River Park
Bent Creek River Park
Corcoran River Park
Glen Bridge River Park
Hominy Creek River Park
Ledges Whitewater River Park
Walnut Island River Park
Karpen Soccer Fields
The Buncombe County Sports Park in Enka, Charles D. Owen Park in Swannanoa, Collier Cove Nature Preserve in Arden and Lake Julian Park in Arden are open.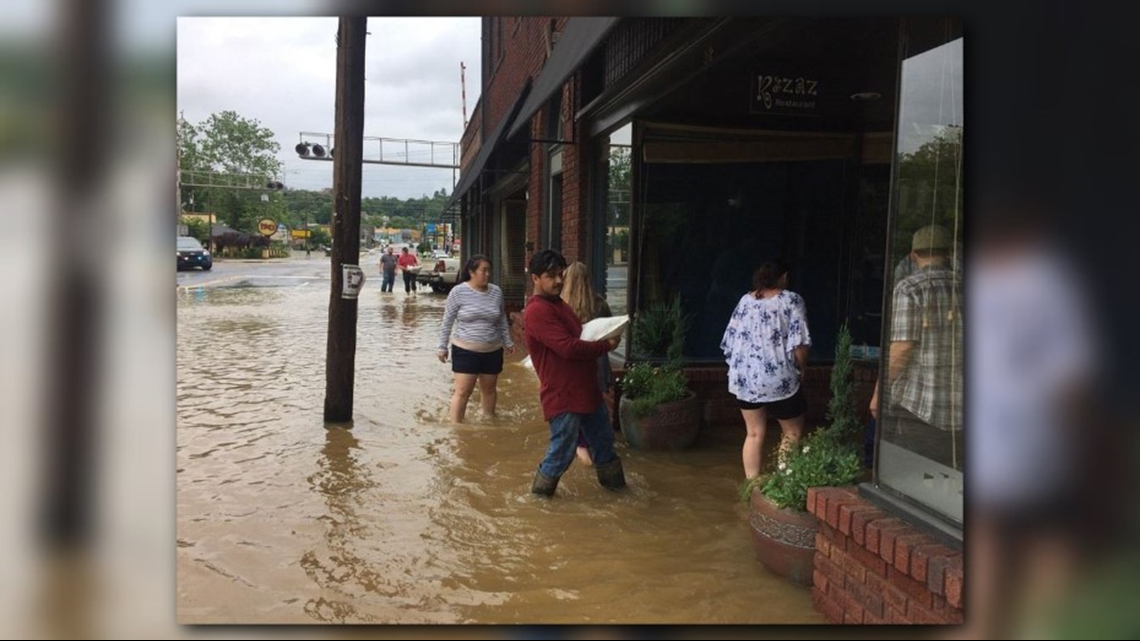 BILTMORE ENTRANCE CLOSED; DESTINATION REMAINS OPEN
Main Biltmore entrance closed; destination remains open
Biltmore Estate visitors were being directed to enter through a Biltmore Forest entrance after the destination shut down its front entrance due to rising water.
"The estate is open for guests, though a section of our entrance road along the bank of the Swannanoa River is flooded, and it is unsafe for vehicle traffic," said LeAnn Donnelly, a senior public relations manager for Biltmore Estate. "While we are addressing this situation, guests will be directed to an alternate entrance to begin their visit with us.
"Biltmore staff will be on hand to direct guests to that entrance."
The State Highway Patrol urges drivers to stay away from flooded roads and to be especially cautious when driving in the mountains where the potential for mudslides and road washouts continues.
The following roads are closed in the western part of the state:
Rominger Road near Watauga River Road
Brown Mountain Beach Road
I-40: Two westbound lanes and one eastbound lane near MM 67
Fairview Road at Swannanoa River Road
Sweeten Creek Road near Biltmore Village
U.S. 25 in Biltmore Village
I-40: Two westbound lanes and one eastbound lane near MM 67
Bills Creek Road near Antioch
Butler Bridge Road from Jeffress Road and Tap Root Dairy
Howard Gap Road between Nix Road and N. Clear Creek Raod.
Old Airport Road at Blue Ridge Community College
East New Hope Road off of Old Airport Road
U.S. 176 between Ozone Drive and Harmon Field Drive
BLACK MOUNTAIN EVACUATIONS
Black Mountain firefighters evacuated about 75 people late Tuesday night, including 20 residents of the Soundview Family Care Home, Deputy Chief John Wilson said.
Additional residents of the Portmanvilla Mobile Home were evacuated for a second time on Tuesday, as were residents along Alpine Shadows Lane, Flat Creek Road and Armory Road off Blue Ridge Road. There were no reported injuries anywhere, Wilson said.
"The creeks came up very fast," Wilson said. "We patrolled a lot of them an hour before (at about 9 p.m.) and they were fine."
From midnight on, firefighters continued to answer calls of downed trees and powerlines, he said.
Floodwaters by Wednesday morning had driven 51 people to an emergency shelter at First Baptist Church in Swannanoa, Black Mountain town officials have said. County emergency officials told town officials that the east end of Buncombe County sustained the worst of the rain damage.
Emergency officials told alderman Ryan Stone that two of the floodgates have been opened at the Burnette Reservoir, which supplies Asheville with most of its drinking water. Cherry Street in downtown Black Mountain sustained some water damage, town officials said.
Residents reported road closures, high water and/or mudslides on several streets in Black Mountain, including Allen Mountain Road and Blue Ridge Road and Suwanee and Texas roads in Montreat. In Black Mountain, the baseball and softball fields in Veterans Park were covered by at least a foot of standing water after the Swannanoa River crested its bank along the disc golf course.
The dam at Lake Susan in Montreat seems to be fine, said Tanner Pickett, spokesman for the Montreat Conference Center, which owns the lake. During conditions like these, the center monitors the dam along with the N.C. Department of Environment and Natural Resources, which as of late morning May 30 had not contacted it with any concerns, Pickett said.
Flat Creek has laid waste to Robert Lake Park in Montreat, however, he said. Just one week before the conference center's summer season begins, flooding at Flat Creek had destroyed one park bridge, made a second bridge impassable, washed several picnic tables away and undermined a concrete sidewalk – all after the center had spruced up the park for the summer season, Pickett said.
"The park is closed to the public, and it's likely that it will stay that way a while we assess damage and determine what needs to happen, he said. Additionally, in Montreat, Calvin Trail to Montreat Campground is impassable.
Montreat has had several mudslides along Suwannee Drive, town clerk Angie Murphy said. Several roads were inaccessible, and as of 10:30 a.m., the town had already cleared downed tree and clogged storm drains to help residents get out of their driveways, she said. Murphy was no aware of any medical emergencies, nor damage to houses along Flat Creek, which had jumped its banks.