GREENSBORO, N.C. (WFMY) -- From goats to dogs, to the Grinch, a singing superintendent, t-rex and a polar bear we're talking about the top trending videos and photos you just have to watch!
Latest list of school and business closings
1. GOATS IN THE SNOW!
What do goats in the snow say? Bahhhhhhhh! We just couldn't resist when a WFMY News 2 viewer sent in video of a few of her goats enjoying a snow day. Thank you Cathy Yonaitis from all of us! We hope you enjoy this "bahhhhhh" video as much as we do.
2. DOGS CAN'T EVEN HANDLE IT!
What's cuter than kids sledding and goats running in the snow? These dogs! The snow was just too much for these dogs! The fluff balls just loved running around, digging in, and eating the snow! Too cute it will melt your heart.
3. ICE ICE BABY!
ICE ICE BABY! He's back with an all new song! We're talking about singing Stokes County Schools Superintendent Brad Rice, who knows how to drop a beat with his unique school lyrics while telling kids they're off for a snow day!
4. SKIING AROUND DOWNTOWN GREENSBORO
When there's 12 inches of snow you might as well go skiing in downtown Greensboro! This man sure didn't mind a good run on a slope at this intersection in downtown Greensboro. It guaranteed to put a smile on your face.
5. JIM CANTORE IN BOONE
Yes, Jim Cantore is in North Carolina and more specifically Boone! Jim is just as passionate about snow reporting as he is about hurricanes, tornadoes and flooding. Jim said during his live shot, "We're getting crushed in Boone. I feel like I'm in Colorado or Utah."
LIVE BLOG: Real-Time Winter Storm Updates, Road And Safety Information
6. GRINCH SNOW PLOW
Even the mean old Grinch has to plow his way out of trouble in Boone, N.C. JoAnna Wayt captured a video of our favorite anti-Christmas character riding his snow plow in about 6 inches of snow. You could say the Grinch is "clearing the way to steal Christmas."
Related: The Grinch Was Spotted Plowing Snow in Boone, N.C.
7. T-REX SPOTTING
What's more fun than spotting a t-rex playing around in the snow? Greensboro Mayor Nancy Vaughan was spotted in the snow with the t-rex in the downtown area.
8. POLAR BEAR FUN
Who's loving the snow the most? We can only think that "Nikita" at the North Carolina Zoo is loving his den right now topped with a few inches of snow!
9. HOT TUB
He might look like cousin Eddie from Christmas Vacation but this man is clearing loving his hot tub! Thanks to a WFMY News 2 viewer for sharing this photo.
10. GIANT FROSTY
Move over Frosty! Check out this photo of a giant snowman! We can only imagine it took as many people to make it! Thanks to Meaghan Harvell for sharing.
11. CUTE BABIES!
Cute babies - enough said! Check out these little bundled up cuties enjoying or not enjoying a snow day in the Piedmont Triad.
PHOTOS: Some Babies Love the Snow. Others, Not So Much.
PHOTOS: Some Babies Love the Snow. Others, Not So Much.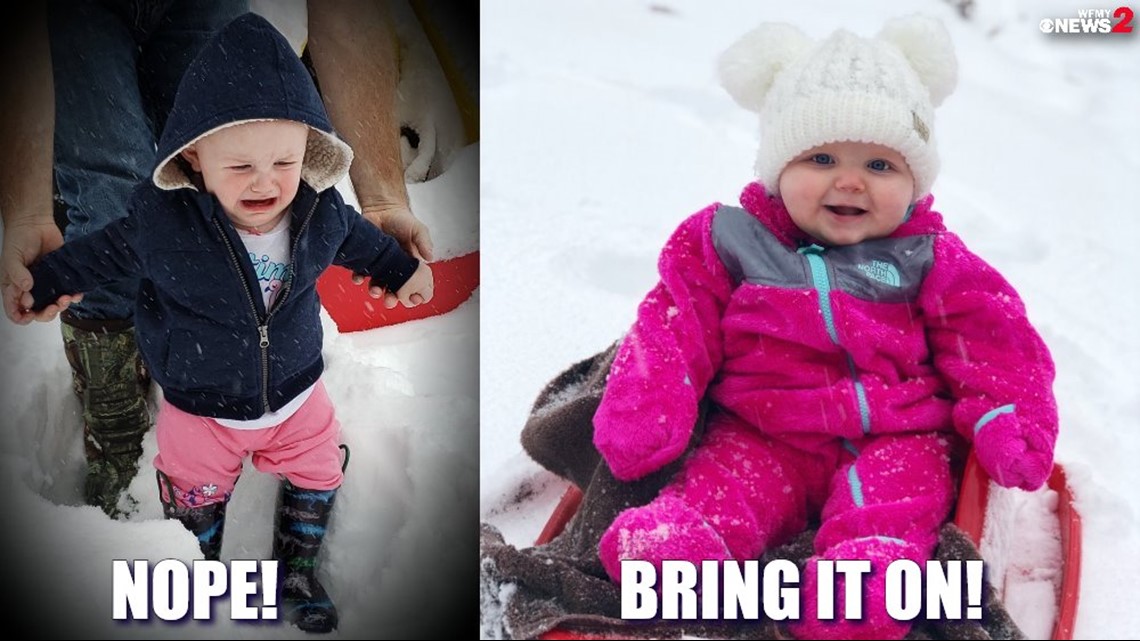 12. ELLANORE ON THE JOB
Meet baby Ellanore who helped her mom wait tables at M'Coul's in downtown Greensboro during the snow storm. Ellanore helped bring in the tips while serving up smiles and giggles.
Mom Straps On Baby To Wait Tables At M'Coul's During Snow Storm
13. NATIONAL GUARD CARRIES BABY
We can't say THANK YOU enough to all the first responders out there, making sure everyone is safe in this record-setting snowstorm.
That includes a soldier who carried a baby to safety in Hudson, N.C. during Sunday's storm.