GREENSBORO, N.C. -- Greensboro is under a state of emergency after being hit by a deadly tornado that caused widespread damage. One person has died after a tree fell on their vehicle in Greensboro.
OVERNIGHT EMERGENCY EFFORTS
Emergency workers will be going door to door to search homes in an effort to make sure everyone is safe. Power crews will also be working to restore power. The city of Greensboro and Guilford County will hold a joint press conference at 3 p.m. Monday.
PHOTOS | Tornado Damage in the Triad: Day 2

All Guilford County Schools will be closed on Monday due to tornado damage. Hampton Elementary had extensive damage and was blocked off by police Monday morning.

Guilford County Schools will soon update parents and students on the damage at various schools. The school system is also working to make sure food services are available to students in need.
An emergency shelter has opened in Greensboro for tornado victims. The shelter is at the Glenwood Center located at 2010 Coliseum Boulevard in Greensboro.
The shelter is open for anyone whose home could have been impacted by the storms said, John Hughes, executive director, Red Cross Piedmont Triad Chapter. The shelter is pet-friendly.
The Interactive Resource Center on Washington Street in Greensboro is offering extended hours Monday to help those displaced by the storm with laundry, showers and other needs.
Guilford County Schools will provide meals to school-age children Monday to help families impacted by Sunday's severe weather.
For a list of places where kids can get free meals in Guilford County, go here.
GUILFORD COUNTY EMERGENCY SERVICES
Guilford County Emergency services will hold another news conference on Monday at 3 p.m. following the devastating tornado with updates on emergency service updates.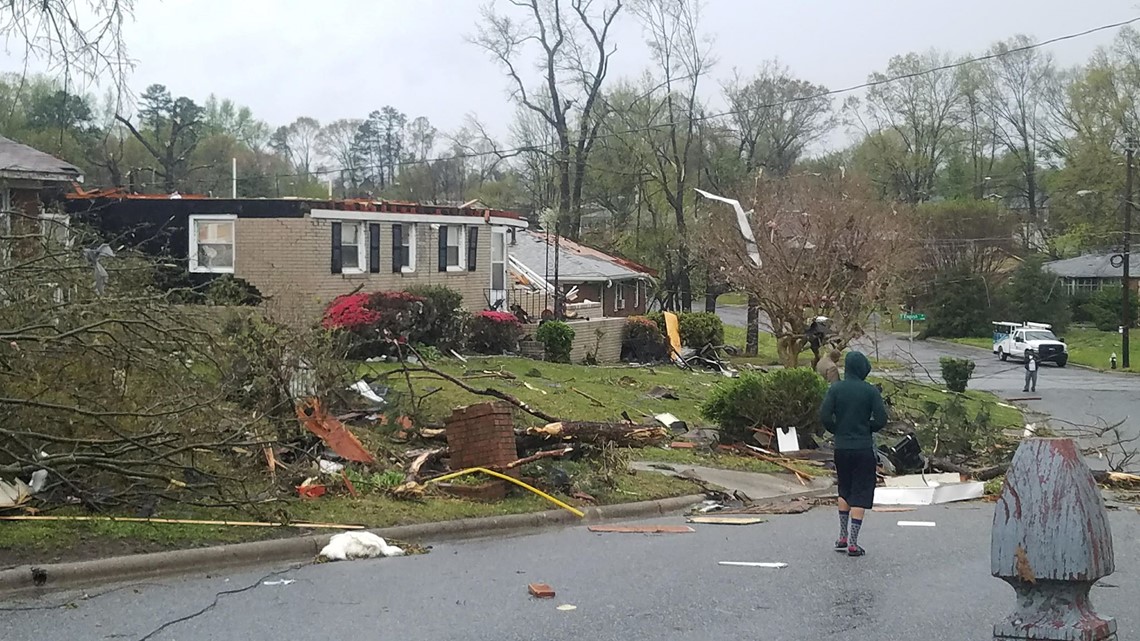 The National Weather Service will do an assessment of the damage on Monday morning.
EMERGENCY SERVICES ASSESSMENT
The Guilford County Emergency Management said its own team will do an assessment of damage beginning on Monday along with the National Weather Service.
The City of Greensboro's Contact Center will be a centralized point for volunteers who want to help with tornado cleanup. If you're interested, call 336-373-CITY.
Here's a view of the damage to homes behind Peeler Elementary School:
Hampton Elementary sustained significant damage. The Guilford County Emergency Management Services reported multiple damages to structures, downed power lines, and trees. Emergency Communications received more than 1,000 calls reported to storm damage.
PHOTOS | Tornado And Other Storm Damage Across The Piedmont Triad

Rep. Mark Walker made a statement concerning the damage:
"As we continue to evaluate the damage, our staff is available to assist in the recovery efforts. Our office on Green Valley Road will be open or can be reached at 336-333-5005. Our prayers are with those impacted by the storm"
"The damage from the Greensboro tornado is very serious. It has destroyed homes, schools, vehicles and businesses. The recovery for our entire community will be extensive. I have been on the ground working with both local officials and the American Red Cross in order to assess the damage and make a plan on how we best move forward.
Please remain safe. At this point, we have tragically lost one citizen. For those who have been displaced, the Glenwood Recreation Center has been opened as an emergency shelter. For immediate assistance, or questions you may have, please call my office line at 336-998-1313."
POWER OUTAGES
As of Monday morning, power was still out for much of Greensboro, especially east of US HWY 29. The most affected areas are the E. Market St., E. Wendover Ave., E. Cone Blvd. and Gate City Blvd corridors. At 11 a.m., there were just over 20,000 still without power in Guilford County according to Duke Energy's outage map.
At 9 p.m. Sunday Guilford County Emergency services reported 25,000 without power. Power crews are working to restore power.
WHAT'S CLOSED AND POSTPONED
In Greensboro, Barber Park, Bluford Park, Gateway Gardens, Keeley Park, Kings Forest Park, McGirt-Horton Library, Peeler Community Recreation Center, Simkins Indoor Sports Pavilion, Windsor Community Recreation Center are closed Monday until power is restored and conditions improve.
Youth baseball, adult softball, and adult kickball games scheduled for Monday night will be postponed to a later date. Gillespie Golf Course will open at 1 p.m.
Rockingham County also suffered extensive damage from the storm system.
A mobile home was picked up and tossed across the street onto a car in Reidsville. Two people were in the car at the time when the mobile home hit it. They were taken to the hospital.