SULLIVAN COUNTY, Tenn. — The search for a missing 15-month-old girl from Sullivan County, Tennessee continues on Friday.
According to reports, investigators are conducting a planned search this afternoon at a trailer park near Boone Lake.
WJHL reports that property tax records indicate the trailer park, Lakeshore RV Park on Buffalo Road, is owned by Tommy Boswell, Jr. Tommy is the brother of 18-year-old Megan Boswell, Evelyn's mother.
The search for the child has taken investigators across state lines. On Wednesday, authorities said the search of a property and pond in the Shepherds Crossroads Community in Wilkes County, North Carolina was deemed "inconclusive." Investigators are also looking into a tip that the child was spotted at a KFC in Yadkinville a few weeks ago.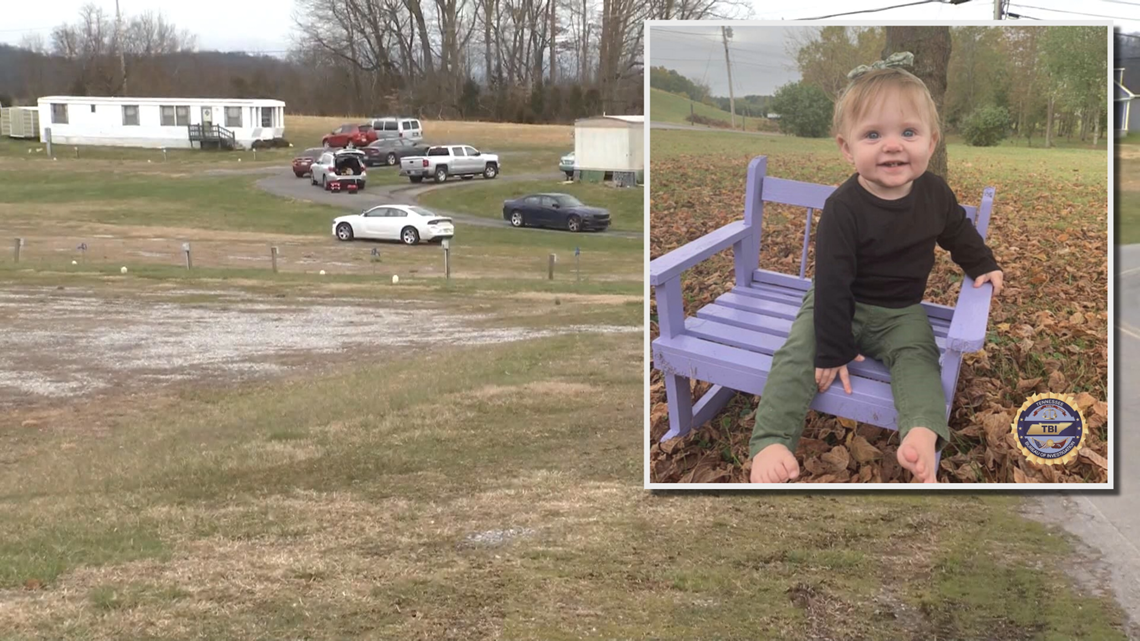 The Sullivan County Sheriff's Office arrested and charged Megan Boswell with false reporting earlier this week. Sullivan County Sheriff Jeff Cassidy said Boswell has "changed her story every time" they've talked to her about what happened to her daughter.
Investigators say Evelyn hasn't been seen since December, but she wasn't reported missing until February 18. An Amber Alert was issued for her after that. Authorities say at the time of the missing child report, the mother claimed the child's grandmother, Angela Boswell, took Evelyn to Virginia.
The girl's mother and grandmother are now both in the same Tennessee jail after giving conflicting accounts about Evelyn's disappearance.
Angela Boswell was extradited back to Tennessee on February 24. She was charged with theft of property when investigators found a vehicle linked to Evelyn's disappearance in Wilkes County, North Carolina.
On February 22, the Wilkes County Sheriff's Office further charged William McCloud and Angela Boswell with an out-of-state fugitive warrant for outstanding charges that were open in the state of Tennessee. McCloud is the boyfriend of Angela Boswell. He has also been extradited back to Tennessee.
Call 1-800-TBI-FIND if you know anything about the case.
Search underway at Wilkes County pond for missing Tennessee baby
OTHER RELATED STORIES
Stay connected to local, national and breaking news: Download the new WFMY News 2 app.
►Text the word APP to 336-379-5775
►For the latest weather conditions and forecast text the word WEATHER to 336-379-5775
►For traffic alerts text the word TRAFFIC to 336-379-5775