GREENSBORO, N.C. — Guilford County Schools' massive $2 billion overhaul of more than 40 percent of its schools is, finally -- after decades of disrepair and political battles at the ballot box -- under construction.
The first stop of the 'Build Smart 2Gether' tour was Peck Elementary School -- soon-to-be the Peck Expeditionary Learning (K-8) -- where construction already is carving out evidence of GCS's new beginning.
When past, present and future collide in a historic Greensboro neighborhood, they unearth a rubric of a decades-long lesson plan to grade Guilford County Schools (GCS) worthy of an 'A.'
"It's all about the site work right now. They (construction crews) are working on the underground utilities and site work drainage," explained Ohio-based architect David Powell of SHP, hired to re-design Peck Elementary School.
In his vision, Powell designed a tale of two cities. The new Peck Expeditionary Learning (K-8) sits beside the school it is replacing -- a stone's throw away, yet a universe apart.
"They (the classrooms) have walls and doors that open up," Powell explained as he showed WFMY News 2's Meghann Mollerus a virtual tour of the new school's renderings.
Powell uses virtual reality to transform hundred-year-old hallways to havens, conventional canteens to cafes, extra headroom to a healthcare community clinic and standard classrooms to sanctuaries.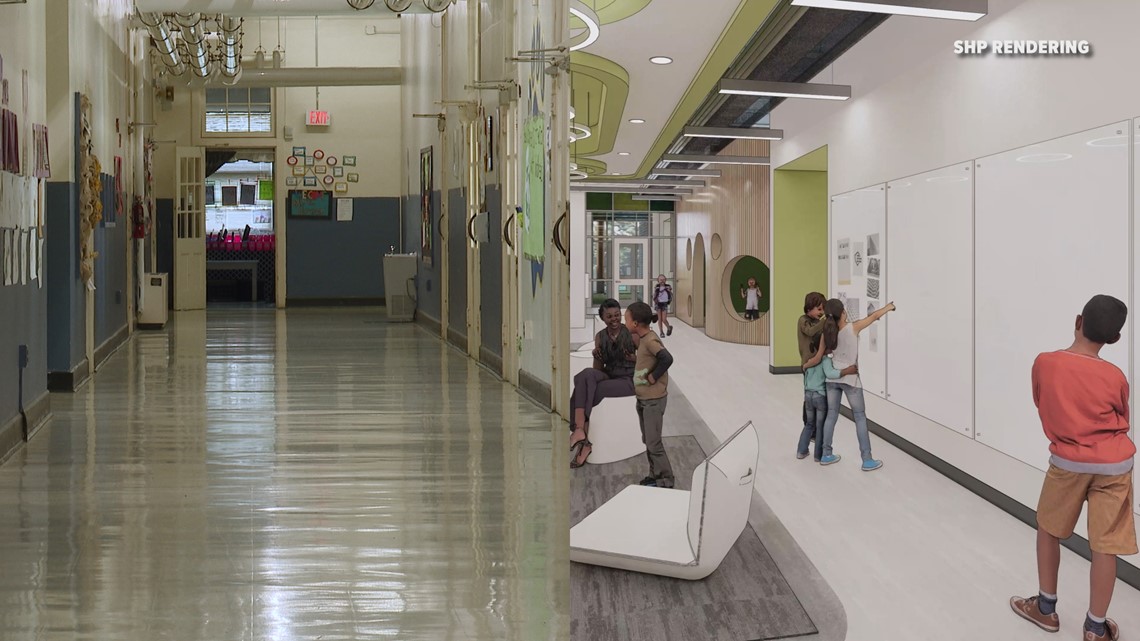 "Part of the reason this (classroom area) is connected like this is to allow kids to collaborate and become more innovative and creative, but it's not just that. It's not just how their head learns. It's how their heart learns," Powell said.
Thus, GCS had a 'heartfelt' desire to wipe the slate clean. Peck's principal, Ashley Triplett, Ed.D, showed Mollerus around her school's patchwork of problems. They observed chilly classrooms, leaky AC pipes and disjointed outside hallways connecting different parts of the building.
"This is what happens when you add on over time," Triplett said.
She said she has noticed how a student's physical environment can affect their ability to learn, retain information, test well and maintain good morale.
"What you want is a warm learning environment for students, and when the classrooms they're in are cold and frigid, it's difficult, right?" she asked.
That reality is why, in the 2020 and 2022 elections, Guilford Co., voters approved a fix -- the ultimate final exam.
Voters passed two capital bonds totaling $2 billion ($300 million in 2020 and $1.7 million in 2022) to rebuild and rehab 44 schools (22 rebuilds, 19 renovations and three add-ons) and construct seven new ones.
"Great communities have great schools. We've heard that from the businesses who've moved here. The school I went to elementary school in looks like it did a long, long time ago," Oakley said.
Oakley is not only the GCS superintendent but also an alumnae and mom, who is hopeful about Phase One's progress. Six schools, including Peck, have fall 2024 finish lines.
"As of now, we are on track. I think it's important to say we're not immune to supply chain issues and staffing shortages," Oakley acknowledged.
In January, the GCS board asked county commissioners for $256 million more dollars -- an amended amount still in the approval process with only three schools (Peck Expeditionary, Claxton Elementary and Kiser Middle) getting the green light for additional appropriations thus far.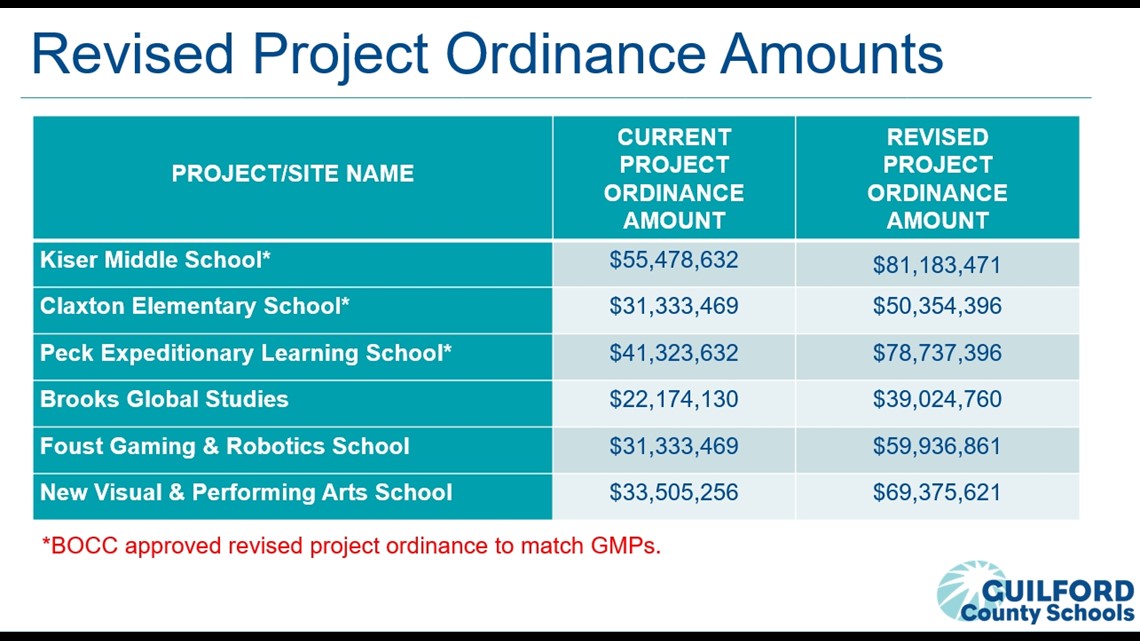 As for the reasoning behind the budget adjustments, GCS cited both inflation and competition, as jet maker Boom Supersonic and Toyota break ground in the Triad, too.
"I would say the only conversations (with Boom and Toyota) we are having are how we can work smarter together," Oakley said.
Coming together, she said, is vital for the community.
"We're bringing jobs here at an unprecedented rate -- not just our projects but their (Boom and Toyota) projects, as well," Oakley said.
Ultimately, Triplett emphasized, the efforts are about coming together for the children.
"We tell them they're bright, beautiful children, and we want bright, beautiful buildings for them," she smiled.
As for Peck's progress, Powell said he feels good about the likelihood students will be sitting in their new classrooms a year from this fall.
"Getting out of the ground is the hardest part, so once they (construction crews) get out of the ground and start to go vertical, as they say, it goes faster," he said.
To foster trust and transparency with parents throughout the building process, GCS launched a bond dashboard for the first set of projects getting underway. School by school, it outlines the project cost, construction status and estimated opening date.
MONITORING PHASE TWO
As ground breaks on Phase One, and crews work against the clock to meet their deadlines, planning for the more expansive -- and more expensive -- Phase Two is already underway. Oakley said the first Phase Two projects in design will be Sumner Elementary, Swann 6-12 School, Lindley Elementary, Northwood Elementary, Shadybrook Elementary, the new Northwest Guilford Middle School replacement project, Joyner Elementary, Vandalia Elementary and Bessemer Elementary Schools.
"We'll begin the design phase (for Phase Two). That takes about a year. Remember, the whole time is about two and a half years, so as we're entering design, it'll be about a year out before we see the ground breaking, the dirt moving... We're seeing that now at the first slate, if you drive by them," Oakley explained.
Oakley emphasized in addition to the two phases of the project, every GCS school -- meaning all 126 with 70,000 students and 9,800 employees -- will get upgraded safety and technology.