GREENSBORO, N.C. — It is your money and you should know how it is being spent. That is part of the accountability of the people you voted for and the bonds voters put into place.
"We just issued another $400 million to the NC Connect Bonds. The voters approved these over 4 years ago, the bonds we just sold included over $124 million for triad projects at the university, community college, and parks," said NC Treasurer Dale Folwell.
Just where in the Triad did the money go?

NC A&T
Major renovations like new roofs and additions were made to GTCC, Forsyth Tech, Surry, and Davidson Community Colleges, not to mention repairs made to Hanging Rock State Park.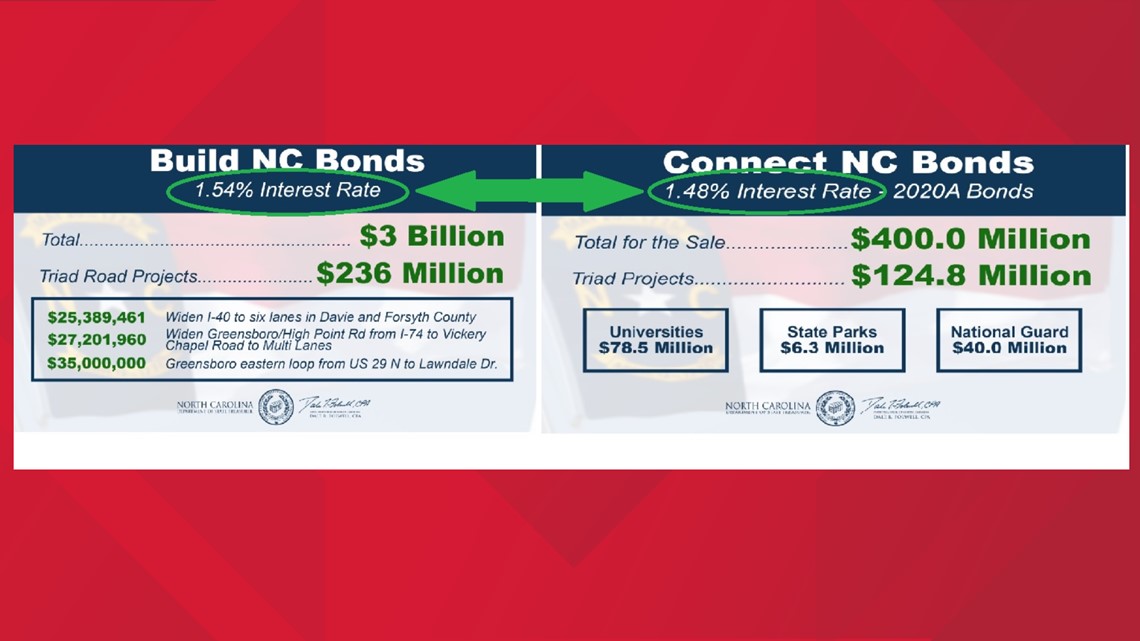 That's not all of your money. Have you noticed all the road work? That's part of the Build NC Bonds. It is a total of $3 billion with Triad road projects coming in at about $236 million. With that money, the NC DOT is widening I-40 in Davie and Forsyth counties, widening High Point Road from I-74 to Vickery Chapel, and completing the Greensboro Eastern Loop from US 29 to Lawndale.

Don't miss the interest rates of these bonds, 1.54%, and 1.48%. Think about the loans on your car or home. Most of them are at least 3.5%. So how did NC get such a good rate? Because North Carolina has a Triple-A bond rating.

"It's another example of how this triple-a bond rating and budget state how it helps us to borrow money at the lowest rate. We're only one of 13 states that have that Triple-A bond rating now and I suspect because of the impact of COVD on state revenues there will be fewer states that have that Triple-A bond rating this time next year," said Folwell.
The Triple-A bond rating is due to strong economic growth and diversification, conservative fiscal management, rainy day fund, and other reserves along with low liabilities.