RALEIGH, NC – A sea of red blanketed the North Carolina General Assembly as thousands of teachers and other educators across the state gathered to have their voices heard.
On Wednesday, during the March for Students & Rally for Respect teachers held signs, talked to lawmakers, and made their demands known.
PHOTOS | Teacher March and Rally in Raleigh
PHOTOS | Scenes From NC Educators Rally in Raleigh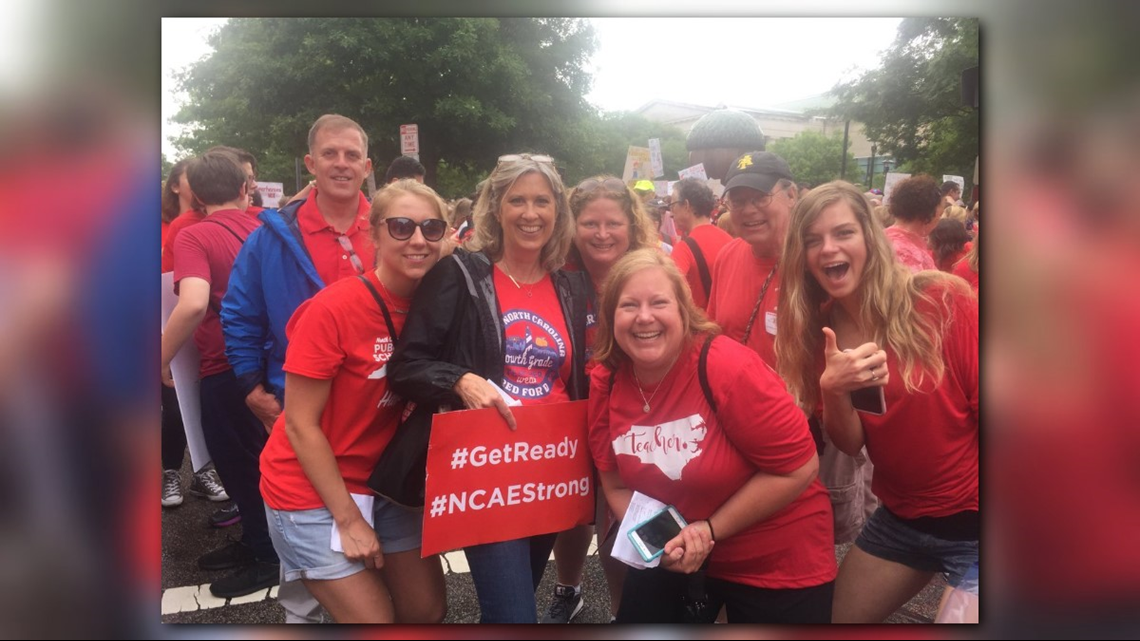 Among the teachers' demands are an increase in pay, smaller class sizes, and more funding for schools at every level across the state.
Teachers chanted out "R-E-S-P-E-C-T" and the phrase, "It's Personal" multiple times during the rally.
The North Carolina Association of Educators organizers estimated the crowd was around 30,000 people. Those that marched led chants of "This is what democracy looks like" and "Red4Ed," one of the event's social media hashtags.
A number of teachers and parents from the Piedmont Triad spoke during the rally.
GOV. ROY COOPER SHOWS SUPPORT
Governor Roy Cooper showed his support for helping teachers.
He opened by saying, "Hello North Carolina teachers! I know why you're here! To fight for our students, fight for our schools, and fight for our future. And it's personal. Thanks for being here and for the great work you do."
Cooper said North Carolina's teacher pay, which ranks 37th in the country, is unacceptable. He said he will put in an extra $112 million to the state's budget.
Teachers are currently scheduled to receive a six-percent pay raise next year, but Cooper is calling on state legislators to bump that pay increase to eight percent.
"The veteran teachers have been left out. We know you are critical for the success of our schools, but we have to be willing to prioritize it and pay for it," he said.
Cooper also went on to say that this was more than about teacher's pay.
"It's about respect, it's personal, it's about real investment in our schools," he said. "If I've learned anything, teachers don't teach for incomes, teachers teach for outcomes."
Cooper said his mother was a public school teacher and added, "If she were still here, she would have put her red dress on and have been standing with you fighting for her students."
Why May 16?: It's opening day for NC General Assembly.
Because of the number of teachers absent, many school systems across the state and in the Triad are closed.
Related: Some Teachers Stay Behind for Work Day as Thousands Rally in Raleigh
Schools and other organizations have made plans for students to get breakfast and lunch and for parents to get childcare help.
ON THE ROAD TO RALEIGH
Before the 10 a.m. march, WFMY News 2's Maddie Gardner joined Guilford County teachers on a bus headed to Raleigh and asked them about their concerns.
Other Walkouts Across The Nation
Protests across the country in West Virginia, Arizona, Kentucky, Colorado and Oklahoma have led legislators to improve pay, benefits or overall school funding.
Teacher Pay Promise
On Tuesday, North Carolina lawmakers addressed teacher pay ahead of the rally. Lawmakers said for the 2018-19 school year, teachers should expect to see an average 6.2 percent pay raise. They say this increase comes without a tax hike.
For the 2018-19 school year, Tim Moore and Phil Berger said teachers should expect to see an average 6.2 percent pay raise. They say this increase comes without a tax hike.
5 Things Teachers Want From Lawmakers
Educators are asking for five things from lawmakers:
Significant investment in per-pupil spending.
A multi-year professional pay plan for educators, education support professionals, administrators, and all other school personnel, including the restoration of compensation for advanced degrees and longevity and stopping the flat-lining of experienced educators' pay.
Increased school nurses, counselors, social workers, and other support personnel, and expansion of Medicaid to improve the health of our communities.
Fixing decaying schools and large class sizes with a Statewide School Construction Bond.
Prioritizing classrooms over boardrooms.
About 30 minutes before the start of the march, WFMY News 2's Meghann Mollerus spoke to a group of teachers Friday morning frustrated with the state.
Here's what the march looked and sounded like on the ground:
Social Media Hashtags
Teachers, other educators and students used the following hashtags to get the attention of social media during the rally.
#Red4Ed
#ItsPersonal
#GetReady
#NCAEStrong
Follow WFMY News 2 on Facebook and Twitter
► Make it easy to keep up to date with more stories like this. Download the WFMY News 2 App: Apple Users, Android Users