STOKESDALE, NC (WFMY) - A road has washed out in Stokesdale, causing a part of one community to be stranded with no way out or back to their neighborhood.
PHOTOS: Private Stokesdale Road Caves In After Heavy Rain
PHOTOS: Private Stokesdale Road Caves In After Heavy Rain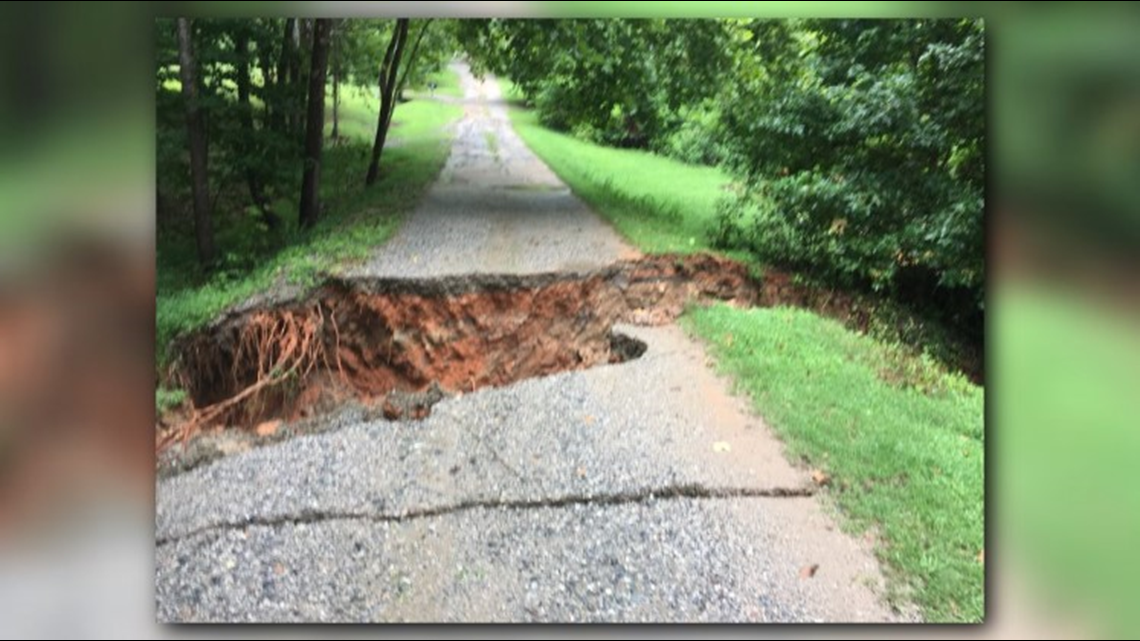 RELATED | Strong Storms Across The Triad Cause Flooding, Knock Down Trees
Sunrise Acres Road is the impacted road. It's a private road near Gideon Grove United Methodist Church. The state isn't responsible for the road's maintenance because it is a private road. The rain caused the road to cave in, separating it.
RELATED | Flooding Damage | Roses Store Roof Collapse, Elementary Flooded, Washed Out Roads
It's been reported that 9 residents were stuck on the other side of Sunrise Acres road after the road split.
We are also being told that eight of the nine people are disabled.
The community has been seeking the help of local companies for help in order to make a passage to get out.
"There is no way to pass on either direction and there is no way out that way because it is a dead end road," said Shane Welch one of the neighbors stuck on the other side.
"We have tried to contact Rockingham County Emergency and Disaster Relief but they say they will see what they can do to help," added Welch.
It is the residents' responsibility to fix the road but Rockingham county officials came out to survey the area and see what options were available in the case that they needed to evacuate anyone in an emergency. The fire chief said he is crossing his finger that there would be no fire or medical emergency before the road is fixed.
"There was a road this morning but there is no road now," said a baffled Lisa Justice upon her return from work. She had to walk across the creek, assisted by a neighbor, to get to the other side where her brother was waiting. Their mother is elderly and disabled and makes frequent trips to the doctor during the week.
"I work every day and she has doctor's appointments to get to and from, I don't know what they are going to do but there is no way she is going to cross over that," said Justice. The neighbors are hoping they can get some help soon.
We'll have more on this story as it develops.
Follow WFMY News 2 on Facebook and Twitter
► Make it easy to keep up to date with more stories like this. Download the WFMY News 2 App: Apple Users, Android Users