WASHINGTON, D.C., USA — Duke has survived again in the NCAA Tournament.
The No. 1 overall seed held off Virginia Tech 75-73 in the East Region semifinals, earning a trip to the Elite Eight to face Michigan State.
RELATED: March Madness | UNC and Duke
The Blue Devils had to survive a wild final possession for the Hokies, who missed two 3-pointers for the lead then had Ahmed Hill miss a short putaway on a perfectly executed inbounds lob to the lane to end it.
Duke, UNC in the Sweet 16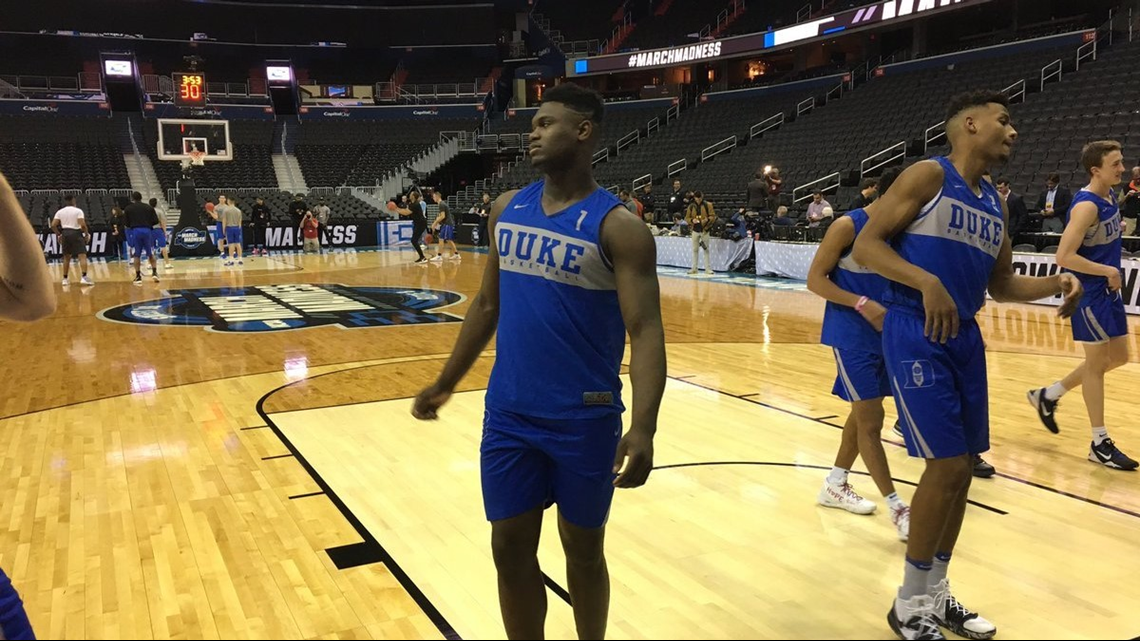 Duke had already survived UCF missing two attempts for the win in a one-point win in the second round last weekend. The Blue Devils also won games against Wake Forest and North Carolina this year by surviving final-play shots each time.
Zion Williamson scored a game-high 23 points, while fellow freshman Tre Jones scores a career-high 22 points with five 3-pointers to compensate for the absence of starter Cam Reddish due to a knee injury.
Kerry Blackshear had 18 points to lead the fourth-seeded Hokies.
Watch both Elite Eight games on WFMY News 2 on Sunday with 2:20 p.m. Auburn vs. Kentucky OR Houston; 5:05 p.m. Michigan St. vs Duke.
OTHER RELATED MARCH MADNESS
RELATED: Tar Heels Bounced Out Of The NCAA Tournament In Loss to Auburn
RELATED: March 29, 1982: Dean Smith's First Championship Win
RELATED: When and Where to Watch Duke and UNC Sweet 16 Games
RELATED: No more perfect March Madness brackets after Purdue's Sweet 16 upset
RELATED: 'Big Bang Theory' star has surprisingly accurate NCAA bracket
RELATED: North Carolina Madness: Choose Your Favorite NC Staples
RELATED: Wolfpack, Gamecocks Crash Greensboro For Women's NCAA Tournament Regional
RELATED: Bracket Man: Here's the Biggest March Madness Bracket You'll See in the Triad