GREENSBORO, North Carolina — North Carolina A&T officials confirmed Thursday that the school's cheerleading coaches have resigned.
The University said Adjoa Botwe-Rankin and Wenalyn Glenn resigned from their positions as co-head coaches.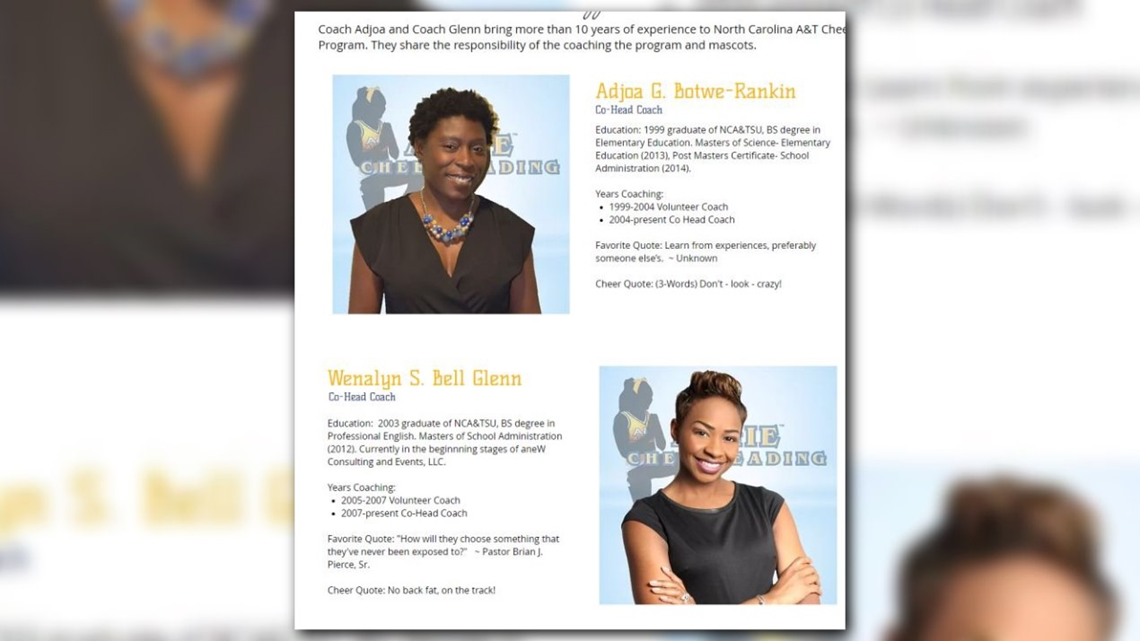 The team has been under fire since a member of the squad, Raina Gee, said she was raped, reported it to her coaches, and said her coaches never reported it.
Raina Gee reacted to the coaches resignation, which was her ultimate goal.
"It was so exciting, I know you shouldn't celebrate someone resigning but it's a different type of situation like, we had to see some changes and for this to happen it was just amazing," Gee said. "I wish them the best but I think this was the right decision that was made."
In the meantime, the university announced that Shawn Hendrix, senior women's administrator for A&T Intercollegiate Athletics, has been appointed to serve as administrator of the cheerleading program.
Hendrix will oversee the cheerleading squad on an interim basis.
NC A&T officials say they will begin searching for a new coach or coaches.
"To be going through what I was going through in November, it seemed like I was going to be kicked off the cheer team, it seemed like I had to give up something I love and for the people I relied on the most," Gee said. "To see consequences brought to the situation, it was amazing."
WFMY News 2 asked A&T if the resignations were a direct result of the investigation. A University spokesperson said they could not discuss personnel matters.