All eyes will be on the tropics through this weekend week as Ian has now become the fourth hurricane of the 2022 Hurricane Season. Ian has continued to strengthen to a major hurricane.
Ian, with winds of 155 mph, is now 45 miles west-northwest of Naples. The storm will continue to track north-northeast at 9 mph. This track will bring the destructive hurricane inland in area of Port Charlotte and Mt. Myers this afternoon. Powerful winds and heavy rain will continue to spread inland this afternoon.


WHERE IS IAN NOW?
As of 11 am Wednesday, Hurricane Ian is located about 45 miles west-northwest of Naples. The storm is moving N-NE at 9 mph. Sustained winds have increased to 155 mph with higher gusts. It is a destructive Cat. 4 hurricane.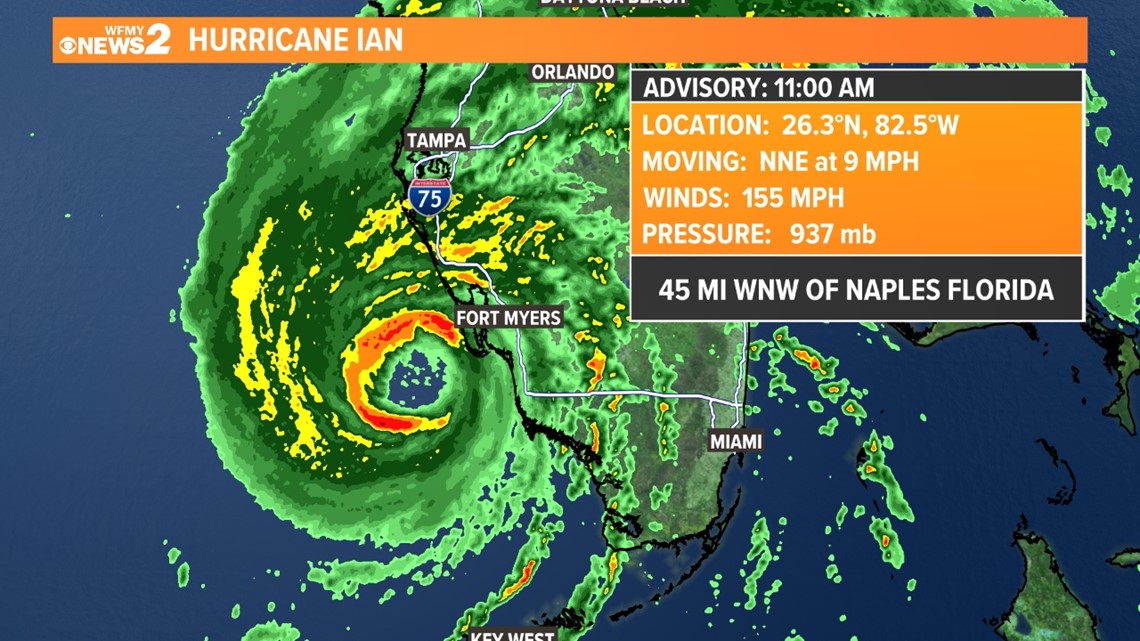 All of Florida is under a state of emergency. Based on the current forecast track, the great threat of damaging winds and heavy, flooding rain
FORECAST TRACK DISCUSSION
Tropical forecast models are coming into better agreement on a track across Florida to near Jacksonville. The weakening storm will then track north across Georgia and the Carolinas this weekend.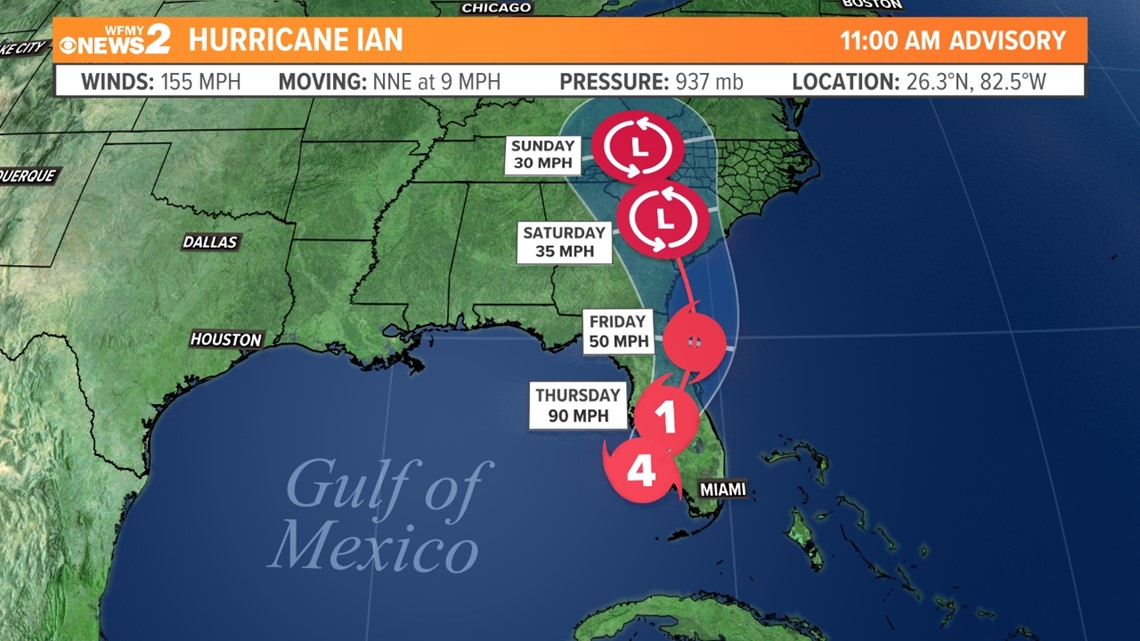 TIMELINE OF IAN
Below is a general timeline of what we are tracking. This will be updated as things change during this event.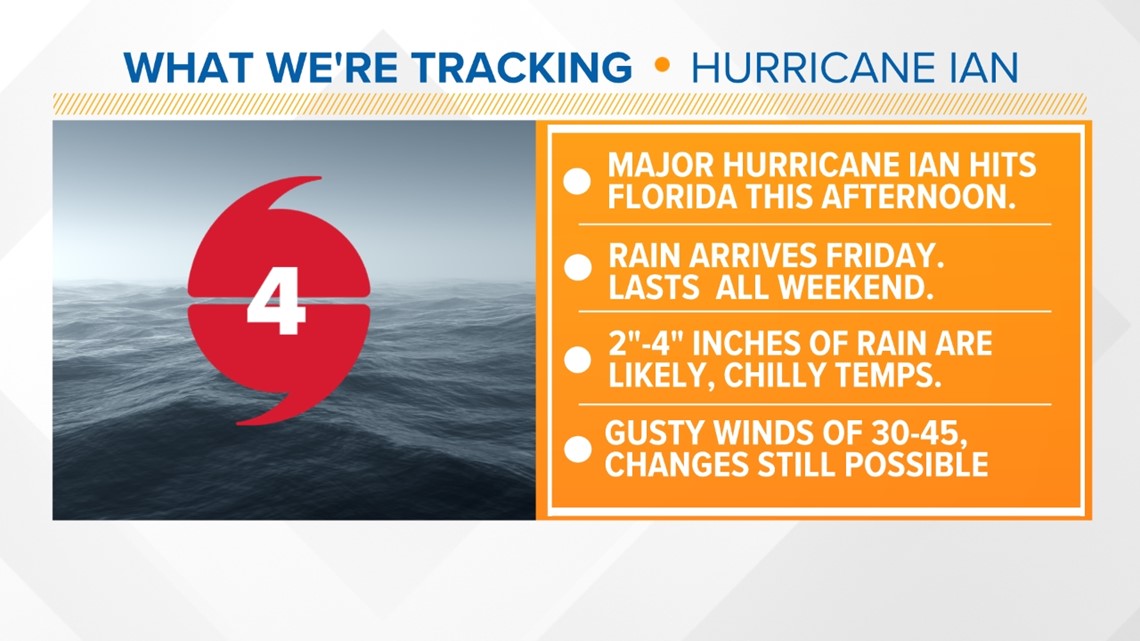 POTENTIAL IMPACTS FOR THE TRIAD
The current forecast track models have Ian as a weakening tropical depression Saturday as it tracks northward through the Carolinas. This track would bring some winds (maybe 30-45 mph gusts) and several inches of rain to the Piedmont Friday afternoon through Sunday. The Weather Prediction Center features a high-impact rain event in their 7-day forecast. As of now, the forecast calls for up to 7" of rain across the mountains and foothills and 2"-4" over the Piedmont, including the Triad. The wind and rain forecast is still very fluid, and these values could change as confidence in the track forecast gets better.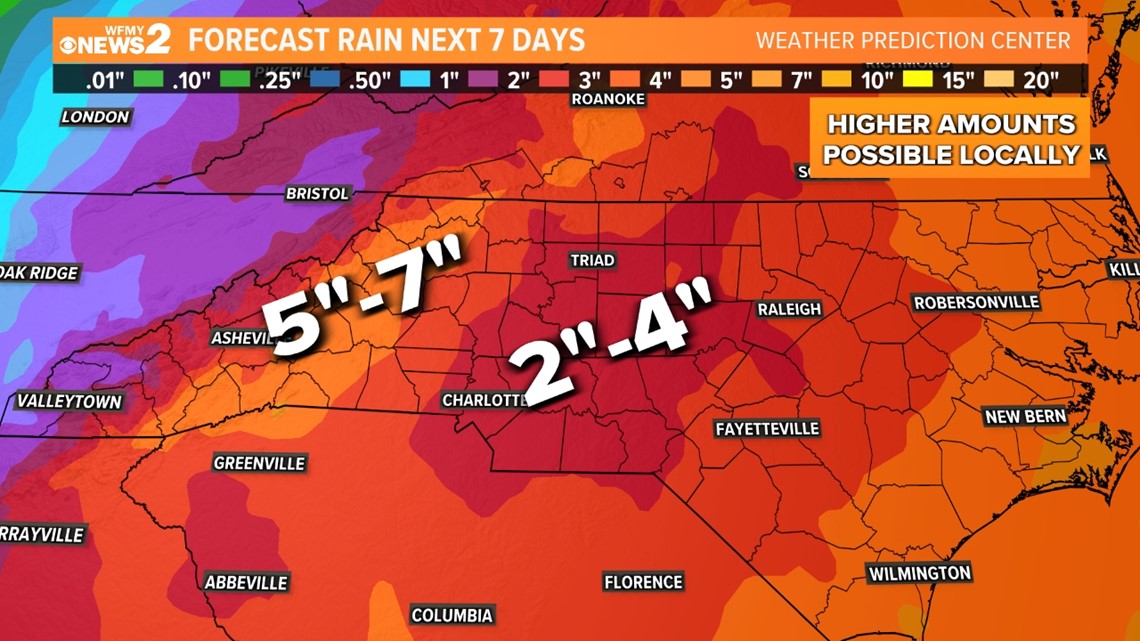 HOW CAN YOU PREPARE FOR POSSIBLE IMPACTS?
Early preps? You could be proactive and store yard furniture and secure light objects around your house. Also, remove dead limbs from trees. Not only will this help for anything that comes our way later this week, but it will also get you ready for any ice this winter.