WINSTON-SALEM, N.C. — A massive fire at the Weaver Fertilizer Plant in Winston-Salem has been burning since Monday night. Fire officials said the threat for an explosion remains but at a lowered risk and the evacuation radius has since been reduced.
LATEST BRIEFING FROM OFFICIALS:
Winston-Salem fire officials said Thursday morning, there is still a risk for explosion at the plant. They don't know when evacuees will be able to go home. Assistant Fire Marshal Rick McIntyre is the lead investigator on the fire. He said the fire investigation process has been initiated and he has assembled a team of 12 people from various agencies, including the SBI and the ATF.
QUICK FACTS TO KNOW
Explosion risks reduced
Evacuation zone reduced
Lead investigator has assembled a 12-person task force; includes members from SBI, ATF, and other agencies
600 tons of ammonium nitrate inside the plant; three-times amount in deadly West, Texas plant explosion
6,500 people within the zone urged to evacuate
Fire cause not known right now; no injuries reported
Officials say 911 call came in from one Weaver worker who was at the site when the fire first started
EVACUATION EFFORTS
UPDATE: Winston-Salem fire officials said they plan to reduce the evacuation zone to 1/8 mile at 8 p.m. Thursday.
Firefighters are urging people who live within the evacuation zone to evacuate because of the potential for explosions.
The evacuation area around 4440 North Cherry Street has almost 6,500 residents -- or 2,497 households.
Officials don't have a timeline for when folks could go home. WSFD Fire Chief Trey Mayo said there's "too much product" burning at the plant and "too many unknowns."
Here's a photo of the previous one-mile radius evacuation zone before it was reduced.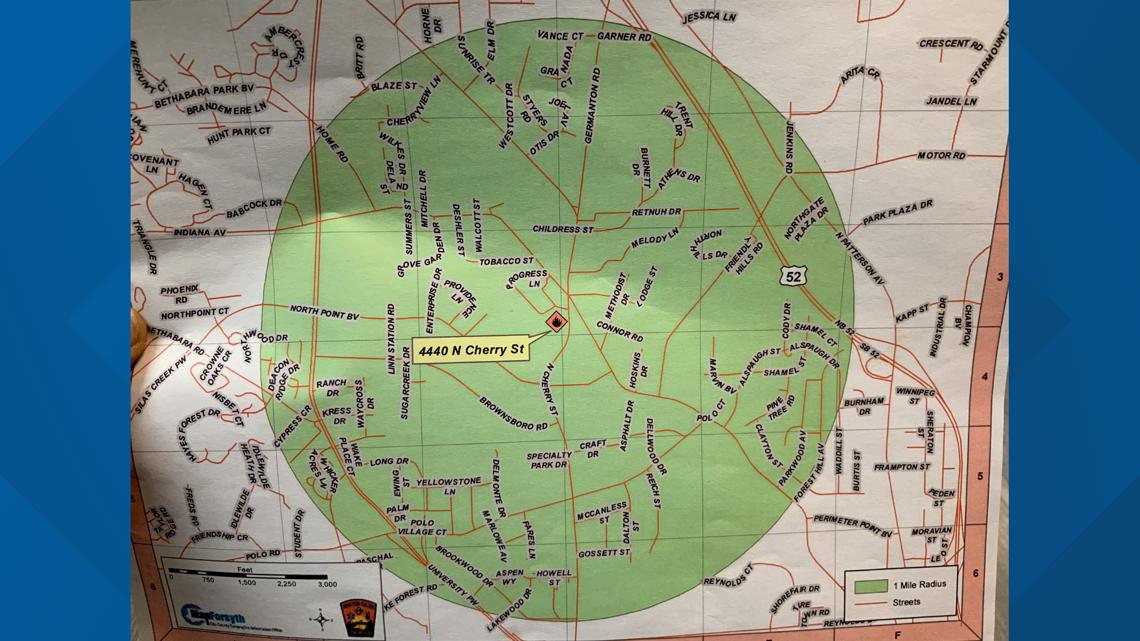 CITY TRANSIT
Officials said they aren't running city transit services in the Cherry Street area. They are asking folks who live in the evacuation zone to reach out to friends and family to come get them. Winston-Salem police said officers are also helping get people out of the area.
AMMONIUM NITRATE AND CONCERN FOR EXPLOSION
Officials said 600 tons of ammonium nitrate are inside the Weaver plant, creating the potential for a devastating explosion.
Fire chief Mayo said that's three times the amount of explosive material that the West Texas plant had inside when it blew up in 2013. Fifteen people died and dozens more were injured in that explosion.
"If that doesn't convey the gravity of the situation and how serious folks need to take it, I don't know how else to verbalize that," Mayo said.
EPA ON SCENE
The Environmental Protection Agency is in Winston-Salem monitoring air conditions. Right now, officials are recommending folks with breathing problems stay inside, as the smoke could cause irritation.
SHELTER INFORMATION
Update: The Red Cross Shelter could close Friday morning around 8 a.m., according to Tom Dunn, the shelter director.
Winston-Salem officials said a shelter has been set up at 414 Deacon Boulevard at the Winston-Salem Fairgrounds.
Red Cross workers are also providing safe lodging and food to evacuees until it is safe to return to their homes.
Anyone who plans to stay in a Red Cross shelter should bring:
Face coverings, hand sanitizer, prescription medications, extra clothing, pillows, blankets, hygiene supplies, important documents and other comfort items.
They should also include any special items for children, such as diapers, formula and toys, and durable medical equipment and/or assistive technology if applicable.
Greater Carolinas Region's Disaster Action Team volunteers will work with emergency responders to provide additional resources as requested.
PLANT FIRE DETAILS
The fire is happening at the Weaver Fertilizer Plant, located at 4440 North Cherry Street. It started Monday night, sometime before 7 p.m.
WSFD officials said the first 911 call was from a Weaver worker who was inside the plant at the time of the fire.
Crews arrived to find a fire on the loading dock of the building and no one inside. They said the building "collapsed in" as a result of the fire.
Firefighters only battled the blaze for about two hours before pulling back because of dangerous conditions. They're using drones to assess the fire from above. They said "mini-explosions" have already been happening inside the plant.
Firefighters said they are closely monitoring a rail car just outside the plant that is housing 90 tons of ammonium nitrate.
Officials said the plant wasn't open at the time of the fire. WSFD said all Weaver employees have been accounted for, no one is missing, and no injuries have been reported.
Fire officials don't know how the fire started at this time. It may be a while before fire investigators can learn more about the cause.
NORTH HILLS ELEMENTARY
Due to the reduced threat of danger from the Weaver Fertilizer fire in Winston-Salem, WS/FCS will reopen North Hills Elementary School to students and staff Friday. Officials with the Winston-Salem Fire Department have determined that the threat area no longer includes North Hills Elementary.
Students and staff who have been reporting to the WS/FCS Education Building are asked to return to North Hills tomorrow on the normal schedule. All transportation outside of the new evacuation zone will also resume at regularly scheduled times.
WAKE FOREST UNIVERSITY
Wake Forest University canceling classes through Friday. However, classes at Wake Forest's other locations in Charlotte or the University's residential study centers in Washington, D.C. and overseas will operate as normal. Find out more, WFU.
For questions, including urgent housing needs, students and families should contact the University Call Center at 336-758-7500, which will be open until 9 p.m. EST Wednesday night and will be open 9 a.m.-9 p.m. EST Thursday.
Wake Forest will operate the on-call shuttle as long as possible to aid with evacuations, but please use this as a last resort. Call 336-283-1091 to request a shuttle.
Wake Forest has set up a Student Support Center in the Wellbeing Center in conference room A330. Faculty and staff can contact askhr@wfu.edu with questions.
JAIL EVACUATION
UPDATE: The North Carolina prison system has safely returned around 220 minimum custody offenders who had been evacuated Monday night/Tuesday morning from the Forsyth Correctional Center in Winston-Salem due to a fire at a nearby plant.
PREVIOUS: The Forsyth Correctional Center is about a half-mile away from the Weaver plant. Officials said the jail was evacuated and the inmates were taken to another facility.
ABOUT THE PLANT
The plant has been in Winston-Salem for 80 years. It first opened for business in January 1940. It's employed hundreds of workers ever since. Officials said the plant passed inspection in December 2021. However, Chief Mayo said the building is much older than some of the new fire codes in place. Officials said depending on when a building is built, it only has to meet the most recent code of its time.
Weaver Fertilizer officials said they are working with first responders in the fire investigation.
PHOTOS | Weaver Fertilizer Plant fire in Winston-Salem