GREENSBORO, N.C. — Text your Zeta photos and videos to our newsroom at 336-379-5775, but only if it is safe to do so! Remember to include your name so we know who to credit, and location.
LATEST UPDATES
7:45 a.m. -- More than 160,000 people are still without power across North Carolina, according to the Duke Energy map.
Guilford County outages: 15,000
Forsyth County outages: 31,000
7:00 a.m. -- Guilford County Schools announced Alamance Elementary, Jefferson Elementary, Gateway, Archer Elementary and Southwest Elementary students will continue remote learning on Friday.
9:56 p.m. WFMY's Tim Buckley talks flooding concerns as heavy rain from the storm moves into the Triad.
9:53 p.m. - Surry County 911 service is operating as normal again.
9:24 p.m. Tree captured on powerline today in Lexington from the storm. Picture sent to us by Jessica Stack.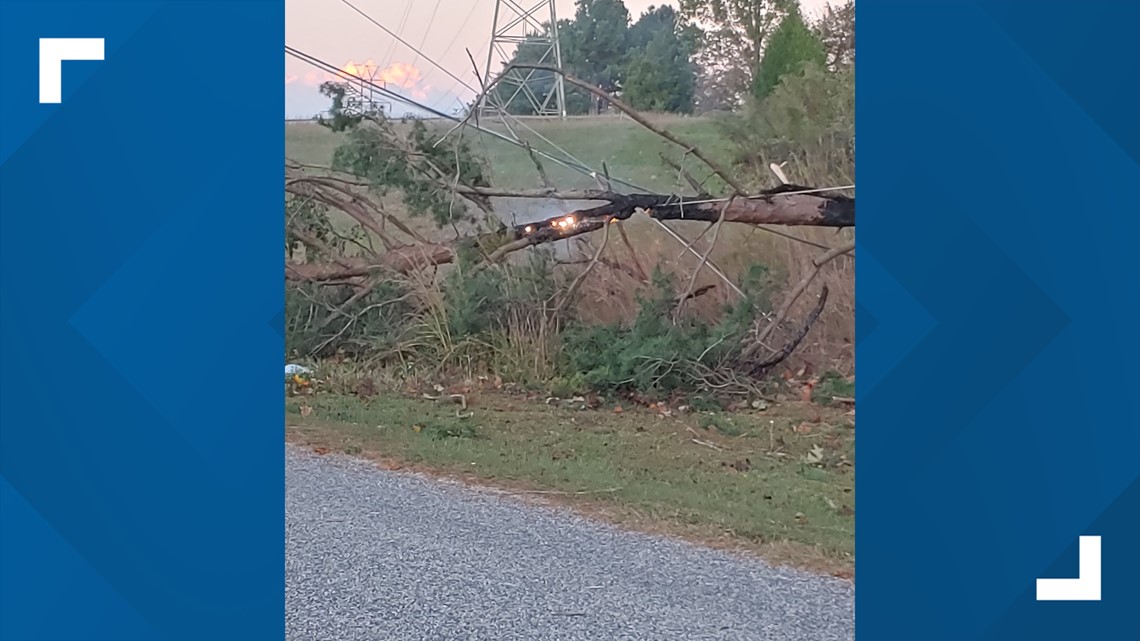 6:05 p.m. - Stokes County Schools cancels school for Friday due to power outages in the area.
The district reports they only have eight buildings with electricity and the internet at this time.
6:00 p.m. - Power outages in North Carolina appear to be below 300,000 compared to 450,000 earlier today.
5:17 p.m. - Rockingham County reported 40 trees on homes across the county as of 3 p.m.
5:05 p.m. - A tree totaled a new school bus in Catawba County. The bus is from Discovery High in Newton.
Joey Mosteller with Catawba County Weather shared the photo.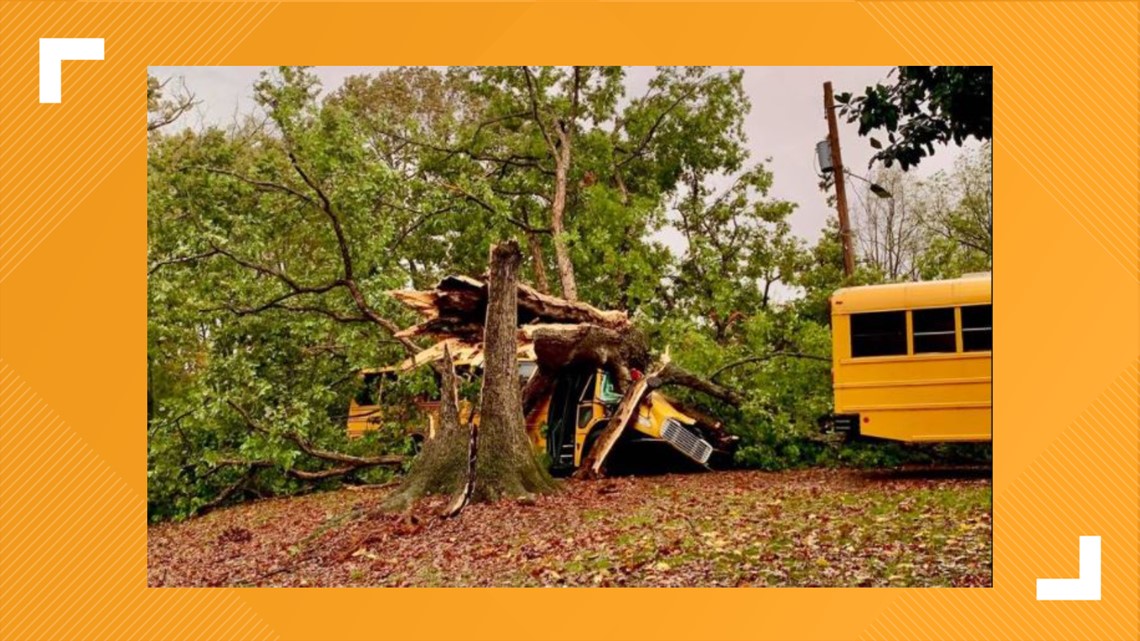 5:00 p.m. - Surry County 911 is down for Century Link customers. If you have an emergency call 336-374-3000.
4:42 p.m. - Wilkes Community College is flooded.
Even one of the classrooms was flooded as Zeta moved through the area. Allen Royal who works at the college shared photos of the damage.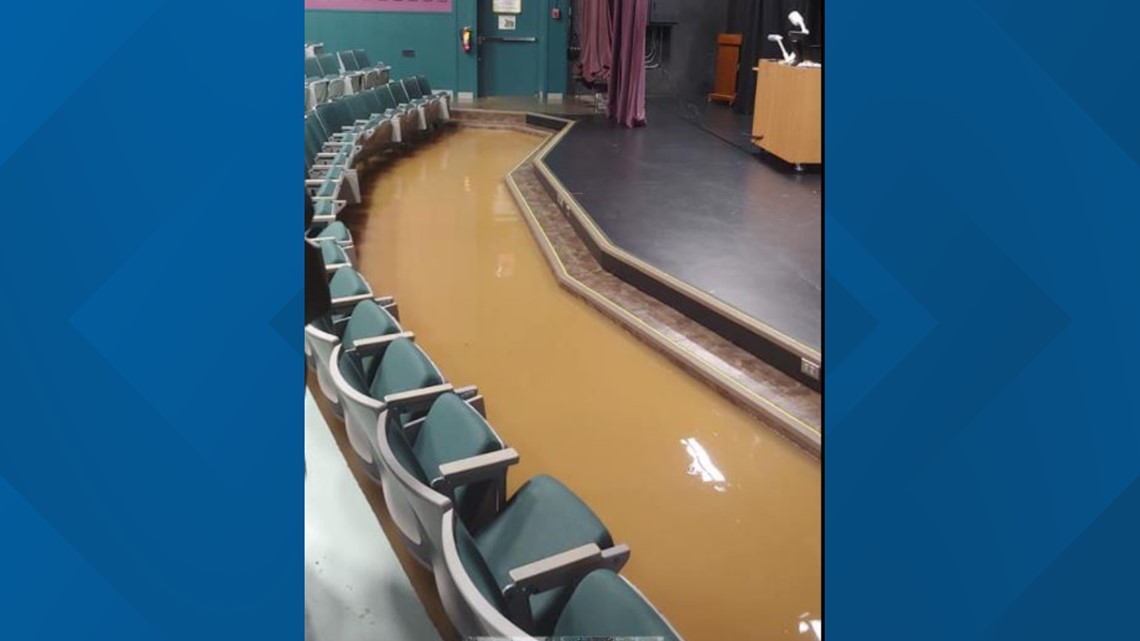 4:30 p.m. - Polling sites running on back up generators.
The Guilford County Board of Elections said they have generators running at four early voting sites including, Oak Ridge Town Hall, Burl-Mill Park, Northeast Park, and GTCC Cameron Campus. Early voting ends on Saturday, October 31 at 3:00 p.m.
4:27 p.m. - Check out viewer photos of storm damage across the Piedmont Triad.
Gusting winds from Zeta causes damage across Triad

4:25 p.m. - Randolph Electric Membership Corporation's crews have restored 33 scattered power outages affecting 569 members as of 2 p.m.
However, there's still a potential for more outages as storms are possible for tonight.
"With gusty winds expected for the remainder of the day, additional outages are possible. Our crews will continue working until all members' power is restored," Randolph EMC CEO Dale Lambert said.

Firefighters are working to clear fallen trees from roadways.
ROAD CLOSURES
3:15 p.m. - NC-66/Old Hollow Road is closed in both directions near SR-2216/Davis Road in Walker. The road will remain closed until Friday afternoon, according to NCDOT.

3 p.m. - SR-2385 (Darrow Road) is closed in both directions, near US-158/Reidsville Road in Walker after a tree fell on power lines. The road is expected to reopen Friday afternoon.
2: 50 p.m. - Racine Road. is closed in both directions between NC 62 and McClellan Road due to a down tree that is in power lines. NCDOT said the road should be clear around 3:30 p.m.
HAPPENING NOW
2:30 p.m. Watch the moment when strong Zeta winds uproot a massive tree and it comes crashing down onto a home in Summerfield. The family is OK, but told WFMY News 2 reporter Jess Winters the same thing happened to them two years ago.
2 p.m. -- Power outages update
North Carolina: 348,000
Guilford County: 39,000
Forsyth County: 54,000
12:45 p.m. -- At least two early voting locations are without power in Guilford County: Barber Park and Bur-Mil Club, according to Charlie Collicutt with the Guilford County Board of Elections.
Collicutt says every voter who shows up at these locations will be counted. The machines have battery backups and they are working on getting generators to those sites just in case those batteries die.
12:40 p.m. -- Winston-Salem firefighters rescued a person trapped in a truck after a tree fell on it.
12:30 p.m. - A huge tree came crashing down the front of this apartment building on Spring Garden Street. WFMY News 2's Grace Holland spoke to the tenants. Everyone is okay.
12:15 p.m. - Several Greensboro facilities and parks are closed Thursday due to tropical storm conditions, including Gillespie Golf Course, Country Park, and Townsend, Brandt, and Higgins lakes. The city says it will evaluate reopening based on cleanup.
Power outages at this time:
North Carolina: 364,000
Guilford County: 37,000
Forsyth County: 59,000
Gusting winds from Zeta causes damage across Triad

12 p.m. -- Glen Gary, Sr. shared this incredible video of flooding in Elkin, North Carolina.
11:35 a.m. -- Over 340,000 Duke Energy customers are without power across North Carolina, according to the latest update on the company's website.
Forsyth County -- 52,000 outages
Guilford County -- 32,000 outages
Randolph County -- 9,000 outages
Downed trees and power lines have blocked several roads in Greensboro, including Lawndale Drive and Lake Brandt Road.
11:15 a.m. -- Several trees are falling across the Triad, keeping 911 communication centers busy with calls.
Duke Energy is reporting 45,000 power outages in Forsyth County and 16,500 in Guilford County.
The National Weather Service is reporting trees falling on homes in Lexington, but no specific locations were given.
Here's a look at some damage photos shared by our WFMY News 2 crews and viewers.