GREENSBORO, N.C. (WFMY) -- A committee will meet in Raleigh Wednesday to discuss Confederate monuments on the grounds at the state capitol.
They're expected to talk about a plan that could relocate three Confederate monuments. Gov. Roy Cooper previously announced he wants them moved to Bentonville Battlefield in Johnston County.
Related: SBI To Investigate After UNC's 'Silent Sam' Statue Torn Down During Protests
The North Carolina Historical Commission Confederate Monuments Study Committee planned the meeting before the Silent Sam Confederate statue was torn down.
PHOTOS | 'Silent Sam' Torn Down During Protests On UNC's Campus
PHOTOS | 'Silent Sam' Torn Down During Protests On UNC's Campus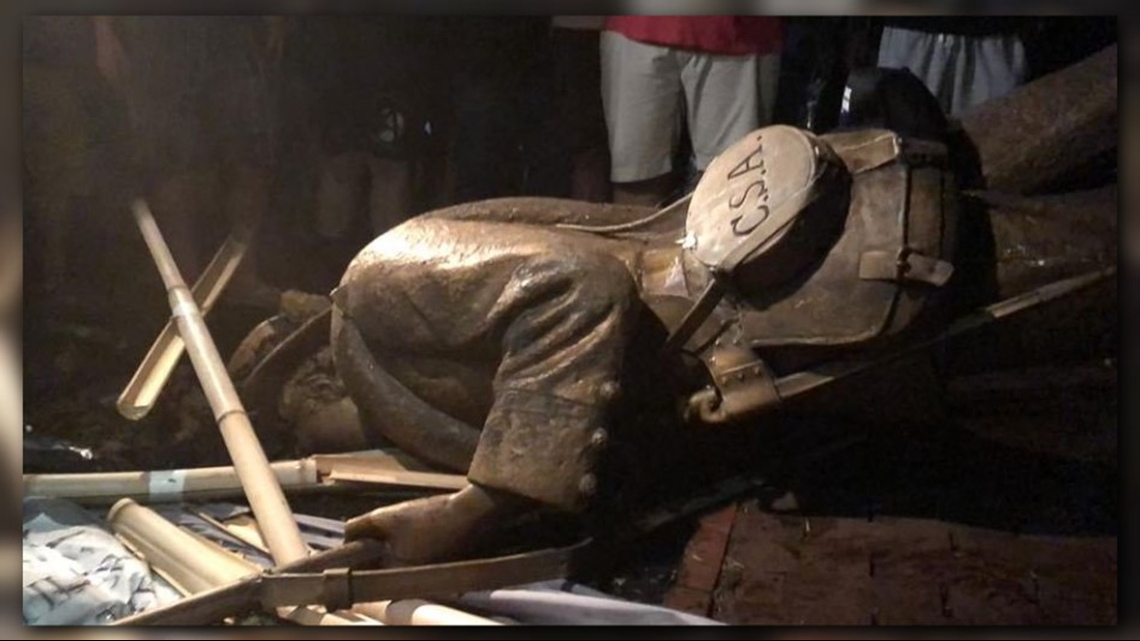 The SBI is now investigating after a huge crowd of protesters tore down the Silent Sam statue Tuesday night on the UNC-Chapel Hill campus.
Related: The Cost of Protecting the Silent Sam Confederate Monument
UNC leaders said in a statement, "We have asked the SBI to assist the police to fully investigate the incident, and they have agreed. We do not support lawlessness, and we will use the full breadth of state and University processes to hold those responsible accountable for their actions."
Related: NC Senate Leader Phil Berger Compares Silent Sam Protesters To 'Violent Mobs'
Orange County's District Attorney Jim Woodall said he anticipates the investigation will take several days.
A statement from UNC System and UNC-Chapel Hill leaders said at no time were law enforcement officers told to allow the statue to be taken down.
"During the event, we rely on the experience and judgment of law enforcement to make decisions on the ground, keeping safety as the top priority," the statement said.
According to UNC's website, the North Carolina Division of the United Daughters of the Confederacy commissioned the memorial in 1913 to honor the 321 UNC alumni who died fighting for the Confederacy in the Civil War.
The UNC website notes that Silent Sam is a statue of a soldier carrying a rifle, but he has no cartridge box with ammunition and is thus silent.
Related: Deputies Patrol Confederate Monument in Graham After 'Silent Sam' Toppled
The toppling of the Silent Sam statue has led to an increase in security at the Confederate monument in Graham. At least four Alamance County deputies will be monitoring it, around the clock, until further notice. Graham police are also patrolling the area, near the monument.
OTHER
Confederate Statues Being Stored In Secret Locations
Understanding The History of Confederate Monuments
Follow WFMY News 2 on Facebook and Twitter
► Make it easy to keep up to date with more stories like this. Download the WFMY News 2 App: Apple Users, Android Users