GREENSBORO, N.C. — North Carolina A&T and UNCG Greensboro held vigils Wednesday night on their campuses to honor and remember the victims of the deadly shooting at UNC Charlotte.
"My general reaction was shock," North Carolina A&T Student Body President Allison Gilmore said. "I think when you experience anything close to home it's very triggering."
North Carolina A&T at 6 p.m.
NC A&T remembered the victims of the UNCC shooting Wednesday at the Village Reflection Pool on campus.
NC A&T Holds Vigil In Support of UNC Charlotte Victims, Staff and Community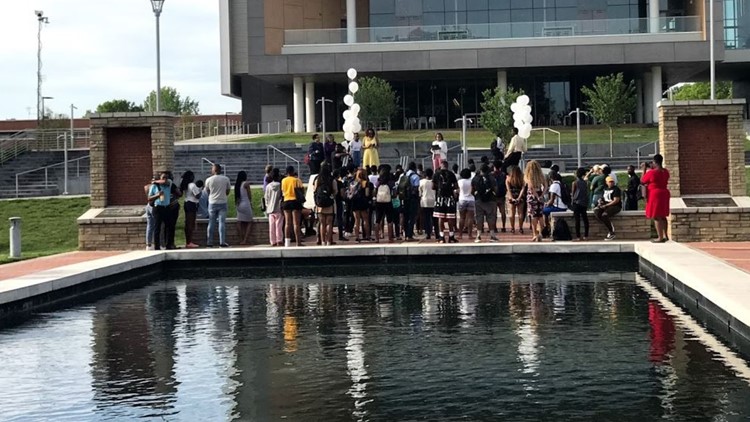 "In the UNC system there are 17 campuses, and we all are sister schools we all know each other," NC A&T's Vice President of Internal Affairs Courtney Baskerville said. "Some people lost their lives, you can't plan for every day and when you sit there and sit in that you start to get emotional."
Balloons were released at this vigil in honor of those who lost their lives.
UNC Greensboro at 6 p.m.
The UNCG vigil and moment of silence was held Wednesday on the Kaplan Commons.
"In solidarity with our friends and colleagues at UNC Charlotte, UNC Greensboro will host a vigil and moment of silence on campus at 6 pm Wednesday evening. The vigil will be outdoors on the Kaplan Commons, in front of the Elliott University Center. All students and UNCG community members are invited to join together for a peaceful shared experience."
Students were encouraged to write messages of hope and peace on posters that will be sent to UNCC.
"Tonight I was able to share words of hope inspiration and comfort to our Spartan community who gathered in solidarity with the UNCC community," UNCG Student Body President Samaya Roary said. "It's sad, I really am almost out of words."
UNC Charlotte at 6 p.m.
UNC Charlotte hosted its own vigil Wednesday night at the Barnhardt Student Activity Center.